In 2008, Justin Coplan became one of the first recipients in the International Lightning Class Association's Boat Grant Program. Today, Justin (pictured at left with teammates Danielle Pryor and Mike Carney) is a co-chair of this unique program, which gives enthusiastic young teams an opportunity to sail a race-ready boat in a very strong one-design class.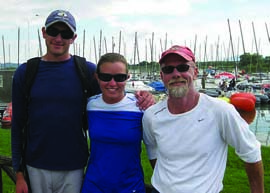 "I started sailing an Opti when I was 10 years old in the junior program at the Nyack Boat Club in Nyack, New York," says Justin, who recently moved to Gettysburg, PA. "I also did plenty of cruising with my parents, and started sailing a Laser when I got too big for an Opti. We had very good instructors at Nyack, and there are a lot of very friendly and supportive members of all the fleets who really helped me grow as a sailor. I crewed for Joan and Gary Hurban on their Lightning in my junior and senior years in high school. I can't think of anyone with as much drive to learn everything there is to know about sailing as Joan and Gary. They have a 'Go get 'em!' attitude, and that rubbed off on me."
While attending the Rochester Institute of Technology, Justin helped create the school's sailing team. By the spring of 2006, the fledgling squad was practicing on Lake Ontario and competing on the Mid-Atlantic Intercollegiate Sailing Association circuit, and the following year Justin was selected as team captain. "We reached out to Rochester Yacht Club for a place to practice and they were very helpful," he explains.
"I learned about the ILCA Boat Grant Program in 2007, the first year of the program, while crewing for Gary Hurban in my first North Americans. I saw Bob King racing one of the program boats and thought, 'That's really cool…I want to drive a Lightning!' I put together a team with Fiona Gordon and Ellie Turk, juniors I had sailed with at Nyack. We put our sailing resumés together and applied for a grant in December. In March, we found out that we had received a grant."
Each ILCA Boat Grant recipient gets a fully equipped Lightning to race for a season, and the class pays for insurance and substantial regatta expenses. Recipients are expected to sail in a predetermined number of races, maintain the boat and equipment, write articles about the program and their experience racing the Lightning, and exhibit a high degree of sportsmanship and responsibility. Each team is assigned a mentor, who provides guidance on everything from tuning to road trips. "Our mentor was Bob Sengstacken, a longtime member of Fleet 75 in Nyack," says Justin. "Bob was always there to help us, not only with getting the boat flying around the racecourse, but also with maintaining it and the logistics of traveling to regattas. Fiona, Ellie and I traveled to eight regattas that season. It was a very competitive year, with the North Americans in Newport, and we were happy with our performance. We won the Metropolitan District Championship, which was really exciting."
"I am a co-chair of the Boat Grant Program along with Will Brown, who was also a boat grant recipient in 2008. Our responsibilities include advertising the grants, reviewing the applications we receive, and making sure boats are set up to go out to recipients. We have one boat from each Lightning builder – one Allen and one Nickels – and we make sure they're in very good racing condition so the kids that get them have the potential to do well."
In June, Justin, Danielle and Mike were the First Runners-Up in the 2013 Lightning World Championship, hosted by Club Velico Castiglionese in Castiglione del Lago, Italy. "Danielle, Mike and I first sailed together as a team on Lake Champlain at the 2009 Worlds," he says. "Mike and I had sailed the 2009 season together and we needed a middle crew for the Worlds, and Danielle fit the bill. We did alright at the Worlds, and we've been sailing together ever since. One of the things that makes us work well together is that we strive to keep improving. Everybody on the boat wants to do really well, and we bring that to every event. This is a team sport, and it's all about the team."
"Our boat, The Walrus, was built in 1985. It's one of the oldest Lightnings still being raced at this level. Mike Carney bought it at the end of 2008. It had been wet-sailed on the Finger Lakes, and it had a full layer of scratched-up bottom paint. Mike did a lot of work, grinding off the bottom paint, spraying new gelcoat and getting the boat set up to sail. Our first season was a matter of finding every part that was apt to break and replacing it, and setting the boat up to be raced competitively."
Justin, Danielle and Mike shipped The Walrus to Italy for the Worlds. "We're very lucky to have multiple individuals in the Lightning Class who are in the shipping industry, and they do a great job with the process for overseas containers," he explains. "There were sailors from 10 countries at the Worlds. The organizers marched us through town for the opening ceremony, and people cheered for us. Lake Trasimeno is beautiful. We didn't sail two of the days, but when the breeze did come it came in pretty well. We focused on making sure we got off the line cleanly with a free lane to sail in, and that really paid off."
More than 15,500 Lightnings have been built since Olin Stephens designed the 19-foot centerboard sloop in 1938, and the ILCA is celebrating its 75th anniversary. "The boat has endured because it has a fantastic class behind it and because it's such a great family boat," says Justin. "You can get into faster, 'rock star' boats, but I feel they don't have the friendly mentality that you'll find in the Lightning class."