Sail Newport, Rhode Island's Public Sailing Center, has appointed Nick Ewenson (Newport, RI) as Race Programs Manager. Ewenson will be responsible for developing youth racing programs and racing sailors on all age levels, managing the coaching staff and overseeing youth regatta participation at Sail Newport and for travel events. Sail Newport's high-performance Brooke E. Gonzalez Advanced Racing Clinic will also be under his direction.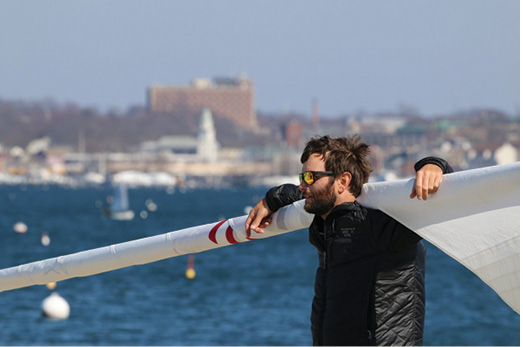 "We have wanted to enhance and expand our youth racing programs for both dinghy and big boat sailors," Sail Newport Program Director Kim Hapgood explained. "Nick's expert coaching and sailing program management will be a great asset to our programs for all ages of youth sailors."
An accomplished sailing coach, Ewenson has worked as the Assistant Sailing Director at New England Science & Sailing in Stonington, CT, Head Sailing Coach at the University of Rhode Island (URI), and Assistant Sailing Coach at College of Charleston. A graduate of St. Mary's College of Maryland, Ewenson was a member of their top-ranked sailing team, which included winning a national championship. He had such a positive experience in college sailing that he decided to make sail training his career and pursued advanced instruction and coaching. He is a certified US Sailing Level 3 coach, a STEM educator and a US Powerboating instructor, and holds a U.S. Coast Guard OUPV Captain's License.
"It's a thrill to be back in Newport Harbor where I started," said Ewenson. "It's incredibly rewarding to be part of a sailor's progression and goal attainment. It's gratifying to witness my student sailors' successes. Sail Newport has a model community-based sailing center that offers so much to Rhode Island and the sailing community. I look forward building on that success." Ewenson can be reached at nick.ewenson@sailnewport.org.