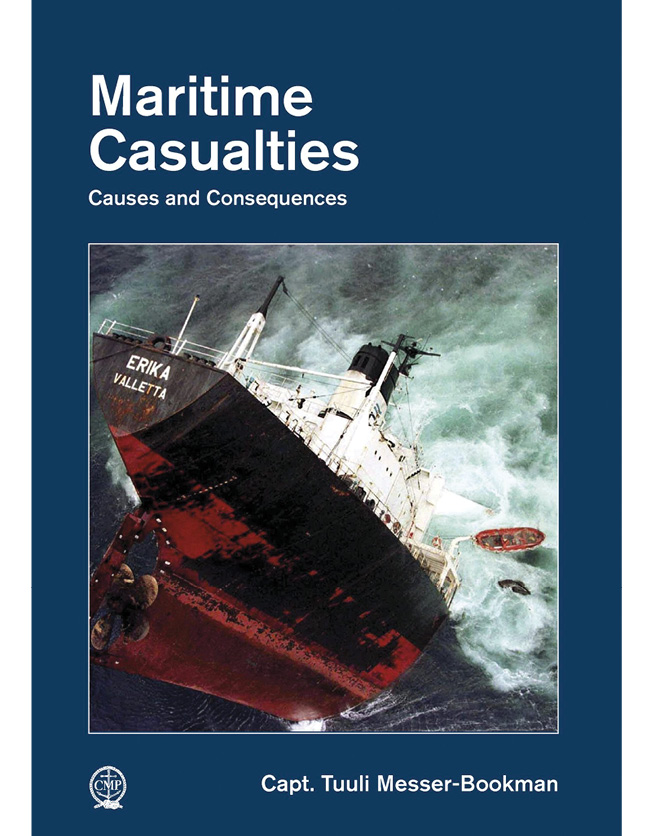 By Capt. Tuuli Messer-Bookman
Published by Cornell Maritime Press, a division of Schiffer Publishing, Ltd.
216 pages   hardcover   $34.99
While compiling information for a seminar she planned to deliver to senior deck cadets at the California Maritime Academy, Captain Tuuli Messer-Bookman discovered that there were no up-to-date comprehensive texts on the subject of maritime casualties, and more significantly, the consequences of such events. In fact, before a lecture on the sinking of the RMS Titanic and the resulting SOLAS (Safety of Life at Sea) Convention, a young cadet raised his hand and asked." You mean that really happened? I thought the Titanic was just a movie!"
Although more than a century has elapsed since the Titanic went to the bottom of the Atlantic, ships continue to run aground, capsize, collide with other ships, sink, or spill massive quantities of oil, in spite of most of these vessels being equipped with the latest navigational and anti-collision technologies. With the passage of time, the focus of investigations has shifted from the failure of equipment to human error as the primary cause of these all-too-frequent incidents.
The author also explores the significant increase in the criminalization of maritime accidents, particularly the recent reclassification of oil spills and other pollution incidents as environmental crimes. Comprehensive researched, thorough and presented in a scholarly yet compelling tone, Maritime Casualties belongs in the library of anyone interested in safety at sea and should be required reading for all watchkeepers.
A graduate of the U.S. Merchant Marine Academy in Kings Point, NY, Capt. Tuuli Messer-Bookman has worked as a ship's officer aboard commercial cargo ships and logged more than 300,000 sea miles as a merchant marine officer. With a law degree from the University of San Francisco School of Law, she is a tenure full professor in the Marine Transportation Department of the California Maritime Academy. ■