by MICHAEL RUDNICK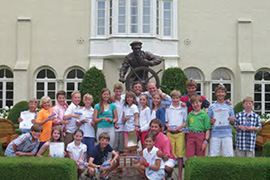 It started in March, as it does every year. Team LISOT (Long Island South Youth Sailing Team) began spring training with frost on the docks, starting another season of regattas around the US and abroad. This has been a particularly successful summer, with many LISOT sailors enjoying a turn on the podium. If LISOT had a physical clubhouse, the trophy case would be filled with some of the world's most prestigious awards.
Megan Grapengeter-Rudnick & Haley Fox were the #1 Ladies team in the 158-boat I420 fleet at Kiel Week. © Janet Grapengeter
After weekend training and the Optimist US Team Trials, LISOT held a number of high performance racing clinics for all its classes. First was the Carl Van Duyne Memorial Advanced Racing Clinic, hosted by American Yacht Club on Memorial Day weekend. LISOT clinics in June included the legendary 6-day Shelter Island Clinic at Camp Quinipet for C420s and I420s, a fantastic 5-day heavy air Optimist clinic at Surf City YC on Long Beach Island, NJ, and a 4-day I420/C420 racing clinic at Roger Williams University in Rhode Island.
One of the reasons LISOT has been so successful on the racecourse is the coaching and fine-tuning of a well-oiled program that has continued to raise the bar for over 10 years. Coaching at this year's clinics was outstanding, evident by the results so far this summer.
While LISOT head double-handed coach Steve Keen was leading Team USA at Kieler Woche (Kiel Week, Germany), 2012 Olympic 470 Silver Medalist Lucas Calabrese flew up from Buenos Aires to spend the week coaching the Shelter Island clinic with former US Olympic Team coach Skip Whyte. LISOT Optis had former Argentinian Olympic coach Pablo "Panic" Panichelli join Opti head coach Pepe Bettini and three other coaches at the Surf City clinic. LISOT Lasers are coached by 2012 US Olympian Rob Crane and legendary Australian coach Bunny Warren, who was 2004 Australian Olympic Team Coach and 2012 US Olympic 470 Team Coach.
LISOTers have collected silver in Optis, Lasers and 420s this season. LISOT Opti sailors dominated at US Team Race Nationals, winning without needing to sail the final round! The team of Emma Kaneti, Payton Thompson, Carrson Pearce, and Emma and Carmen Cowles was 23-1 over the three-day event, earning the honor of again representing USA at the prestigious BMW Opti Cup Team Race in October in Berlin, Germany (LISOT is the only non-European team to ever win the BMW Opti Cup, which they did in 2010). LISOT Opti Team Race teams were also third in Gold Division, first in Silver and second in Bronze.
At the IODA Optimist North American Team Race Championship in Bermuda, LISOT's Matt Logue was on the winning team with a convincing win over ISV (US Virgin Islands) in the Finals.
LISOT is well known for "girl power" in all classes. At Kieler Woche, Megan Grapengeter-Rudnick & Haley Fox were the #1 Ladies team in the 158-boat I420 fleet. Casey Klingler & Fiona Walsh are representing the USA in the I420 at ISAF Youth Worlds, the pinnacle of youth sailing.
LISOT girls took the top four spots at the Girls US Optimist Nationals, with Anaclare Sole first, Carmen Cowles second, Hannah Widmeier third and Emma Kaneti fourth. This is the fourth time in five years that a LISOT girl has won Girls US Nationals. At Optimist US Fleet Racing Nationals, Emma Kaneti was the #1 girl and Payton Thompson #2 girl in the 250-boat fleet. LISOT girls dominated the Laser 4.7 Atlantic Coast Championship, with Elizabeth Hansen winning. Charlotte Leclue, who took fourth, then headed to the 4.7 Worlds in Balaton, Hungary.
LISOT boys have been equally successful. Matt Logue won the NY State Optimist Championship. He also won the Newport Opti Challenge, where LISOT took four of the top five spots (Cameron Giblin second, Carrson Pearce fourth, and Payton Thompson fifth). At Kieler Woche, Wade Waddell & Henry "Ferny" Fernberger were the top US I420, in sixth. LISOT had three in the top 10, with Reinier Eenkema van Dijk & Spencer McDonough eighth and Russell Clarida & Finn Mundinger ninth. Wade & Ferny are also representing USA at the ISAF Youth Worlds – the fourth consecutive year that a LISOT team has been the USA representative in the Boys I420.
TJ Danilek was on fire at the Optimist US Nationals, taking seventh overall. In the Laser Radial, Jeff Glosenger was second at Laser ACCs with Roger Dorr fourth; and Matt Lyons took fifth in the Laser full rig. Ty Ingram & Ian Morgan won the Maryland Doublehanded Championship, sailed in C420s. At Nieuwpoort Week in Belgium, Max Clapp won the Flanders Regatta, Pierce Ornstein won Silver Fleet, and Michael Ehnot was third in Silver.
LISOT provides year-round coaching for Optis, I420s, C420s, Lasers and Radials, and is one of the oldest private (and non-profit) youth sailing teams in the country. Visit lisot.org and Facebook "LISOT (LI Sound Youth Sailing Team)."
Michael Rudnick is the President of LISOT and lives in Darien, CT. His daughter Megan, an 8-year LISOT veteran, is currently a member of the US Sailing Development Team (USSDT), the Olympic pathway team supported by the U.S. Olympic Sailing Program and US Sailing's Olympic Sailing Committee.