By Rachael Zoe Miller, Rozalia Project for a Clean Ocean
Last year, Rozalia Project for a Clean Ocean passed the ten-year mark! I'm tempted to add another nine exclamation points to celebrate, but that is a bit much. When I started Rozalia Project, I had a lot to learn. I had spent the previous twenty years as a sailing instructor, Executive Director of a community sailing school, and owner/instructor of a kite/windsurf/snowkite/SUP school. I focused on connecting people with our ocean, lakes, and rivers.
With Rozalia Project, I shifted that focus to protecting our ocean, lakes, and rivers. I was very excited about this shift. Enthusiasm alone, however, does not a successful organization make. The next ten years were filled with trial and error, and big challenges. Thanks to the extraordinary people I've met, and the experiences I've had along the way, we are still going strong and making an impact. From captains to conferences, and friends to family, I've learned so many lessons. These lessons shape how I look at solutions to the marine debris problem, but also to some of our (and my) current bigger problems as well. I hope you find them applicable to help solve some of the challenges you are facing.

Solutions
The fact that there is rarely one magic fix is something that we, as sailors, end up learning quickly if it is not already embraced. More often, problems are fixed by making a number of improvements in a variety of categories. Overpowered but still need to sail upwind? Drop the traveller, shorten sails, flatten sails, change sails, move weight…we usually employ at least a few of those strategies. As far as marine debris goes, multiple solutions will be the most effective and cost efficient way to get ahead. Take microfiber pollution, for example. While our team invented the Cora Ball (a device you put in your washing machine to help collect microfibers and reduce shedding overall), we have always recognized it as A solution, not THE solution. There is opportunity and necessity for innovation and action upstream and downstream. This includes addressing the resins that become synthetic fiber, methods to extrude that resin into fiber, techniques to weave it into textiles, choices in clothing design and fabric selection, washing machine and dryer design, wastewater treatment plant systems and, of course, consumer behavior. If we wait around for a silver bullet (that will never come), we are wasting time that could be used for innovation and action while the problem itself keeps growing. So, it's solutions, plural.

Everything Has Value
After a presentation early last year, I was asked, "If you could do one thing to solve the problem of marine debris, what would it be?" As much as I wanted to hold my ground and say that this is impossible (see the need for multiple solutions above), I do have an answer – and it's a big ask. If I could do one thing to solve the problem of marine debris, it would be to do a universal human mind meld so that all human beings are implanted with the belief and understanding that every single thing has value. That is, every object, every item, every little, big and medium size thing we use in our lives has value. It may be positive value – financial, reuse, replanting, etc., or it has negative value, something harmful – causes illness, is a poison, destroys habitat, etc. Recognizing that value, and acting on it, would do away with the concept of waste. Then nothing would be waste. Marine debris would not be a thing, and I would happily find something else to do.

Radical Interdisciplinarity
I learned this phrase from our partners at MIT's Environmental Solutions Initiative. Another way to say this is: diverse diversity. I learned this lesson back in 2013 when it happened to work out that one of our expeditions featured someone in every decade (in age) from 20s to 60s. Compared to just having a crew of undergrads, our programs and our conversations, during work time and during down time were all so much more dynamic and fulfilling. We had already been seeking people from different academic and geographic backgrounds, but we realized that the more diversity, not just in one or two categories, the better for our mission. Since then, we continue to weave into our crews different ages (18 to 71 so far), professional, geographic, academic and scientific backgrounds (including artists – from painters to sculptors to movie makers), people from the LGBTQ community, genders (truthfully, we have far more women than men) and ethnicity (the area in which we have the most room to improve).

Lots of Littles Make a Big
This one is straightforward, and you've probably heard this concept before. This is how we boil down the knowledge that small actions by individuals add up to big impact. Just like millions of tiny pieces of microplastic are harming our ocean, millions of people making small efforts to reduce their footprint, live (and sail) more sustainably, share their knowledge and spread their love for the ocean and her creatures helps. This is how we are going to turn the situation around. Remember, though, we need multiple solutions, so alongside individual action, we also need to recognize that…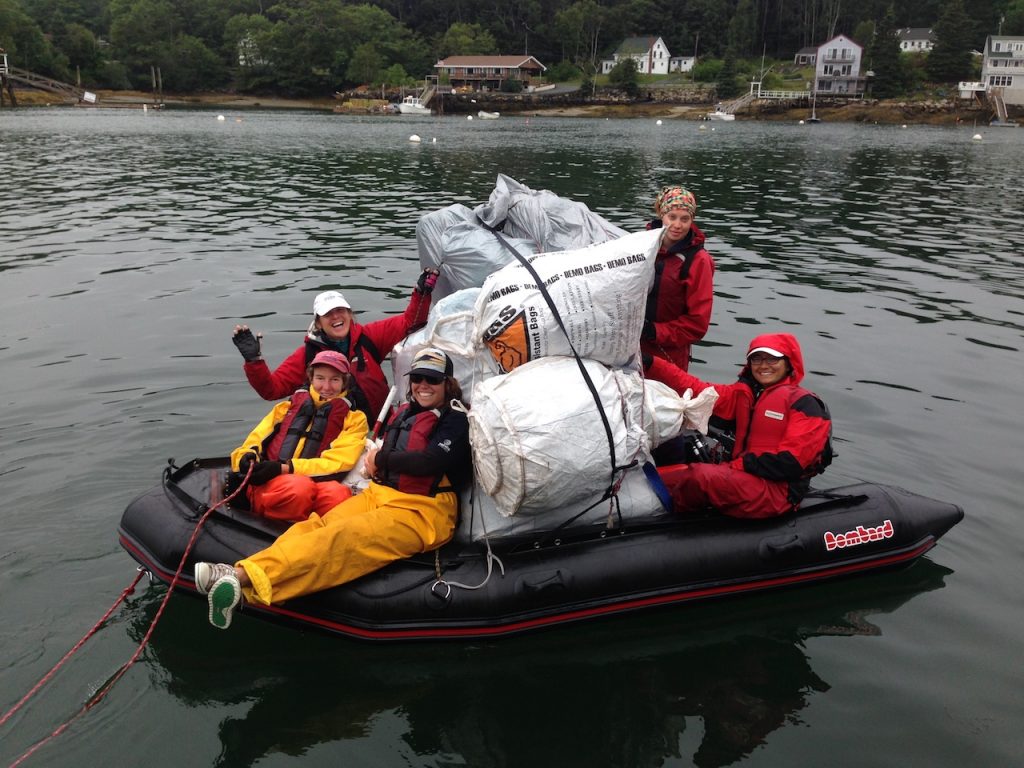 Rozalia volunteers created this "garbarge" during a recent expedition. © rozaliaproject.org
Large Corporations Cut a Wide Path
Two years ago, I attended the Global Climate Action Summit in San Francisco. I learned an important lesson. First, I was in the audience as Alec Baldwin interviewed Jane Goodall(!) and the then CEO of Unilever, Paul Polman. They spoke about the effect that harvesting palm oil has on primate habitat, and Mr. Polman said that Unilever and all of their brands were going to move to sustainable palm oil. In his words, "We are taking Walmart with us." That is a lot of brands who are using A LOT of unsustainably-sourced palm oil. If they are successful, sustainable palm oil would have the most demand. Where there is demand, someone figures out the supply. That is powerful. Often, this scenario is to the detriment of the environment, but, in this case, it would be to the benefit. We all know that, in many cases, big corporations are driven by a mentality that is more planet-be-damned than anything else, and that is a serious issue. But not all companies. This is what I mean by "large corporations cut a wide path." If corporations buckle down and demand items, materials, and techniques that are lower footprint, that are part of the circular economy, and curb the need for extractive resources, they make all of that accessible to smaller companies and, eventually, individuals.
While these are not the only lessons I've learned over the last ten years, they are the ones to which I turn most frequently. I'd love to hear if any of these resonate with you, or what you have learned as it relates to protecting our ocean and planet. ■
Rachael Zoe Miller is an expedition scientist, inventor, National Geographic Explorer and Explorers Club Fellow working to protect the ocean. She is the Founder of Rozalia Project for a Clean Ocean (rozaliaproject.org), a nonprofit working on the problem of marine debris. Rachael leads teams on expeditions whose scientific results are published in peer-reviewed journals and education programs that inspire thousands of people of all ages. She's presented at venues worldwide including on the TedX stage and at The Explorer's Club. Rachael captains the 60-foot sailing research vessel American Promise, certified hundreds of people to be sailing instructors, trained Navy SEALS to find unexploded mines using underwater robots, pitched to audiences at Our Ocean and Plastics Europe and mentors young scientists at the New York Harbor School. She lives in Vermont, loves the snow as much as the sea and does her best thinking on skis, bikes or paddleboards.
Editor's note: We found Rachael's article on a great website called Women Who Sail ®, "a place to come together to share insights, tips, questions, excitement, and most importantly support over what it's like to be a woman in the boating world." To join the largest online group of women sailors in the world, visit womenwhosail.com.