This summer we saw junior program directors and instructors trying really hard to make their classes possible, never mind fun or normal. But as many have observed, this brought a lot of "old school" behaviors back into play, some of which have been called for, without a pandemic to force the situation. Fierce competition at regattas had to take a break this summer. I'm wondering how that will turn out. Will kids have (gulp!) lost a step…be stunted in their ability to roll tack into a crushing lee bow? Or maybe kids will have found some lack of structure turned them on to a lifetime of enjoyment on the water, complete with a few nautical chores.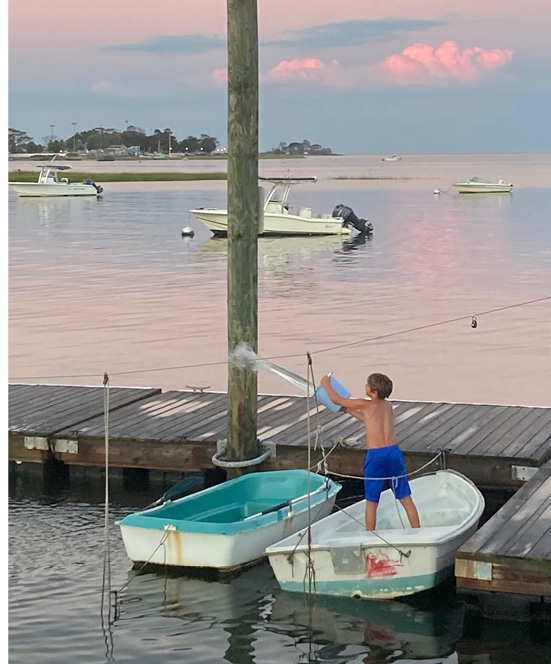 Speaking of chores, for those of you in the western part of WindCheck land, that visit from Isais was a bit more than we planned for. I'm not responsible for half of Connecticut's power being out, but I did leave my community's docks in the water, thinking it would be a modest affair, gusts to 30-40k max, rapidly moving right to 180 degrees, which really wouldn't stress our docks at all. Well, at noon in Norwalk, CT, a 12-knot easterly had me feeling pretty clever. At 1500, with gusts to 60 knots and more, still from the east, I was plotting on where to move the family to avoid the wrath of the neighbors for my destroying the docks. By 1630, it was ever so slowly pulling to the right, and then it accelerated into a honking westerly…and the docks were still intact, thank God. The bimini top on the overexposed BlackFin, also smugly left up, not so much. It goes to show, as so many have told me before, they are JUST models…don't cloud your formerly good judgment based on an optimistic reading of your favorite app. Honestly, it's better to err on the side of the ever-hyping corporate weather folks. You won't hear "I told you so" if you go with their most dire warnings. Plus, it's just good seamanship. On to a few housekeeping items.
First, a clarification: WindCheck is NOT the Official Magazine of The Twenty Hundred Club. As catchy as that sounds, a.) we get zero swag from them (I think swag is forbidden in their bylaws) and b.) It's purely because they are a very active bunch who have a scribe in their midst who sends us good reports and pictures.
Guess what! You can do that, too! Yes, you can be just as famous as The Twenty Hundred Club (Well, that's a stretch goal – Ed.) All you need to do is send us your copy, results and pics and Huzzah! Every sailor from Manhattan to Falmouth will know of your exploits. And that means you too, Long Island! Just because you are tucked into your beautiful, hard to access by road, harbors, you can let WindCheck know what you are up to. Aside from the Huntington Waterfront Festival and the occasional report from Manhasset or Port Jeff, you guys and gals are hermits…Enough! Send us your stuff. We do get info from Oakcliffe but they are already famous, and deservedly so…read On Watch this month as a sample of why.
Huzzah! (love saying that) and see you on the water,
Publisher
Benjamin V. Cesare
ben@windcheckmagazine.com