Connecting people to the water at The WaterFront Center
Story and photos by Rick Bannerot
One does not need to make too large a leap between the dock and the gunwales of Hobie catamarans, Sonars, a Mariner 36, J/105s, or a 125-year-old oyster sloop. What you first need is access to the docks, floating rafts and moorings where these kinds of boats are kept in the summer. You also need a compelling reason to amass such a flotilla. Well, the mission statement of The WaterFront Center ("WFC" for short) in Oyster Bay, NY is: "To connect people to the water through education and recreation." Pithy, yes, however it is anything but simple to create in just 20-odd years, oh and come out the other side of a pandemic with a 15-page waitlist for boats, camp slots and sailing lessons. What the heck is going on in sleepy little Oyster Bay? 
What's going is the ongoing creation of a comprehensive public education and recreation facility that ignites the imaginations of children, fires-up community support, and explain to dubious parents that their "precious" is in wonderful, safe hands…and then do it all again the next week, next month, next year and the years to come. 
You need support from the local community, generous benefactors, grant writers, motivated local, regional and state politicians, and of course a willing, able and well-trained staff of people, both paid and volunteers. You should have fundraisers, educators, party planners, public parking facilities, buildings to have classes in, boat storage racks, boat mechanics, bookkeepers, Coast Guard-licensed captains, US Sailing-certified instructors, classrooms for teaching, marine biologists and ecologists, fleets of kayaks, SUPs, Sonars, catamarans, big boats, and the list goes on and on. Oh, and your primary constituency may never have stuck their big toe in saltwater. That, however, this is getting over the tip of this story's bowsprit, to mangle an old skiing analogy…
As the name implies, Oyster Bay was once a cradle of the American oyster business. Increasing population densities have deleterious effects on local water quality, and Oyster Bay is no exception. By the 1940s, the shellfish population crashed thanks to a witches' brew of nitrogen-enriched lawn fertilizer, water runoff causing massive algal blooms, and an accumulation of heavy metals, pesticides, and herbicides. Throw in raw sewage from poorly-maintained septic fields and aged, insufficient water filtration facilities. Probably the only things missing were eye of newt and an incantation. 
Just as Ray Kinsella heard voices from the past in a cornfield in Iowa in the film Field of Dreams, so too did the people of New York and Connecticut. (WindCheck "SoundWaters" story (windcheckmagazine.com/article/sea-of-dreams/ .) By the end of the 20th Century, local and regional politicians were finally hearing and feeling the heat from their unhappy constituencies. Rachel Carson's writings on ecology and environmental mandates certainly helped shift public awareness (Silent Spring). 
From amongst six proposed redevelopment options for a rundown corner of Oyster Bay, a concept for a "Community Environmental & Marine Education Center" was approved for the former lands of the shuttered Jakobson Shipyard to help give the people of Long Island better access to one of the world's natural marine crown jewels, even if it was in serious disrepair. Today, the former shipyard imbues The WFC with an active and significant marine history in its existing buildings, the old steel rail lines used to move ships to and from the building and repair barns, and the docks and pilings that still form the skeleton for today's waterfront endeavors.
Flash forward twenty-two years and in discussions with WFC Executive Director George Ellis, increased public access to recreational saltwater was key, but the education side played an instrumental role in developing the concept that has become today's WFC. "To know the Bay is to love it. To preserve it, you must learn to care about what makes it such a special place," he said. "We now reach over 20,000 people a year through our various programs ranging from in-classroom marine studies to guided sunset cruises on our oyster sloop Christeen. We literally have hundreds of public schoolchildren enrolled every week during the summer in various day camps, boating initiatives, and learn-to-sail programs."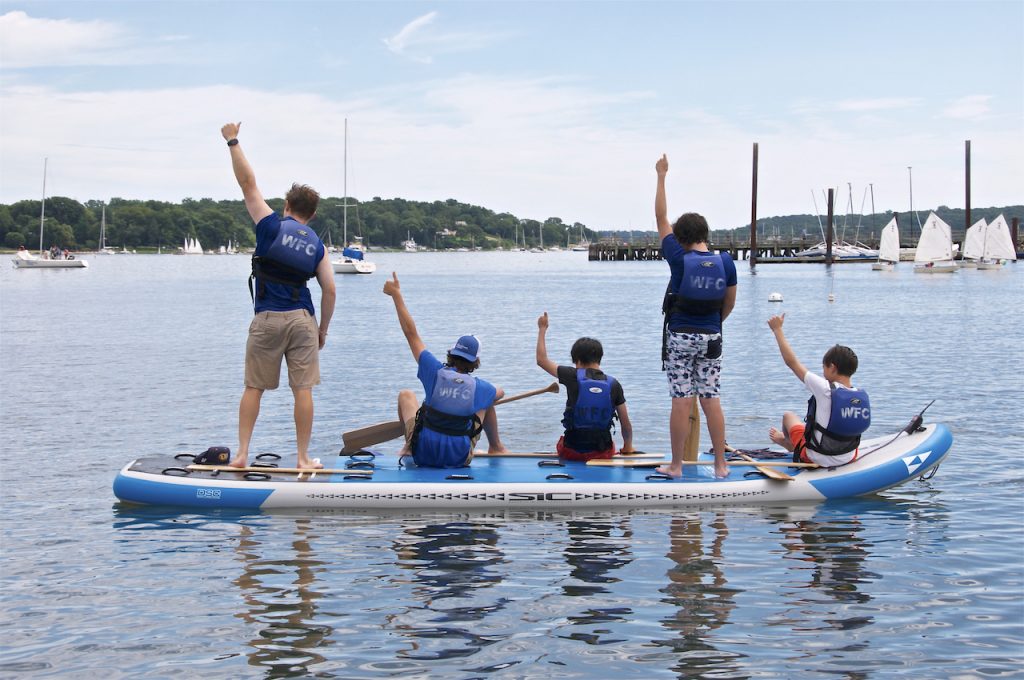 The WaterFront Center's mission is to connect people to the water through education and recreation.
© Rick Bannerot/OntheFlyPhoto.net
In just over two decades, The WFC has gone from a wonderful "green concept" to a full-blown marine teaching center with touch tanks and marine environmental outreach programs in local schools (K-12). There are now sailing, boating, kayaking and stand-up paddle boarding opportunities for the public for more than ten months a year. WFC proudly offers active sailing programs for military veterans and their families called Veterans on Water (VOW), programs and discounts for First Responders, as well as the "ZigZag" program with sailing and boating opportunities for people with physical challenges (thewaterfrontcenter.org/news/zigzagshagat).
A central part of the initial planning and development of The WaterFront Center was the saving and restoration of one of America's last working oyster sloops. Built in 1883, only five miles away as the seagull flies at Glenwood Landing in Hempstead Harbor, the Christeen is the literal and figurative flagship for The WaterFront Center. This 38-foot gaff-rigged, shallow draft sloop is now the oldest American oyster sloop. In her prime she worked the oyster-rich beds of Long Island Sound and carried freight along the Sound coasts in the heat of the summer. (The turn of the 20th Century was pre-aquaculture days, so people learned the hard way not to eat oysters in months spelled without an "r" for fear of bacterial poisoning.)
By the mid-1930s, as shellfishing declined in the western Sound, Christeen was forced to move down to work in New Jersey's coastal fisheries, hauling freight, and occasionally serving as a floating bunkhouse when she was laid-up for periods of time. During World War II, like many small boats, Christeen mixed her usual work with keeping a sharp coastal eye on the waters along New Jersey, New York and Connecticut, looking for German U-Boats. Following the war, she spent her time hauling freight and doing sightseeing excursions.  
In the 1970s, Christeen was sold, and again saddled with the indignity of being an inexpensive boarding house in New London, CT. Fortunately, the Connecticut River Museum was tipped to her sad existence, recognized her historical significance, bought her, and did a light restoration returning her to her 1914-era appearance. With a financial assist by Tradewinds Educational Network, Inc., Christeen underwent further repair work and was returned to a modest sailing and oystering capacity. On December 4, 1991, a momentous recognition was bestowed on Christeen as she was officially certified as a National Historic Landmark and placed on the National Register of Historic Places. Christeen is one of only four oyster sloops to be awarded such an important acknowledgement. 
In the spring of 1992, Christeen was returned home to Oyster Bay by dedicated volunteers, now known as "The Christeen Oyster Sloop Preservation Corporation." They worked tirelessly for seven years to raise funds, all the while working on her restoration, and she was relaunched in 1999 and made an integral part of what was to be the WFC.  
Flash forward to 2022. What are some of the highlights of the various programs being run at The WaterFront Center? On the broadest stripe is the presence of the Christeen and the multiple times she sails virtually every day all summer. She is a floating marine biology lab for children, she is a floating example of maritime history and sails around Oyster Bay explain many of the highlights. She even serves as a training ship for future professional sailing captains. Christeen is a fundraiser for the WFC, as well as other not-for-profits looking for a unique and enriching venue to host their own fundraisers.
The WFC has a large fleet of new kayaks (singles and doubles), SUPs, Sonars, Hobie Cats in different sizes, Club 420s and even J/105s available for summer camp as well as for rent to the public. (The WFC has reasonably priced sailing, boating and water safety courses to train the people looking to get out on the water.)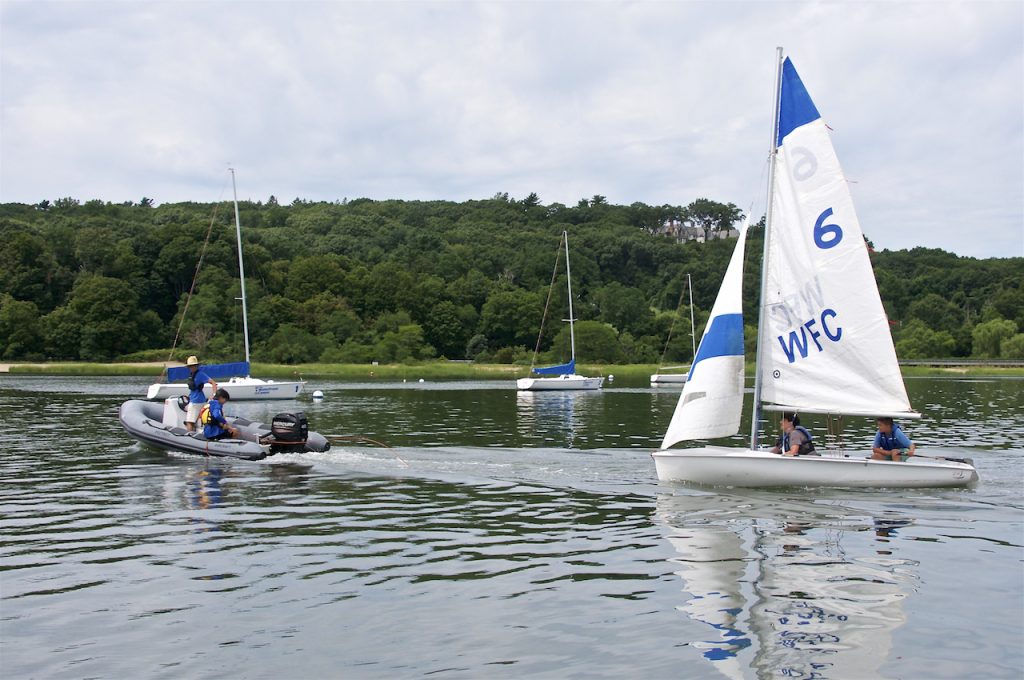 The WFC offers a wide range of Youth Sailing opportunities.   © Rick Bannerot/OntheFlyPhoto.net
Private and group lessons are taught all summer on the various size boats according age, size and skill level, further reducing barriers to entry into salty water. There are various age and boat classes available to learn how to race, or improve your specific sailing skill sets depending on the appropriate boat you want to race across the age spectrum, from 2nd Grade in Optis through post-college amateur sailing and match racing against some of the best in the world right next door at Oakcliff Sailing (windcheckmagazine.com/article/many-paths-one-common-goal/ )
The instructors are knowledgeable and patient with their students across the age spectrum. Looking around the waterfront, it is a sea of smiles and rings with peals of laughter. Students out on Christeen have a studious look on their faces as they are shown sea creatures and hear true tales of pirates and treasure along the coast of Long Island.  Ashore, campers enjoy spirited games of nautically-themed "Simon Says." And after being out on the water, especially in the summer heat and a wind-poor day (or three, sigh), it becomes fun time at the docks where kids clearly enjoy swimming and goofing around on the carpeted docks under the watchful eyes of the waterfront staff. (Properly fitted life jackets are de rigeur, for both the staff on the water and the students in Oyster Bay or using any of the boats.)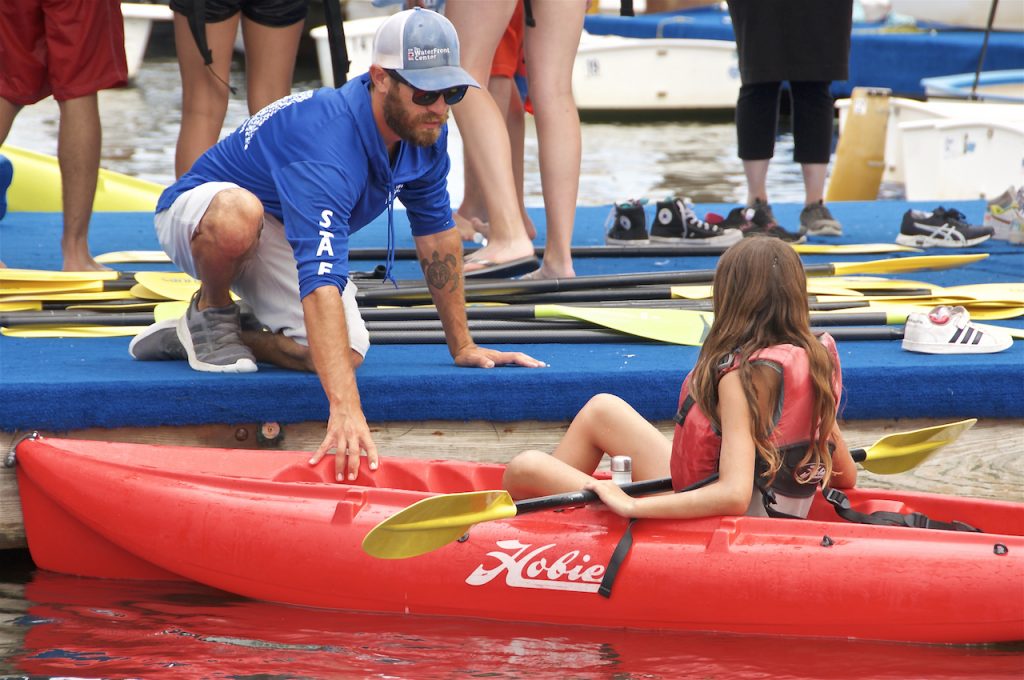 © Rick Bannerot/OntheFlyPhoto.net
Asked what he feels are some of the greatest accomplishments of The WaterFront Center, George Ellis replied, "facilitating an amazing place of learning and enjoyment." He paused and said, "Bringing people that are new to the wonders of the marine environment and exciting them to continue learning." On the sailing side, Ellis talks with pride about "having our sailing instructors now coaching and winning regattas and match races on Long Island Sound against some of the best boats and sailors in the world. It is very satisfying to watch a student progress from a shy teenager in our summer camp to grow into being our dockmaster, and then becoming the Sailing Director at the WFC."
It is safe to say that while revitalizing the oyster beds in Oyster Bay is a strong, holistic goal, it remains a work-in-progress. The wonderful news is The WaterFront Center is actively engaging and teaching about a vibrant resource that sits right on the doorstep of the Sound. It is through the creation of meaningful experiences for the regional stakeholders they have positive, fun, educational programs, activities and events. The WFC, with its kaleidoscopic variety of activities fully embodies their motto of connecting people to the water through education and recreation. They are an important pearl in the recovery of Oyster Bay. To learn more, log onto thewaterfrontcenter.org ■