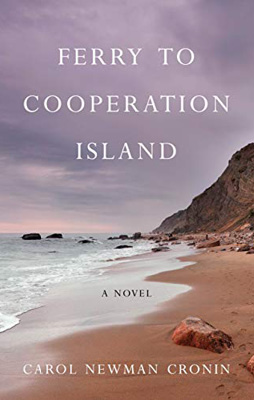 By Carol Newman Cronin
Published by She Writes Press   357 pages   paperback   $16.95
A new book from our friend Carol Newman Cronin, an award-winning writer and editor as well as an Olympian, is always a treat. Scheduled for release in June, Carol's newest novel might be her best yet.
Fired from his job ferrying passengers from imaginary Brenton Island to Newport, Rhode Island after being caught with a small amount of contraband in his possession, Captain James Malloy finds himself adrift. As spring turns to summer, James learns of plans for a private golf course on the island, which would be built on land sacred to his best friend, a Narragansett Indian suffering from a terminal illness. He decides to honor his friend by preventing the land's desecration. An inveterate loner accustomed to doing things himself, James realizes he'll need to work with other residents of the place nicknamed "Cooperation Island," including Captain Courtney Farris…who's doing his old job. You can pre-order a copy of Ferry to Cooperation Island through Bookshop.org, and the purchase will benefit your local independent bookstore.
Carol Newman Cronin is a lifelong sailor who's won several national and international championships. As a member of the US Olympic Team, she and teammates Liz Filter and Nancy Haberland won two races in the Yngling class at the Athens Olympics in 2004. She competes internationally in a variety of classes and lives in Jamestown, RI. Ferry to Cooperation Island is Carol's fourth book. Her others are Oliver's Surprise: A Boy, a Schooner, and the Great Hurricane of 1938, Cape Cod Surprise, and Game of Sails. You'll find more information (including the dates of book signings) and Carol's excellent blog, Where Books Meet Boats, at carolnewmancronin.com. ■