By Eric Takakjian and Randal Peffer
Published by Lyons Press, an imprint of The Rowman & Littlefield Publishing Group, Inc.
272 pages paperback $19.95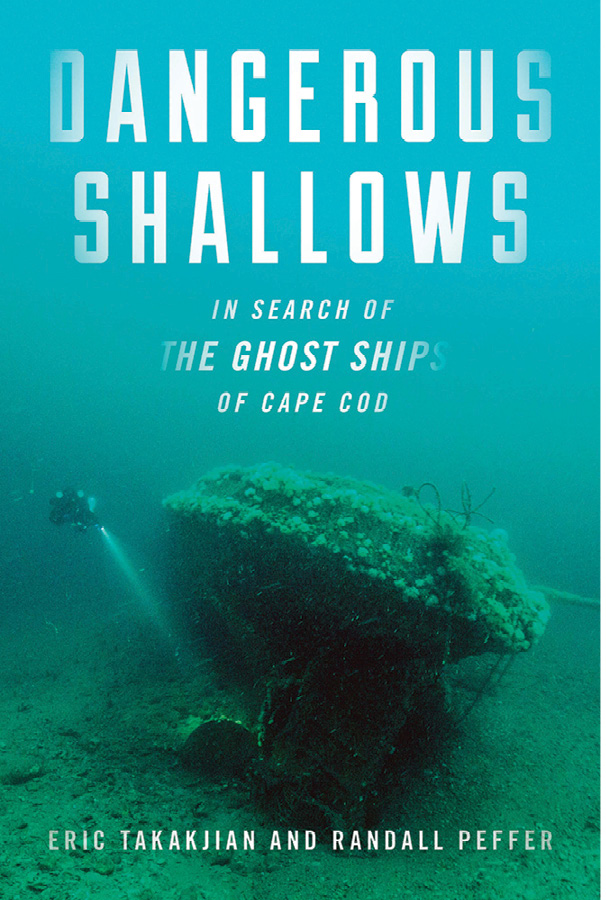 Lying eastward and southeastward of Nantucket Island, the Nantucket Shoals is an area of treacherously shallow waters located just off a major transatlantic shipping lane. With depths as little as three feet and swirling currents, the shoals are designated by the International Maritime Organization as "an area to be avoided." Hundreds of wrecks dating back to colonial times – men o' war, square riggers believed to be carrying gold, merchant ships, ocean liners and submarines – litter these ever-shifting sands.
The story of ex-Coast Guardsman, professional mariner, historian and scuba diver Eric Takakjian's quest to solve maritime cold-cases, Dangerous Shallows explores more than a dozen shipwrecks on the Nantucket Shoals. All but one of these, including U-53, a German submarine that sank five ships in 1916; the freighter Regal Sword, which went down after a collision in 1979; the steam collier Allentown, lost in 1888; and the ocean liner SS Andrea Doria, which sank after a collision in 1956 – a wreck upon which at least eighteen divers have died – have never been written about before. Recounting the final hours aboard these doomed vessels, Dangerous Shallows tells the stories of how the author and fellow "wreck hounds" found them. In several cases, these discoveries rewrite history.
Eric Takakjian is the master of an oceangoing tugboat engaged in the coastwise petroleum transportation trade. He has sailed ships and oceangoing tugboats to various corners of the world since 1978. A diver since 1972 and an avid shipwreck diver since 1975, he's been a National Fellow of the Explorers Club since 1997. A resident of Fairhaven, MA, Takakjian is also a professional marine surveyor whose advertisement appears on page 56 of this magazine.
Randall Peffer is the author of nine nonfiction books as well as nine crime/suspense novels. The son of a career naval officer, Peffer holds a 100-ton masters license and has logged over 100,000 miles at sea, mostly in traditional working vessels. After more than three decades teaching writing and literature at Phillips Academy, Andover, he has retired to work full time on his writing. Sailing out of his homeports of Marion, MA, Great Guana Cay, Abaco, and Long Beach, CA, he lives in Marion, MA. ■