Zim Sailing, headquartered in Bristol, RI, is excited to announce that Adam Werblow is the company's newly appointed Director of Institutional Programs. Werblow will serve as the liaison between the dinghy manufacturer and colleges and high schools. Zim Sailing has established itself as a leader in the marine industry since opening its doors in 2008 and steadily grown. Werblow will assist in product development as Zim continues its effort to provide the best performing boats and meet the durability demands of the institutional market.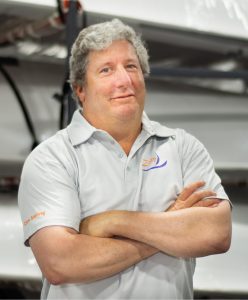 "I am excited to join the Zim Team," said Werblow. "I know them well. The experts Steve and Bob have assembled will ensure the best service for high school and college programs. I look forward to delivering quality products so sailors and coaches can simply focus on playing the game we love."
"Our team couldn't be happier to add Adam to our organization," said Steve Perry, Zim Sailing founder and President. "Adam is one of the most respected coaches in the country, and his commitment to customer service fits perfectly into the mission of Zim Sailing. Adam will feel right at home reunited with several of his co-workers from his days at Vanguard Sailboats."
A member of the Inter-Collegiate Hall of Fame, Werblow's been a passionate advocate for high school and college sailing for over 30 years. As Head Sailing Coach of St Mary's College of Maryland, he led the team to compete in 15 national championships and over 150 All-American honors. Renowned as an expert on the performance, care, and maintenance of the collegiate dinghy, he will help shape Zim Sailing's products and services to best serve scholastic and collegiate programs, coaches and sailors.
To learn more about Zim Sailing, visit zimsailing.com. ■