The Long Way and A Sea Vagabond's World
By Bernard Moitessier
Published by Sheridan House, an imprint of the Rowman & Littlefield Publishing Group, Inc. 252 and 216 pages, respectively paperback $16.95 and $19.95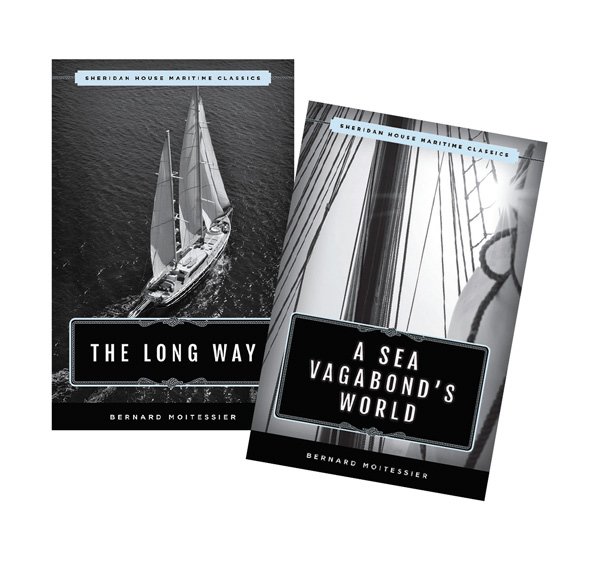 Sheridan House has added to its Maritime Classics series by reissuing two essential books by "The Master," legendary long distance sailor and gifted writer Bernard Moitessier (1925-1994). La Longue Route, originally published in French in 1971 and translated to English by Moitessier's longtime friend William Rodarmor in 1973, The Long Way is the author's account of the first Golden Globe Race. In 1968, the Sunday Times newspaper sponsored a singlehanded, non-stop yacht race around the world that would round the three great capes: Good Hope, Leeuwin, and the Horn.
Five decades ago, no one had ever completed a solo circumnavigation without stopping. After seven months of battling storms, doldrums, breakdowns, knockdowns, fatigue and loneliness aboard his 40-foot steel ketch Joshua, Moitessier pulled out of the race. Sailing on for another three months, he made landfall in Tahiti, completing a 37,455-mile journey without stepping ashore. As much a story of a spiritual journey as a sailing adventure, The Long Way has an abundance of evocative passages like this one:
"The sun sets. What little breeze there was today drops completely. Great peace all around, I will spend a nice quiet Christmas with the stars."
After moving to France, Moitessier spent the last years of his life working on his memoirs, which were published by Sheridan House in 1995 as Tamata and the Alliance. He then began working on "a practical book that will cover three topics: boats, the sea, and the beachcombing life." Although prostate cancer claimed him before the book was finished, his companion Véronique Lerebours Pigeonnière compiled his many writings, both published and unpublished.
Published posthumously in 1995 as Voile, Mers, Lointaines, Iles et Lagons was translated by Rodarmor and released as A Sea Vagabond's World: Boats and Sails, Distant Shores, Island and Lagoons in 1998. The first part of the book provides a wealth of practical, sea-tested information on how to prepare for a lengthy sea voyage, with advice about choosing and outfitting a boat, sails and rigging, anchors, etc. Part two recounts the passage: navigation, weather, watchkeeping, and more. In the third part, we join the author on a South Seas atoll, where he shares his knowledge on simple, self-sufficient living based on gardening and fishing.
One of the greatest ocean voyagers, Bernard Moitessier became a legend in his own time. Born and raised in Vietnam, he acquired much of his sailing knowledge from the fishermen of the Gulf of Thailand. Moitessier was also an outspoken environmental activist who protested against nuclear weapons testing in the South Pacific and the overdevelopment of the Papeete waterfront in Tahiti. ■