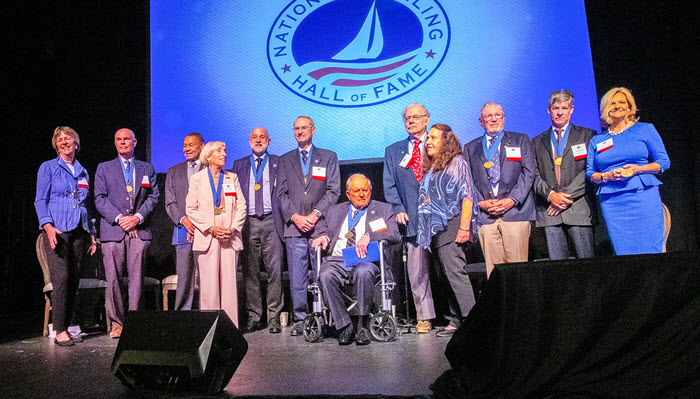 National The National Sailing Hall of Fame inducted thirteen sailors as its Class of 2022 on November 5 in Newport, Rhode Island. This was the U.S. institution's 12th ceremony, with the new members joining 101 current inductees, all of whom are featured in the Legends of Sailing exhibition at The Sailing Museum, which recently opened in Newport.
Providing introductory and congratulatory remarks, US Sailing President Richard Jepsen welcomed inductees and guests.
"Recognizing sailors who history would otherwise forget is notable and laudable and critical to sailing's strength," said Jepsen. "As we try to grow our sport beyond its current bounds, promoting the extraordinary careers of historic figures who might otherwise fade from history is as essential as it is courageous.
"We want people who are considering sailing to see people who look like them being appreciated and honored by the pinnacle of the sport, The National Sailing Hall of Fame."
As they took the podium to accept their honors, each of the inductees expressed their gratitude, thanked those who inspired and supported them throughout their careers, recognized the achievements of those who came before them and illustrated what it means to be part of the great sport of sailing.
"These are exceptional sailors and equally exceptional people whose contributions to the sport span more than 200 years," said Gus Carlson, president of the National Sailing Hall of Fame. "Through their accomplishments, they provide inspiration to all who have known them and know about them and to generations of sailors to come.
"With this year's class, the National Sailing Hall of Fame is now 114 inductees strong. We are thrilled to welcome them to the family and delighted that we can celebrate them in our wonderful new home, the Sailing Museum, which opened its doors to the public in May."
Nominees must be American citizens, 55 years of age or older, who have made a sustained and significant impact on the growth and development of the sport in the United States at a national or international level in competition, technical fields, and contributing roles. Nominations are accepted year-round at nshof.org/nominations. The deadline for Class of 2023 nominees is January 31.
National Sailing Hall of Fame Class of 2022:

Ed Adams – Providence, RI
Absalom Bostonǂ – Nantucket, MA
Doris Colgate – Washington DC
Roy Disney – Los Angeles, CA (Lifetime Achievement)
Bruce Farr – Auckland, New Zealand
Garry Hoyt – Elizabeth, NJ
Terry Kohler* – Sheboygan, WI (Lifetime Achievement)
Bill Lee – Coeur d'Alene, ID
Jonathan McKee – Seattle, WA
Lin and Larry Pardey – Detroit, MI and Victoria, British Columbia
Nick Scandone – Santa Ana, CA
Frances Wakeman – Cohasset, MA (Lifetime Achievement)
To learn more about the Class of 2022, log onto https://nshof.org/inductions_classes/class-of-2022/.