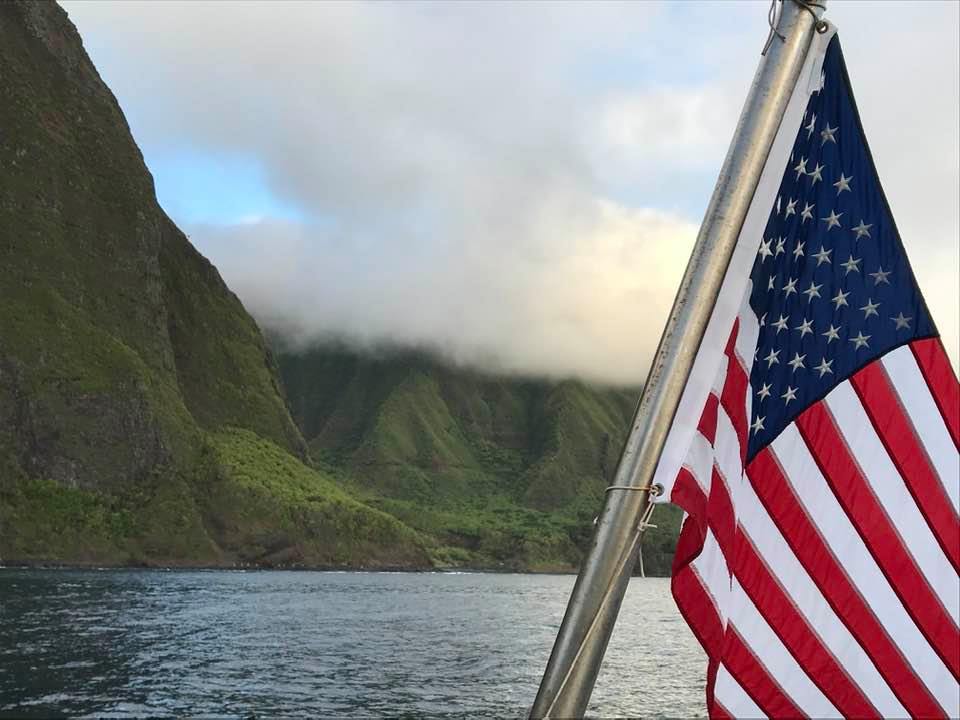 The crew of TRADER sits down with Nobleman Sailing Media to explain their takes on opportunity afforded by the Transpac
Youtube Link: https://www.youtube.com/watch?v=PxdITb_bc-Q
Video by Nobleman Sailing Media
Honolulu, Hawaii – TRADER Sailing is more than just another sailing team. One month out from their training session in Honolulu, the team took a break from boat work and work-outs to explain what makes this team unique.
The blended team of military veterans and young offshore women are racing for opportunity: the opportunity to heal, to develop, and to prove themselves on one of the most enduring bluewater race courses in the world: Transpac.
Air Force veteran Ken Williams explains his opportunity: "The TRADER Sailing program is a lot more than just racing, it's more than bringing military members together, it's more than another way to honor veterans and their service, or community outreach. For me, the TRADER Sailing program [is] a bit of a lifesaver." After retiring from the military due to injury, Williams has found strength through TRADER Sailing, contributing as a key player on the maintenance team and core crew member during regular sailing operations.
For the young women joining the team from The Magenta Project, the Transpac campaign with TRADER Sailing is a step towards the higher levels of performance. It is a chance to step aboard a powerful boat for true ocean miles. Beyond developing sailing skill, the team is an opportunity to exchange perspectives with people that University of Rhode Island sailor Megan Gimple says she would not interact with much in her day-to-day college life: "It's stimulating to meet people that aren't like yourself because everyone has a different perspective of the world."
As Core Crew member Fred Jameson, a retired Marine, simply puts it, "Transpac is a blue ocean that is BIG Ocean." It's a big ocean out there; TRADER Sailing is striving to make the most of every mile.
…
How to Follow TRADER Sailing:
Facebook: https://wwwB .facebook.com/SYTRADER
Instagram: https://www.instagram.com/tradersailing/
Twitter: https://twitter.com/tradersailing
Linkedin: https://www.linkedin.com/company/nach-yachts/
About TRADER Sailing: TRADER Sailing is a military outreach sailing team homeported in Honolulu, Hawaii. Their Skipper, Doug Pasnik, is a retired Marine who rescued the Andrews 70 TRADER in 2014 from Asia, eventually relocating it to Honolulu, Hawaii. TRADER competed in the 50th Transpacific Yacht Race in 2019, receiving the Dillingham Trophy for first finish by a Hawaii boat. TRADER is a common sight on the waters off of Diamond Head where Pasnik and a core team of sailors practice Tuesdays and Fridays, 50+ days a year. The program seeks to provide opportunities for soldiers, sailors, and young leaders alike to advance their skills, teamwork, leadership, and to grow together through the adventure of offshore ocean racing.
Website: https://www.tradersailing.com/
TRADER Sailing is currently funded through donations and crew contributions. We are actively seeking sponsorship and support for the 2021 Transpac Campaign. To help TRADER Sailing provide this opportunity to the veterans and rising sailors, please visit: https://www.gofundme.com/f/dsmdx-sailing-for-freedom. To get in touch about sponsorship opportunities, reach out to Sponsorship Lead Neil Stewart at sponsorship@tradersailing.com.
About Nobleman Sailing Media
Nobleman Sailing Media, headed by US Navy veteran Justin Edelman, specializes in travel and sports filmmaking. Edelman and his team travel around the world to capture unique adventure stories. After competing in the 2019 Transpac withGamble, Justin returns to expand his previous work and fully document the TRADER Sailing Transpac experience. To support his documentary series, head over to https://www.indiegogo.com/projects/transpac-video-series-on-trader#/
Website: https://www.noblemansailingmedia.com/about
About The Magenta Project:
The Magenta Project is an international sailing charity dedicated to developing pathways and generating opportunities for women in performance sailing. The Magenta Project was established by members of the all-female Team SCA following the completion of their round-the-world campaign in the Volvo Ocean Race 2014-15.
Website: https://themagentaproject.org/
About the Transpacific Yacht Race:
The Transpacific Yacht Race, otherwise known as the "Transpac" is one of the most enduring long distance sailing contests in the world. The Transpac's 2,225 nautical mile open ocean racecourse begins near Point Fermin, California and finishes at the Diamond Head Buoy off Oahu, Hawaii. The 2021 edition will be the 51st running of the biannual race.
Website: https://transpacyc.com/