Golden Jubilee to celebrate multigenerational dedication to Herreshoff innovation and craftsmanship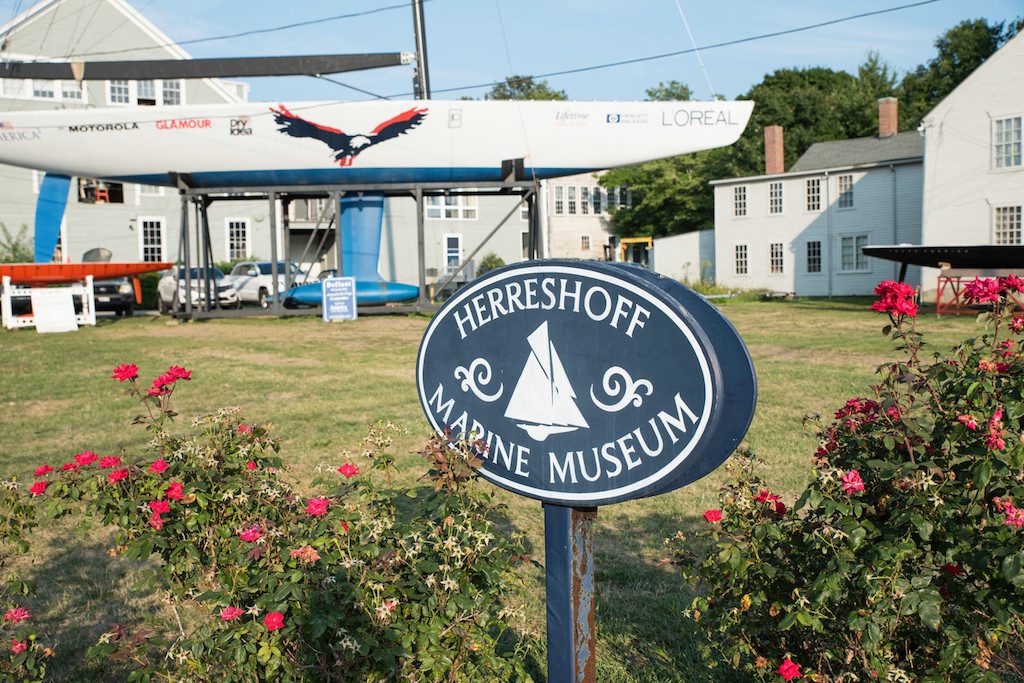 Our friends at the Herreshoff Marine Museum in Bristol, Rhode Island have launched their Golden Jubilee year; the 50th anniversary of its founding by Sidney DeWolf Herreshoff and Rebecca Chase Herreshoff. Propelled by the donation of a historic powerboat, Thania, from the estate of a Jamestown, RI man they had never met, the Herreshoff family established the Herreshoff Marine Museum in 1971. The donation of historically significant Herreshoff boats and artifacts by hundreds of people, including the Herreshoff family, helped to create an extraordinary institution on the site of a revolutionary enterprise led by Nathanael Greene Herreshoff and John Brown Herreshoff; the Herreshoff Manufacturing Company.
The museum is now open to the public for this very special season that includes a number of events designed to celebrate 50 years of museum collections, preservation, education and inspiration. The current list of events includes:
June 24: A Celebration of Herreshoff One Design Yachts This special event may be the last time three restored Herreshoff one design yachts will be together in the United States. To be held at the New York Yacht Club, Newport, RI, this waterfront reception will proudly feature AMORITA (New York 30), MARILEE (New York 40) and SPARTAN (New York 50).
July 14 & 21; August 11 & 18: Inaugural Summer Jazz Series on the Waterfront The museum will expand its community programming this year with Jazz concerts by talented local musicians including Project Flynn, The Honk, Dan Moretti & The Hammond Boys, and the Greg Abate Quartet. These two-hour concerts (7 – 9 pm) includes free access to the museum with food and drink available to purchase.
August 12: Ocean House Reception Located in Watch Hill, RI and serving as a Presenting Sponsor of the Golden Jubilee, the Ocean House represents one of the finest examples of historic preservation. The museum will be pleased to honor the late James "Ding" Schoonmaker for his dedication to the Herreshoff Watch Hill 15 fleet. Guest of Honor John "Hap" Fauth will be celebrated as the leader of the New York Yacht Club AMERICAN MAGIC syndicate, the 36th America's Cup Challenger of Record, that built two technically advanced racing yachts in Bristol.
August 27, 28 & 29: Herreshoff Golden Jubilee Regatta and Rendezvous Built on a tradition that began in 1981 of welcoming Herreshoff yachts and sailors back to Bristol, the museum will host three days of racing as well as a cruising event for the first time. All original Herreshoff boats are invited to participate along with reproduction and spirit of tradition boats, the designs of L. Francis Herreshoff and Halsey C. Herreshoff, and also America's Cup 12-meter yachts.
September 30: Golden Jubilee Waterfront Gala The museum will host a celebratory gala on its historic waterfront to include the dedication of the RESOLUTE Syndicate monument; a centennial commemoration of the 1920 America's Cup defender (Capt. Nat's last yacht designed to win the Cup). Crafted by the historic stone carving firm, John Stevens Shop, the RESOLUTE Syndicate monument is a tribute to a successful COVID-perseverance initiative funded by many generous donors.
November 18: Golden Jubilee Closing Celebration and America's Cup Hall of Fame Salute This formal dinner takes place among the most impressive yacht model collection in the world. The New York Yacht Club Model Room, in New York City, includes many Herreshoff yacht models. This special event concludes the Golden Jubilee and ushers in the 30th anniversary of the America's Cup Hall of Fame in 2022. America's Cup Hall of Fame inductees, America's Cup veterans and Herreshoff enthusiasts will help salute the Next 50 vision of the museum as it continues to transform into an educational campus for the next generation of problem solvers.
Jubilee Partners, Community & Content
Partnership
Sponsored by BankNewport, Ocean House and Ørsted, this Golden Jubilee includes more than the events mentioned above. The museum has partnered with WindCheck Magazine as its official media partner. Throughout 2021, WindCheck is featuring articles on iconic Herreshoff fleets and their owners as important stewards of Herreshoff boats, both originals and replicas. East Bay Newspapers is also dedicating numerous feature articles to the history of the Herreshoff Marine Museum and helping to promote a 500-new-member drive for the museum. Also celebrating its 50th anniversary, the Newport International Boat Show has selected the museum as its charitable partner for its September 16-19, 2021 show (www.newportboatshow.com).
Content
The new HMM Jubilee web portal provides access to stories, videos, archival material, and historic photos from the community as well as from the museum's own collection. The 2021 Lecture Series has been designed to dovetail with this content and will bring it to life through a combination of virtual and live presentations. A Jubilee event calendar is featured on the website so community members can stay up to date with planned anniversary events throughout the year. The museum's Code Flag Lima Project, originally launched to deliver engaging Herreshoff-related virtual content during the pandemic, now features Jubilee-related stories through its unique historical lens also delivering mission-driven digital content.
Community
This Golden Jubilee is designed to engage boat owners across the globe with a special focus on Herreshoff owners, past and present, and Herreshoff fleets that continue to race from Maine to Florida. These fleets demonstrate the multigenerational dedication to their boats. As such, the museum is partnering with more than a dozen fleets on their Windcheck magazine articles and with the presentation of custom Herreshoff Jubilee trophies sponsored in part by J.M. Reineck & Sons and MP&G.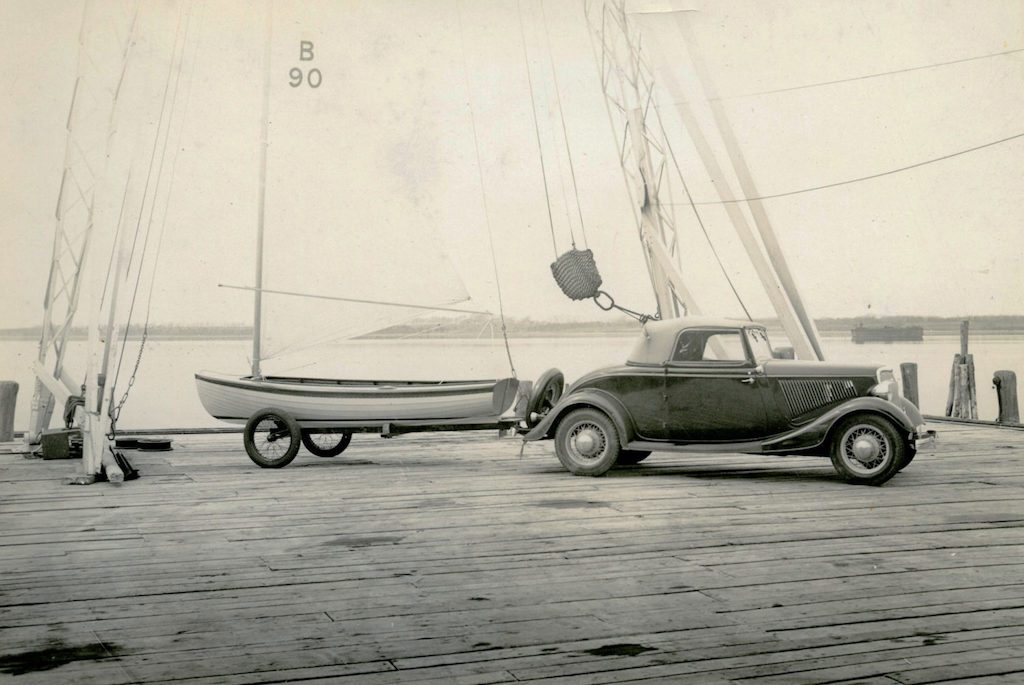 History built upon history
Admired by Henry Ford and other industrialists, the fully integrated Herreshoff Manufacturing Company built 2,000 steam-powered vessels, U.S. Navy ships, and sailboats like the Buzzards Bay Boys Boat (12 ½-footer) that helped teach generations of children to sail. Herreshoff also built technically superior yachts that dominated the international racing scene including eight consecutive yachts to defend the America's Cup from 1893 to 1934. Known around the world as the "Wizard of Bristol," Captain Nat's innovative designs were built to unrelenting high standards of craftsmanship.
Since its founding, Herreshoff Marine Museum waterfront campus has grown dramatically, starting in 1971 when it had no building but instead consisted of a small fleet of Herreshoff boats, a literal "floating museum." Today, the museum includes a number of original company buildings, the Herreshoff family homestead, and a modern exhibition building, the Isaac B. Merriman, Jr. Hall of Boats. Named for one of the museum's earliest benefactors, this exhibit space displays more than 60 Herreshoff wooden boats, steam engines, and an array of artifacts. The Nathanael G. Herreshoff Model Room & Workshop exhibit is a re-creation of Captain Nat's own model room and workshop, and contains more than 500 original design models, U.S. Patent Office models, tools and documents. Over the past five years, the museum has delivered STEM-focused experiential education programs to thousands of Rhode Island students. The museum is now partnering with the National Sailing Hall of Fame on an America's Cup Hall of Fame exhibit at its new Sailing Museum in Newport, RI.
The 50-year history of the Herreshoff Marine Museum has preserved not only this chapter of American ingenuity, it serves as a bridge to the future of boatbuilding. The Town of Bristol and State of Rhode Island continue to prosper as a cradle of innovation for the maritime community. According to the Rhode Island Marine Trades Association, the state's marine industry is comprised of more than 1,700 companies employing 13,000 people and generating $2.7 billion in annual revenue.
To learn more about the Herreshoff Jubilee and these events, contact Ted Regan at t.regan@herreshoff.org or visit www.herreshoff.org. Consider joining the museum as a corporate sponsor, a member of the Golden Jubilee Afterguard, or as one of 500 new members in our Golden Jubilee year.