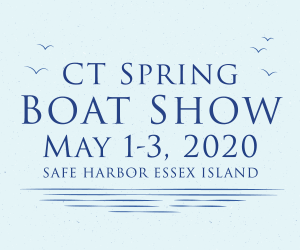 Essex, CT (April 10, 2020) The Connecticut Spring Boat Show, which was scheduled to be held Friday, May 1 – Sunday, May 3 at Safe Harbor Essex Island, Essex, CT has been canceled due to the coronavirus pandemic. The CT Spring Boat Show annually raises money for Sails Up 4 Cancer and is sponsored by Safe Harbor Essex Island, Yacht Brokers Association of America, Essex Boat Works, Essex Steam Train and Riverboat and YachtWorld.

The cancelation of the event was made official by Ben Cesare, owner of WindCheck Magazine and producer of the annual boat show. "We made this difficult decision earlier this week. The health and safety of our community obviously have to be our top priority" says Cesare. In the last two years, the show also helped to raise over $25,000 for Sails Up 4 Cancer. "We encourage folks who planned to attend the show to reach out to the organization in other ways to help contribute." Sails Up 4 Cancer (SU4C) is a non-profit organization based in Mystic, Connecticut. SU4C has been dedicated to supporting cancer care, education, prevention and research along the
Shoreline and Southeastern regions of Connecticut. To learn more, go to SU4C.org.
Since this decision was made, the State of Connecticut has put out an executive order directing Connecticut residents to "Stay Safe, Stay Home.", ordering all nonessential businesses statewide to prohibit in-person functions. until May 20, unless modified. In addition, there is an executive order prohibiting social and recreational gatherings of more than 5 people. This includes things such as sports, parades, concerts, festivals, live performances, and conventions. This now remains in effect through May 20, unless modified.

"Essex Island Safe Harbor fully supports this decision as it is in the best interests of everyone at this time," said Doug Domenie, Regional Vice President of the CT/NY Region. "We look forward to working with Ben and his Team to host next year's show on the island when we can ensure a safe environment for attendees of the show". Safe Harbor Essex Island is located on a 13-acre private island on the Connecticut River, accessible by a complementary ferry service, and offers 125 slips, accommodating vessels up to 200'.