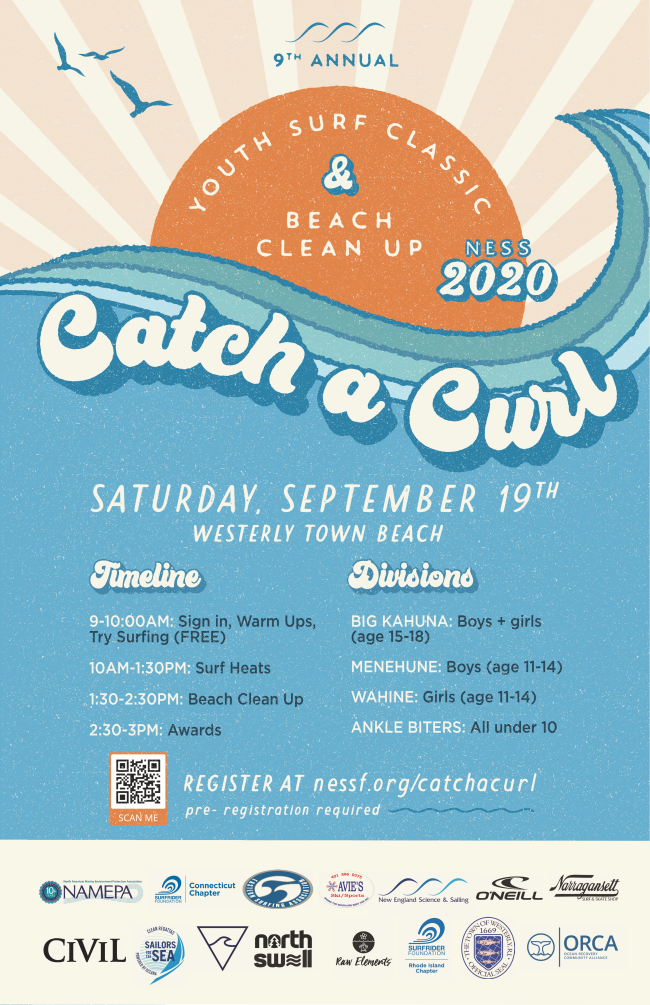 Westerly, RI — Our friends at the New England Science & Sailing Foundation (NESS), Town of Westerly, Eastern Surfing Association (ESA), and North American Marine Environment Protection Association (NAMEPA) are pleased to announce the 9th Annual Catch-A-Curl Youth Surf Competition and Beach Cleanup, which will be held at the Westerly Town Beach (365 Atlantic Avenue) in Westerly, Rhode Island on Saturday, September 19.

Catch-A-Curl is open to beginners through advanced youth surfers. The beach cleanup will follow the competition. Kids can try surfing with the support of NESS surf instructors or tune up their surfing skills before the competition. Due to the COVID-19 pandemic, an emphasis will be placed on wearing face coverings when not in the water and social distancing for all.

NESS's Associate Program Director Lauren Barber is the driving force behind NESS's efforts for the event. "We are so excited for our 9th Annual Youth Surf Classic and Beach Cleanup," she said. "Despite this year's uncertainty, one thing has remained constant: we are here to bring our community together in a time where we need it the most. We are here to get students out the water in a safe and fun way, and to promote clean swell for all to enjoy. We hope to see a great turnout for both the surf contest and beach cleanup!"

She adds, "A big shout out to The Town of Westerly, Eastern Surfing Association, and Peter Pan for their continued partnership in running this event. We are so thankful for all of our sponsors who have come together to help bring the stoke to the contest through prize donations and support a clean environment through a day of beach cleanup. We couldn't hold this event without our friends at Narragansett Surf & Skate, O'Neill, Raw Elements, RI Surf Co., North Swell, Surfrider CT, Surfrider RI, Civil, Avies Ski/Sport, North American Marine Environmental Protection Association (NAMEPA), Sailors for the Sea, and Ocean Recovery Community Alliance (ORCA)."

The event starts at 9:00AM for young surfers under the age of 17 and the beach cleanup (at 1:30PM) is open to all who want to help. Pre-registration is required this year and information and sign-ups are available at www.nessf.org/catchacurl.