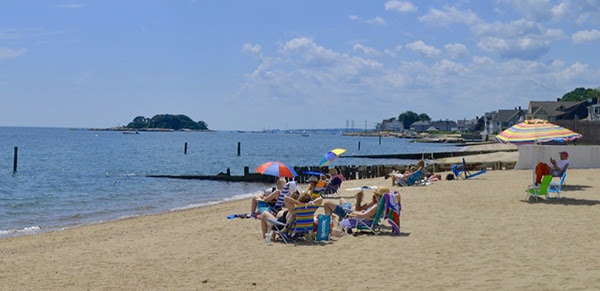 Our friends at Save the Sound have released their latest Beach Grades for more than 200 Long Island Sound beaches. Based on 2021 water quality testing data, the Grades are now live on Sound Health Explorer. Dive into those grades—and in many instances the waters they represent—for a clear picture of how your favorite beaches compare to others along the Long Island Sound shoreline.
Save the Sound developed this beach grading system in consultation with scientists who study water quality in Long Island Sound, and it is fueled by local and regional health departments that collect water samples to test for fecal indicator bacteria during the swimming months. High counts of fecal indicator bacteria and associated pathogens in the water can make people sick, and can be associated with untreated sewage or abundant polluted stormwater entering the waters at or near a beach.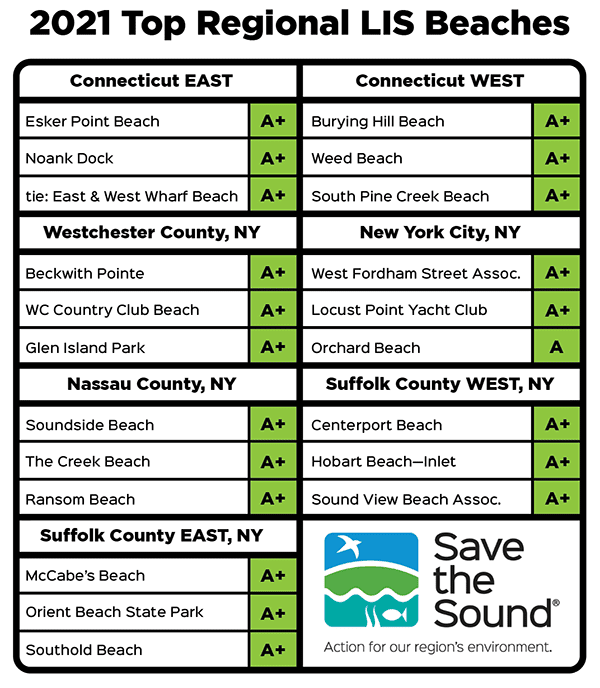 Rain often brings polluted stormwater to Long Island Sound beaches, which is reflected in their grades. Precipitation totals across the entire Long Island Sound watershed last summer were the highest recorded on Sound Health Explorer, which displays seasonal rain totals, individual Beach Grades, and much more dating back to 2003.
"Our historical rainfall norms, and even outlier predictions, are being replaced by more frequent and higher intensity rainstorms associated with climate change," said Peter Linderoth, director of water quality for Save the Sound. "This will have real implications on the health of our waters for people but also for the wildlife that inhabit them."
"If your favorite beach received a poor overall grade with associated poor wet weather marks, you need to look no further than the ground under your feet to shed some light on the problem," Peter said. "Beaches in areas with higher coverages of surfaces impervious to water—like roads, parking lots, and roofs—tend to be impacted more by stormwater runoff than areas with less of these surfaces. This situation can be remedied, and Save the Sound strongly advocates and implements projects that offernature-based solutions to this issue, like rain gardens to naturally treat stormwater runoff.."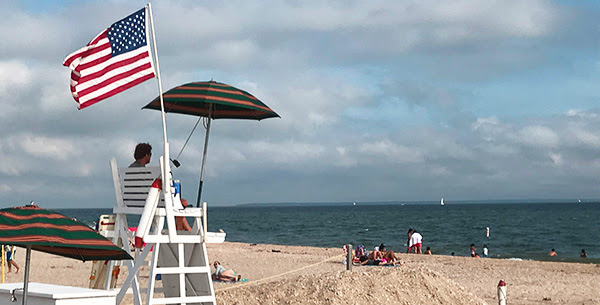 Dry weather failures often have the same causes as wet weather-related issues—including aging and failing sewer infrastructure or septic tanks, poor disposal of pet waste, and/or concentrated wildlife, such as geese or deer—but they generally occur closer to the beach in question.
We use these Beach Grades to provide you with the information you need to keep your family healthy, and to target areas in need of pollution reduction. Ten Sound beaches received grades of D or lower for 2021. Discuss your local beach grades with your elected officials and health departments, andcontact us if you have any questions, comments, or leads on where fecal contamination may be stemming from at any given beach.
Our full biennial Long Island Sound Beach Report, which analyzes beach health and trends over a longer interval, will be released in spring 2023. Be sure to look for the latest Long Island Sound Report Card, measuring the ecological health of the Sound over an extended period of time, coming this fall.
Thanks for all of your support,
Peter Linderoth, Director of Water Quality
Save the Sound