Submitted by Chip Adams
The Memorial Service for Dave Noyes will be this Saturday in Cold Spring Harbor, NY at St. John's Episcopal Church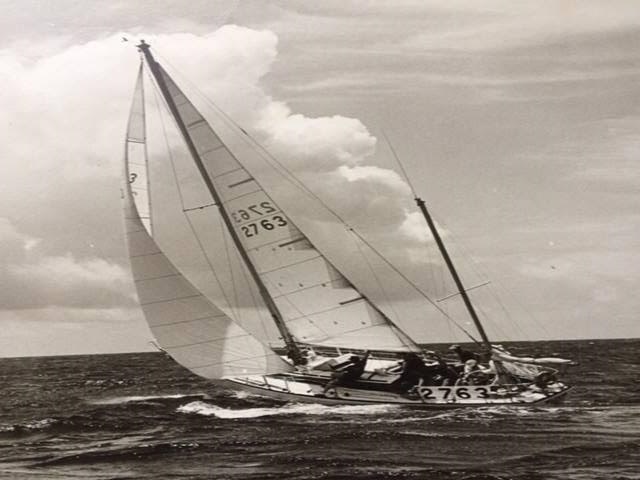 It was 14 or 15 years ago when the call was received. "The Skipper" was crossing the bridge of 80 years and upon advice and likely urging from family and doctors he decided to find a new home for his boat. Beyond any mere boat, this was the mighty yawl Elixir of Cold Spring Harbor (and Deer Isle, ME); "The Skipper", the venerable and revered Captain Dave Noyes.
Skipper Noyes passed away on Friday evening, May 29, 2015. He had celebrated his 94th birthday in April 2015 and was among family and friends at home in Greenport, Long Island. His wife Betty had passed away during the spring of 2014.
Skipper Noyes and Elixir leave a racing legacy of accomplishment in Long Island Sound, New England and Atlantic waters beyond, placing in the money consistently during the 1970's, 1980's and 1990's.
Elixir is an Ohlson 38 yawl, built in Gothenburg Sweden, shipped over to the U.S. in the early 1970s, and then finished out stateside. As a yawl, there was many a race where the "secret weapon", a mizzen staysail, added just enough extra "oomph" to her speed that over long distances The Skipper was certain this made the winning difference (that and the occasional passage through Fisher's Island Sound on a BI or Vineyard Race to optimize tides!).
Sailing on Elixir was an invitation to join a racing family, both actual relatives of Dave, and the collection of seasoned sailors who contributed to a rich and fulfilling experience on the water. Crew members paying attention enjoyed much more than simply making a boat go fast; more than finding the most advantageous currents, the best wind, and reacting immediately to condition changes. In a program of this caliber led by Skipper Noyes the lessons and gifts gained in the pursuit of winning extended into other aspects of life, as one was able to connect the dots.
These are the enduring qualities of distance sailboat racing, way more than just a solid finish. The recent 2015 Storm Trysail Block Island race included the tremendous and captivating Comanche, balanced with well-known die-hard classics such as Carina, Mireille and Hiro Maru, along with various other boats continuing the tradition of high-performing, seasoned crews competing with the latest innovation – all learning, growing and enjoying a good ride up-and-down the Sound!
There was a fascinating way that Skipper Noyes could get his boat moving, in any conditions – from a complete stand-still with no steerage at all, to the opposite extreme when just the right amount of sail could be held within the reasonable bounds of control.
Elixir crew over the years included many accomplished and successful racers in their own right, as recorded in racing results from colleges, Long Island Sound events and waters far beyond, but also wonderfully competent and pleasurable shipmates – who were simply enjoyable to be with at sea. For me the experience showcased how to do things the right way – to prepare, plan, recruit fully, build a team, train, develop and drive, always the drive! This fanaticism could be intimidating to newcomers, but once ashore, with the results "in-the-can" there was so often a positive outcome, with a top 1, 2 or 3 finish that the focus and occasional gruffness on the water was understood, and celebrating with the sincere "praise and reward" dispensed pleasurably from The Skipper replaced any doubts about crew contribution.
His intensity was infectious, and guiding Elixir to greatest potential reigned supreme. Dave said little about his goal of winning against the "big guys", but that he did it consistently in his prime, provides a lasting legacy of racing achievement with a well-sailed, modest boat. His leadership in developing crew and providing a positive, rewarding experience is the true essence of what is cherished by those who sailed with him over any number of years. He knew it took a full crew working together to make it happen. Our crew over the years relished the experience of always striving, and getting as close to sailboat racing perfection as possible.
During the early 1980's at a time when the predominant rating rules for U.S. East Coast handicap sailboat racing focused on the International Offshore Rule (IOR); a new emerging rule developed that went further into boat measurement: the Measurement Handicap System (MHS – which later morphed into IMS). MHS benefitted from the efforts of Irving Pratt owner of well known boats Caper (CCA rule) and Zest (MHS). Skipper Noyes sailed under Captain Pratt, and regaled the Elixir crew with stories of racing Caper, and other boats earlier in his life. Dave Noyes was additionally competitive and successful as a junior sailor on Long Island Sound, with collegiate sailing at Harvard, and in the Atlantic one-design class.
A story was told at the awards ceremony of a mid-1980's Bermuda Race that IOR was short for "I Only Race", while "MHS" stood for "My Home is the Sea". Dave Noyes epitomizes the latter – MHS, and he is now truly at home and at rest "with the sea".   Elixir is in good hands with a long-term crew member, one of the most dedicated Elixir team members, in Massachusetts.
All who raced and sailed aboard Elixir with Skipper Noyes will forever value the experience. Peace Skipper, the boat(s) have gone to good homes, your spirit graces the sea!
Chip Adams – June 2015, Madison, CT