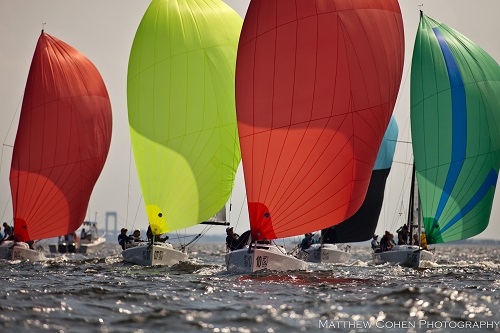 The New England J/Fest organizing committee and Vanquish Boats are excited to announce that they will be sponsoring the second annual New England J/Fest Regatta. The regatta, hosted by Sail Newport at Fort Adams State Park, will take place August 11th-13th. This highlight of the summer racing calendar is a must attend for all J boat owners, crew and enthusiasts.
© Matthew Cohen Photography
Vanquish will be providing the VIP boat for the weekend of racing, as well as offering an opportunity to board and sea trial a selection of models at Sail Newport.  "We thought this was a great opportunity to support the sailing world," said Morgan Huntley, Vanquish president. "J Boats are high performance racing hulls that are also fun and easy day cruisers for families. We identify with that model; we build strong, efficient, fast hulls that offer a safe and fun way for people to get on the water with the people they love."
Racing will take place in the beautiful waters of Narragansett Bay and Rhode Island Sound. This exciting weekend of racing will kick off Friday August 11th with an around the island race commemorating the 40th anniversary of the J/24. Friday's festivities will include the skippers meeting and North Sails local knowledge and weather brief.
Saturday will be an exciting day of racing for all classes. With expected one‐design classes including J/22, J/24, J/30, J/70, J/88, J/105, J/109 and well as additional classes for J/PHRF Spin (Symmetrical), J/PHRF Spin (Asymmetrical), and J/Cruise, there is bound to be some wonderful competition! There will be cocktails and a raw bar after the race followed by a BBQ dinner and live band for dancing. Sunday will have another thrilling day of racing followed by an awards ceremony.
This wonderful weekend of racing will also include the J/70 Youth Championships. 
As a Sailors for the Sea designated silver level clean regatta, J/Fest New England is excited to have Power Docks as a sponsor and to be the first national regatta to debut their aquatic power solution, Power Docks "Blue Isles" platform.  
Sponsors: 2017 Partner Sponsors for New England J/Fest are North Sails and J/Boats. Platinum sponsor is Vanquish Boats. Gold Sponsor is Premier Sailing League. Silver sponsors are Style Newport and Grennon's Jewelry. Bronze Sponsors are EBCS Marine, Ship's Store and Rigging, Newport Nautical Supply and Newport Vineyards. Social Sponsors are McMichaels Yacht Brokerage, East Coast Yacht Sales, IYAC and Power Docks. Official J/Fest photographer is Matthew Cohen Photography.  Don't forget to check out the wonderful J/Fest shirts, hats and jackets at our exclusive apparel supplier Latitude Custom apparel https://latitudecustomapparel.com/
Registration is still OPEN. Registration for the event is on Yachtscoring.com. Information regarding the regatta including registration, logistics, mooring availability, barbeque signup and hotel accommodation are all located on the Regatta Website.