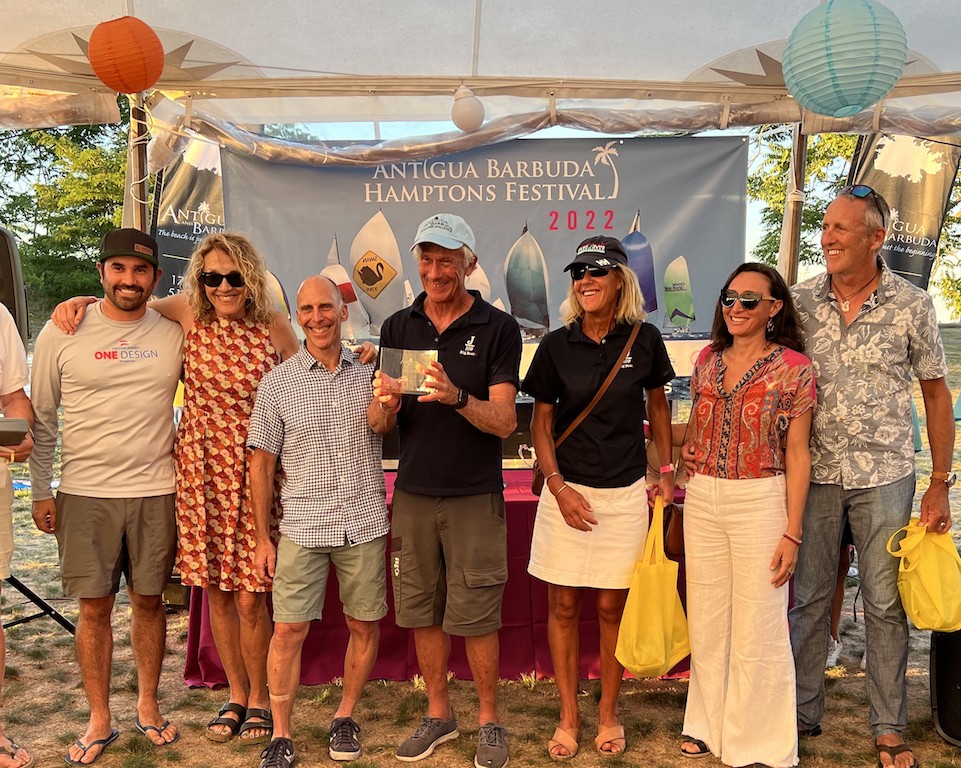 On Saturday, August 13, the annual Antigua and Barbuda Hamptons Challenge Regatta was back in Sag Harbor, New York after a two-year hiatus and Sag Harbor celebrated the event in style with an all day Caribbean Festival at John Steinbeck Waterfront Park, complete with steel drum bands, craft vendors and artisans, stilt walkers and local musicians.
Nineteen boats competed this year for the biggest amateur sailing prize in the Northeast- an all-expense paid trip to participate in next year's Antigua Sailing Week. All three of the top finishers are from the Breakwater Yacht Club. The fastest boat and first place winner was Big Boat, skippered by Bud Rogers with a time of 1:11:10. Rogers and his crew will travel to Antigua to participate in the 2023 Antigua Sailing Week held April 29-May 5, 2023.
Second place went to Cleo skippered by Luke Babcock, Ray Pepi and Steve Clarke and came in with a time of 1:13:34. They won lunch for four at The American Hotel in Sag Harbor and the third place prize of a wooden mini-cask of English Harbor Rum was awarded to the crew of the Godzilla, skippered by Jim Vos with a time of 1:13:34.
Trophies and prizes were presented by Tourism Minister The Honorable Charles "Max" Fernandez, at the Awards Cocktail Party at John Steinbeck Waterfront Park in Sag Harbor. The grand prize is made possible with the generous support of the sponsors Dream Yacht Charter, Locman Italy, Falmouth Harbor Marina and Axxess Marine.
The festival and regatta were presented by the Antigua and Barbuda Ministry of Tourism and sponsored by IGY Marinas and IGY Trident. Since it's inception in 2012 the Regatta benefits local nonprofit i-tri, which empowers middle school girls through supportive training in the sport of triathlon.
"In 2012, my husband, Rob Roden, Publisher of The Captain's Guide and John Maginley, then Minister of Tourism for the Twin- island Nation of Antigua and Barbuda had a dream- to join these two sister harbors, English Harbour in Antigua and Sag Harbor, here on Long Island, both rich in nautical history, both a yachting paradise and bring a taste of the Caribbean to The Hamptons.
"And so the Antigua and Barbuda Hamptons Challenge was born and has been a staple of competitive sailing ever since. After a two-year hiatus, we were excited to be able to bring the event back and this past Saturday, that dream was realized as Steinbeck Park was transformed into a Caribbean Festival all day long."   explained Theresa Roden, Founder and Chief Visionary Officer of i-tri.
For more information, log onto abhamptonsfest.com. https://abhamptonsfest.com