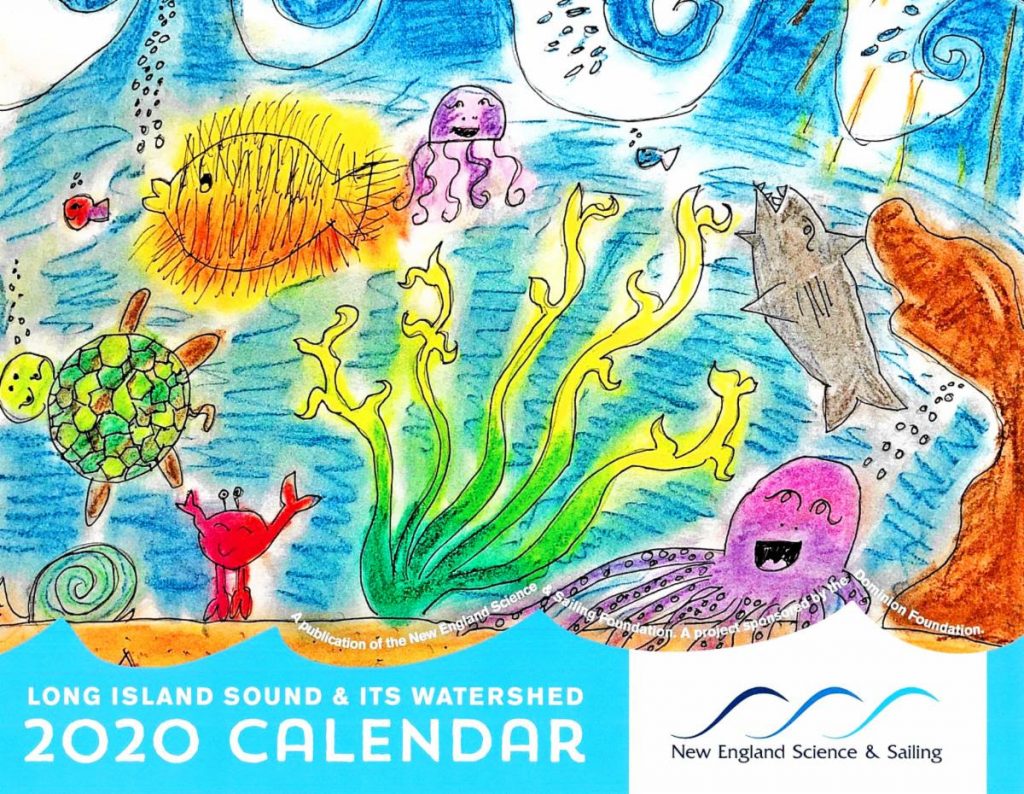 Our friends at the New England Science & Sailing Foundation inn Stonington, Connecticut have announced their annual drawing contest for the 2020 "Long Island Sound & Its Watershed: What It Means to Me" Calendar.
The contest is open to all Connecticut students currently in Grades K-6. This calendar contest is sponsored by Dominion Energy and supported by Barbara Petersen Parker (Center for Art and Earth Inc.), Trina Barrett (Mystic Aquarium), William Sullivan (Riverfront Recapture), Diana Payne (CT Sea Grant), Lisette Henrey, Barbara LaValley, Laura Carroll-Koch, and Rose Bonito.
CONTEST RULES
Eligibility:
The Long Island Sound drawing contest is open to all Connecticut students currently in Grades K-6. Participating classes/schools are asked to select one drawing per eligible grade to submit for judging. Individual children may submit a drawing on their own if the class or school is not participating or if their artwork was not selected to represent their school.
Requirements:
Required Size: 18" x 24" or 24″ x 32″. A slogan or title may be written on the drawing however, the student's name or school may not appear on the front or back of the drawing. Due to calendar printing requirements, drawings not within these size specifications will be ineligible for competition.
Contest theme:
"Long Island Sound and Its Watershed: What It Means to Me".
Teachers:
Please let students use their imagination. Drawings must be completely drawn by the student along with any written text for the title or slogan.
Materials:
White drawing paper (18″ x 24″ OR 24″ x 32″)
Crayons, felt pens, colored pencils, watercolors, poster paints, or grease pencils.
Drawings must be mailed flat or in a tube. Folded or three dimensional drawings will not be accepted.
A release form must be taped to the back of all submitted drawings. A drawing unaccompanied by a fully completed release form signed by a parent/guardian will be ineligible for state competition. Only one submission per eligible grade level (kindergarten through grade six) for each school or one drawing per individual (if submitting separately from school).
Checklist for submittal of drawings by Individuals/Schools
Please make certain to check the following before sending your drawing:
1. Release form is completed and signed by the student, teacher, and parent/guardian, and taped securely to back of drawing.
2. Art is received by NESS no later than Friday, May 8, 2020. (Judging committee will meet immediately following the deadline date, so late submissions will not be accepted.)
3. Each drawing meets all requirements (**Only 1 submission per grade. Artwork is 18″ x 24″ or 24″ x 32″**)
4. Pre-paid mailing label to return any artwork of students who don't win (students/teachers are welcome to pick up their non-winning artwork in Stonington, CT after judging)
All entries must be submitted to:
Pam Gibbs, Assistant Director of Outreach & Engagement
New England Science & Sailing Foundation
72 Water Street
PO Box 733
Stonington, CT 06378
860.535.9362 (phone), 860.535.9363 (fax)
email: pgibbs@nessf.org
DEADLINE: FRIDAY, MAY 8, 2020
Judging will be done by educators and professional artists. The panel of judges will select one grand prize calendar cover,and two first place and honorable mention drawings from each grade level. A total of fourteen drawings will be featured in the calendar with the student's name, grade level, school and town. Honorable mention drawings will also be selected and featured in a section of the calendar.
AWARDS:
The winning students of the Long Island Sound Calendar Contest will be honored in a ceremony. Due to the impact of COVID-19 we will be rescheduling the awards ceremony, the new date is still to be determined.