Our friends at the Ocean Community Chamber of Commerce in Stonington, Connecticut have opened up bidding on 113 of the buoys that adorn the Stonington Lobster Trap Tree, located at the Stonington Town Docks. The internationally recognized tree, featured by BBC News as "One of the 18 Most Amazing Christmas Trees in the World," has drawn over 20,000 visitors since it was erected in late November. This amazing tree is lit every night from 4:30pm to 10pm until the end of January.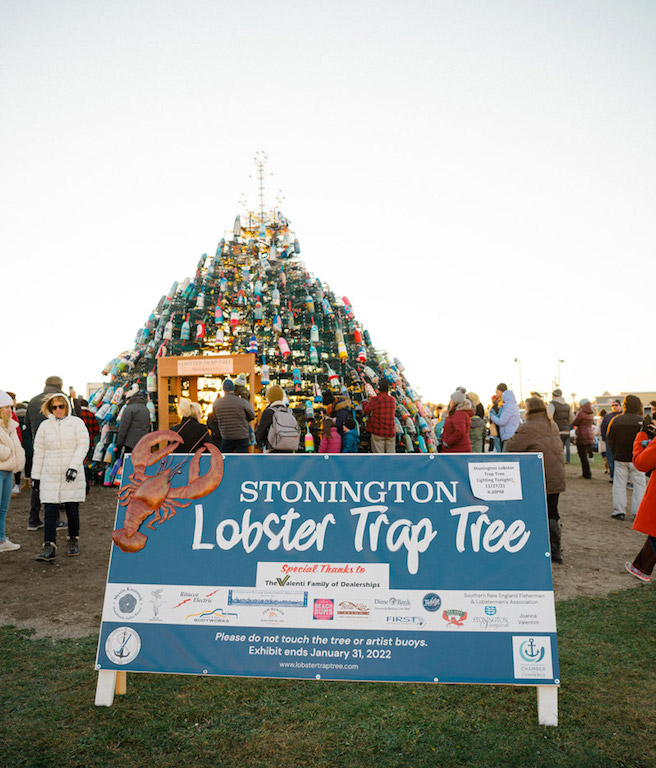 The message below is from the project's website, lobstertraptree.com/buoys-artists:
"Art is universal communication. Sadly, during the past year, we've been deprived of the arts and have experienced varying degrees of social isolation. The Stonington Lobster Trap Tree brings people and unique perspectives together again. Through this captivating composition, an abundance of creativity and a diversity of styles are being blended together for a beautiful outcome.
More than 100 talented professional artists from Rhode Island and Connecticut are collaborating to bring this unique art installation to fruition. While most are using acrylic paints, some are creating their buoy using decoupage, mosaic tile, and even yarn! Each of these works of art will be clear coated and displayed on the community tree and then be available for public auction Friday, February 4 at St. Mary's Church in Stonington from 5:30 – 7PM.
This aesthetically stimulating display will alter the landscape in a dramatic way and has the power to influence our mood, our culture, and impact the local economy. The Ocean Community Chamber of Commerce would like to thank all of the artists who donated their time to support this initiative. Contact information is provided with the photos of each buoy so that you may learn more about these incredible artists and so that you can shop their gallery or commission them for your own special project."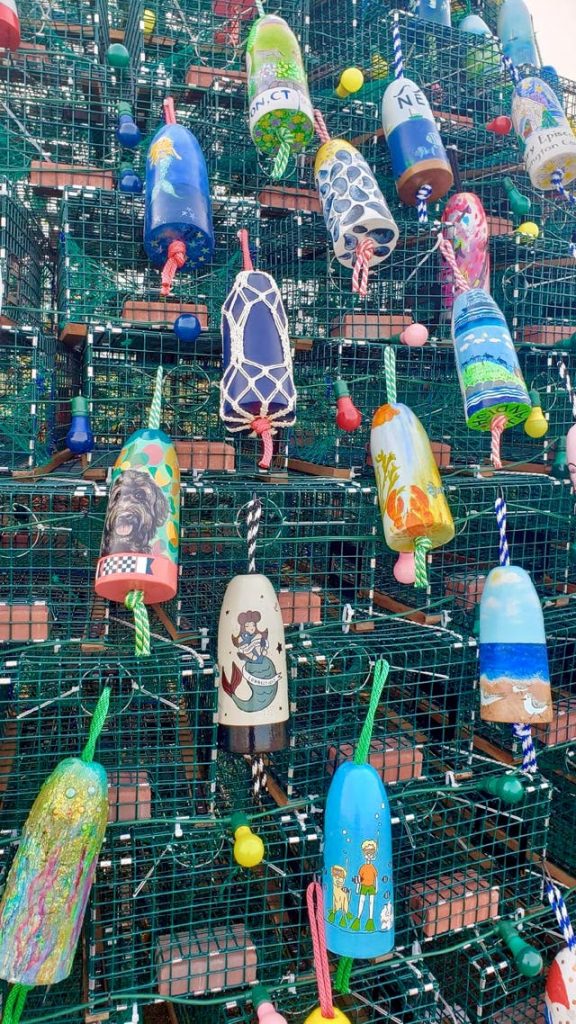 Proceeds from the buoy auction will be redirected back into the project allowing the chamber to make improvement to next year's tree, including increasing the height and adding fifty more traps and lighting.
The minimum bid for any buoy is $40.
Bids will be accepted through Thursday, February 3, at noon, at lobstertraptree.com/buoys-artists. In addition, a final, in-person "Buoy Your Spirits" auction will be held on Friday, February 4, from 10:30 a.m. to 2:30 p.m., at St. Mary's Church, 95 Main St. The event will be a last chance for bids on the buoys. Tickets are $25 to attend.
To register, visit oceanchamber.org.