Vestas Teams Up with 11th Hour Racing for the Volvo Ocean Race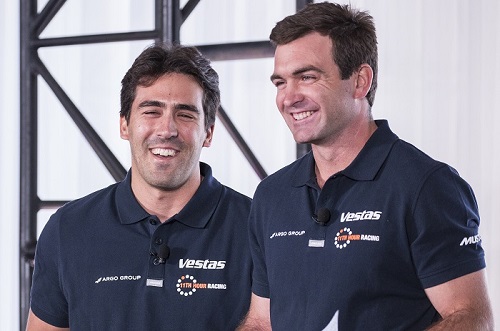 Vestas are returning to the Volvo Ocean Race for a second consecutive edition, after launching their 2017-18 campaign in partnership with 11th Hour Racing at simultaneous events in Newport, Rhode Island and Aarhus – where it was also announced that the fleet will make a 'fly by' of the Danish city on the final leg.
Mark Towill (left) and Charlie Enright will lead Vestas 11th Hour Racing in the Volvo Ocean Race 2017-18.   © Stephen Cloutier/PhotoGroup.us
Vestas 11th Hour Racing will be led by the American duo of Charlie Enright and Mark Towill. The team is the fourth to announce for the upcoming edition, which starts October 22, 2016, and they will use the race to promote a sustainability message around the world.
Enright, a native of Bristol, RI, and Towill (Kaneohe, HI) had their first Volvo Ocean Race experience as skipper and Team Director of Team Alvimedica in 2014-15. "It's an exciting time," said Enright at a press conference hosted by Sail Newport in Newport, RI on Tuesday, March 21. "We've achieved a strong collective of sponsors, and the boat has now been refitted and branded in Lisbon, waiting for us to get over there and get it out on the water. We're working hard on building a competitive team ahead of the race, and have a couple of transatlantic sailings lined up for April and May."
The Vestas 11th Hour Racing campaign is a unique platform for Vestas to promote its vision, which is to be the global leader in sustainable energy solutions. "The Volvo Ocean Race is a proven platform for Vestas and a unique strategic fit to promote our new vision and market-leading energy solutions in our key markets and engage with customers," said Vestas President and CEO Anders Runevad.
It's also an ideal fit for 11th Hour Racing, a Newport-based program of The Schmidt Family Foundation which establishes strategic partnerships within the sailing and marine communities to promote systemic change for the health of our marine environment. "Our partnership with 11th Hour Racing sends a very strong signal with two leading players within sustainability combining forces to promote sustainable solutions within wind and water," added Runevad.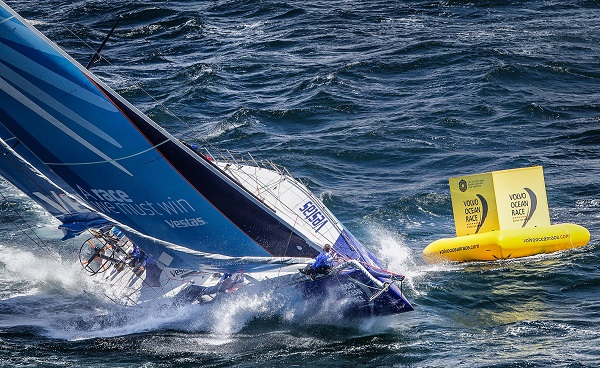 This is the second consecutive Volvo Ocean Race for Vestas (pictured here in the 2014-15 edition).    © Ainhoa Sanchez/Volvo Ocean Race
Wendy Schmidt, 11th Hour Racing Co-Founder and President of The Schmidt Family Foundation, said, "Mark and Charlie have been serving as ambassadors for 11th Hour Racing for the past two years, having witnessed firsthand during the last Volvo Ocean Race the many ways pollution and plastic debris are destroying ocean life and threatening all of us. Our partnership with Vestas is about inspiring positive change in the way we think about energy and the natural resources of the planet."
Vestas competed in 2014-15 as Team Vestas Wind – running aground on Leg 2 and rebuilding the boat against all odds to make a landmark return in Lisbon at the start of Leg 8. This is only the second time in VOR history, and the first since 1993-94, that three major team sponsors have returned for a second consecutive race – with Vestas, Dongfeng and MAPFRE all back on the start line. Team AkzoNobel take the total number of confirmed teams to four with seven months still to go to the start of the race.
The Volvo Ocean Race also revealed that a mark of the course will ensure the fleet will sail close to Dokk1 in Aarhus on the final leg of the 2017-18 race between Gothenburg and The Hague – giving the people of the city a great view of the competing teams on their One Design Volvo Ocean 65s.
"The teams will be on their final leg after racing 45,000 miles and to round the mark off Aarhus will be a great challenge for the fleet, who I'm sure will receive a welcome boost from the Danish public," said Mark Turner, Volvo Ocean Race CEO. "Denmark has a great history with this race already and today another chapter is written as Aarhus is added to the course."
Twenty-five Danish sailors have competed in the race to date and two teams have raced under the Danish flag – SAS Baia Viking in 1985-86 and Team Vestas Wind in 2014-15. Vestas 11th Hour Racing will sail under Danish and American flags.
The teams will depart Alicante, Spain on October 22 and race 45,000 nautical miles around the world with stops at Lisbon, Cape Town, Melbourne, Hong Kong, Guangzhou, Auckland, Itajaí, Newport, Cardiff and Gothenburg before the finish in The Hague. For more information, visit volvooceanrace.com.