A Doomed Ship, a Violent Storm, and New England's Worst Maritime Disaster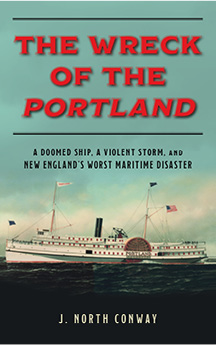 By J. North Conway
Published by Lyons Press, an imprint of The Rowman & Littlefield Publishing Group, Inc.
201 pages hardcover $26.95
This reviewer must confess to never having heard about the storm that became known as "The Portland Gale," nor the story of "New England's Titanic," the passenger steamer Portland.
A perfect storm formed off the coast of New England in November 1898. When it made landfall on Saturday, November 26, it was a blizzard with winds topping 100 miles per hour and 60-foot waves. One of the worst storms ever recorded in New England waters, the Portland Gale killed 400 people along the coast and sank more than 200 ships including the Portland, which foundered and sank with more than 200 people aboard. There were no survivors.
Making regular nine-hour runs between Boston, Massachusetts and Portland, Maine for the nine years since her launch, the 291-foot Portland was one of the largest and most luxurious paddle steamers plying New England waters. Although he was aware of the huge storm hurtling up the coast, Captain Hollis Blanchard (who had recently been passed over for promotion for a younger captain and perhaps wanted to bring his ship into port ahead of the storm to show the owners of the steamship company that they'd made a mistake) elected to leave Boston Harbor for a passage to Maine. The Portland had been designed and built for coastal service – not extreme storm conditions – and with more than 65 tons of coal aboard her fate was sealed.
With a compelling series of vignettes, author J. North Conway delivers a visceral, poignant account of this all-but-forgotten tragedy. The Wreck of the Portland is highly recommended.
The author of fifteen books including Attack of the HMS Nimrod: Wareham and the War of 1812, New England Rocks, and The Cape Cod Canal: Breaking Through the Bared and Bended Arm, J. North Conway lives in the 200-year-old house of sea captain John Nichols, in Assonet, MA. ■