As the owner of Custom Marine Canvas in Noank, CT, Katie Bradford has turned her passion for sailing and sewing into a successful business. She's also the Co-founder and President of New London Community Boating, a non-profit organization that has introduced hundreds of kids to the sport.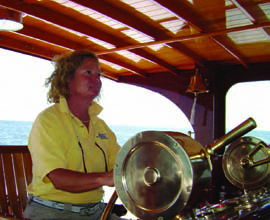 "I've been sewing since I was a kid, and I started sailing at Thames Yacht Club in New London in 1976," says Katie, who lives in Mystic. "My mom, Carolyn Leuze, married my stepfather, Bill Leuze, that year and he taught me how to sail. In 1980, I had just graduated from college and was working in Newport. I fell in love with the racing circuit. I was married to Scotty Bradford, who is a Grand Prix sailboat captain, and we raced worldwide on Merrythought, Cannonball, Drumbeat and Virago. I followed the circuit to the Admiral's Cup in England and the Two Ton Worlds in Sardinia. While I was in Sardinia, I had the opportunity to sew at the North Sails repair loft…I made a pair of shorts out of the towels we had in our condo!"
"During my transatlantic passage back from Italy, a letter was waiting in Panama that said my stepfather had died. I wanted to get home to be with my mom, so I looked around for a job in a sail loft. When they asked if I had any experience I said, 'Yeah, I've sewn in the North Sails repair loft in Sardinia!' That was enough to get me in the door for a sewing test. Kevin Farrar hired me at International Speed Shapes, and I started messing around with canvas work during my lunch breaks. When Kevin had to lay me off, I bought a sewing machine from him and started doing repairs and small projects for friends. I got my captain's license and drove a schooner calledMarmion. I took her down to the Caribbean and back. When the owner went financially belly-up in 1985, I decided to start my business."
Katie, a Certified Master Fabric Craftsman, says keeping up with innovations in the fabric industry is essential. "It's changing every day," she explains. "When I started, Sunbrella came in six colors. Now it's in hundreds of colors and patterns. We're on the verge of being able to work with a photovoltaic fabric. Within a year, for example, we could make a boom tent for a sailboat that can collect enough solar energy to run a bilge pump!"
"In terms of computer aided design, in the year 2000 we pioneered a program for photo modeling a boat and then designing a top, dodger or enclosure for the boat in the computer and putting on that boat virtually, and being able to send our drawings worldwide to owners that we may never meet. We don't do as much photo modeling as we used to, although we still use AutoCAD for designing frames."
Katie is justifiably proud of the quality of the work produced by her six employees. "We're top-of-the-line!" she exclaims. "We hire the best people and compensate them properly. We're all boaters and we know what people want, and we listen to our customers. A number of times we'll get people who say, 'This is what I want, but so-and-so wouldn't do it that way'…the first name of the company is Custom."
Custom Marine Canvas (custommarinecanvas.com) has won several awards from the Industrial Fabrics Association International and the Marine Fabricators Association. "One of them was for an awning for a custom-built home on a nearby island," says Katie. "The owner wanted shade over his patio but he didn't want a fixed frame that would be up all the time, and he didn't want a retractable awning because those typically store under a soffit and he has downlights in the soffit. The owner is a sailor, so we put bronze sail track on the eave. Rich Cobb at Mystic Rigging found five masts that we embedded in custom bronze fittings in the stone in front of the house. The masts can hold the awning in different configurations. When they don't need the awning, the masts come out, the awning collapses like a sail, slides to one end of the track and stores in a bag."
"We did all the bunks on five of the ten boats in the 1997-98 Whitbread Race, and won an award for the port lower forward bunk on Toshiba. That was where an injured crewmember would go, and we made it so that you could zip it away from the hull and airlift the injured crewmember out on that bunk. We also made a harness for a sea lion at Mystic Aquarium so he could carry a camera in the wild."
A Past Commodore of the Eastern Connecticut Sailing Association (ECSA) and the Mystic River Mudhead Sailing Association, Katie enjoys competing on the ECSA Offshore Circuit and in the Mudhead 'Donzo' Wednesday Night Race Series. She also likes0 sailing her restored 23-foot Seacraft.
The self-reliance that sailing fosters is reflected in the success of New London Community Boating. "Speaking with my mom and [former ESCA Treasurer] Judy Gibbs over lunch in 1998, we decided to do something for the children of New London. Our facility at Greens Harbor Beach belongs to the City, and they provide transportation. Our Head Instructor, Becca Wesley, has been with us over ten years and every other instructor has come up through the program. Several of our students have become US Sailing Level 1 instructors."
"These kids arrive at the venue completely baffled because they're not used to being on or near the water. At first they're afraid of flipping the boats, but once they learn how to flip a boat that's all they want to do. They learn to be in charge of something for the first time in their lives, they learn communication, and they learn self-esteem. That's something they can be really proud of."