By Joe Cooper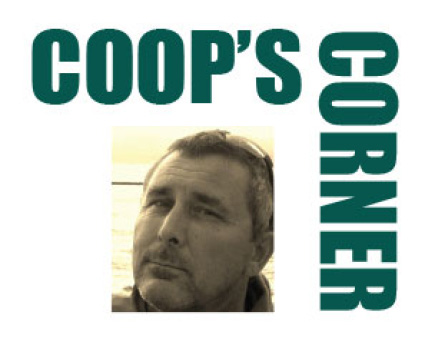 The Prout School had its fall Open Day last month. As the Sailing Team has done for the past few years, we brought a 420 into the gym and rigged her up, mast, sails and all. There were multiple tables set up around the perimeter of the basketball court for all manner of activities, classes and groups. We were between two other sports tables that had generic sign-up sheets for the dozen or so sports the school participates in. Only one other table had a video display and that was on a small desktop computer screen. We, Sailing, on the other hand had The Coopers Watch TV large screen on a table and plugged into my laptop, from which we played a video on the Prout Sailing Team. At the end of last season one of the fathers had assembled a slide show, 17-some minutes long, that encompassed the team's adventures over the season and we played this on a loop for the duration.
There were images from the regular sailing practice, the various away regattas and Friday Nite Lites regattas, smiling faces from qualifying for, and then finishing second in the Mary Rose Herreshoff Women's Regatta. I am told this is the only all-girls regatta in high school sailing, a statement that completely stuns me in this day and age. The Friday Nite Lites regattas are hosted by the four schools that sail out of Sail Newport: us, Rogers (Newport High School) Middletown and Portsmouth. We invite other member schools in the RI league to come and play. The total is governed by the 24 boats we have access to at Sail Newport. Some days we have A & B fleets start together, other days not. It is a hoot. Commonly the rotations are on the floats at the Admirals Pier, where the cranes are. This doubles as a great venue from which parents can watch and from which locale it is a quick walk to the shelter and convenience of the new Mid-Park Science Building at Sail Newport.
There are even a few slides from the end-of-year Ben & Jerry's run. We sail over to Newport, park the boats at the Newport Yachting Center (thanks, Chuck) and walk up to B&J's in drysuits and LJs, and being Newport, no one bats an eye. The underlying theme in this video is FUN. There are only one or two slides where the sailors are not laughing, smiling, hugging, joshing each other, flashing the thumbs up to each other or to the camera and having FUN. I can watch this video indefinitely, not only for the memories of a great season, but because of what it represents: Young sailors totally hooked on sailing. I regularly muse on the best, or any, way to duplicate this around the country.
As many sailors will know there is a decent sized Disturbance in The Force surrounding the retaining of young kids in sailing, the "problem" being attrition at a young age. Much of the discussion is around the idea of promoting a "modern boat," something like the 29er, 49er, Nacra cats and so on. But as in any work connected to addictions, you cannot fix the problem until you recognize the problem exists. The third rail in this discussion is the venerable Opti (see page__ – Ed).
These ubiquitous shoeboxes have sired a few generations of sailors. But let's face it, if you are a sailing family, you're probably not washing around in a full-keeled, gaff-rigged timber boat…no offence to the two of you who are. A stroll down the dock at a boat show offers a pretty nice collection of contemporary, fast, mainly cruising, boats, none of which are gaff- or sprit-rigged. The idea of the Opti – a postwar, quick and dirty, garage-built sailing boat for your kids – is of a past cultural epoch, well behind us. I dare you to ask 10 of your sailing mates the last time they built anything in their garage, let alone a junior sailing boat.
At the other end of the planet, in the '60s I was sailing home-built Australian and Kiwi-designed skiffs. There were 12-, 14-, 16- and the now world famous 18-foot skiffs, Vaucluse Juniors (aka VJs), Cherubs, Javelins, Flying Ants – great little 10.5-foot-long skiffs with one trapeze. All of these boats were built of wood, in garages (not mine), just like the Opti. Nowadays of course they are composite, sold through dealers and in the specific case of the "Ant" now have retractable sprits and asymmetrical kites. Optis were nowhere to be seen, at least where I sailed on Sydney Harbor and further north on Broken Bay/Pittwater. The closest thing to an Opti was a Sabot, which, because of its design volume, doubled as a great tender to the mothership. It also has a proper mast with stays and a luff track for the mainsail, typical of almost every boat one is likely to sail unless the AC/C-Class Cat wing/mast sails get a re-run somewhere.
A stroll around the land displays of the same boat show presents a vast array of small, neat designs ranging from fairly docile to flat out humming. There are even a few of a size that can be used for training 7- and 8-year-olds. Mostly these boats are inexpensive, some are roto-molded, and all have a normal rig, generally una-style like the Laser and Finn. Most of them can accommodate two kids easily and when water gets in it goes out the back, without 15 minutes of bailing. Most of all, they have the sailing characteristics of modern boats and rigs to match. I'm not sure how many Opti sailors grow up to ever again sail on a sprit (NOT bow) boat where you lace the sails to the spar. Maybe this is why there are so many parents rigging their kids' Optis for them. I could tie a reef knot at six or seven years of age, but then I am a special case…just ask any of my mates.
The RS company out of England looks to have focused on designing, building and supporting a range of boats from novice first-timers to pretty sporty 20-footers. Take for instance the RS Tera. This is a great looking little boat about ten feet long, mainsail only, Laser-like – it looks like a normal boat. It appears to be an easy boat to hike on with contoured side decks. A comment from a young sailor at this year's Tera Nationals in California speaks volumes: "I like them because they are faster than an Opti and comfortable to sail." You can even roll tack them without scooping up half the bay. I imagine the sides of an Opti are great training for Thistle crew, but I wonder how many kids stay with the game long enough to graduate to that boat. Pictures show an RS Tera sailing upwind with a Padawan hiking as one would a Laser.
For families already invested in the Opti, and for some families, that is on a par with an Olympic Laser campaign, someone has just surfaced with a bolt-on proper bow for the boat. I saw it a few days ago on some email feed I get but cannot seem to find it now. It's a step in the right direction, but I cannot remember what they do to/with the mast. Oh well.
The foregoing are some of the background to things that made sailing fun for me. If sailing is fun for those 6-, 7- and 8-year-olds whose parents sign them up for sailing camp, just as readily as chess, baseball or ice hockey camp, they might get a 21st century exposure to the wonderful, wild ways of the water.
The premier goal of all involved in sailing today ought to be thinking about ways to engage kids from the first time they walk down the dock. Kids, and parents, we know, are inundated with information and things to do and being pulled in 20 directions at once. It behooves us all – those of us in the industry, owners looking for crew now or in 10 or 15 years' time, yacht clubs looking for members now and in the future – to be on board with getting and keeping young people sailing.
The single biggest reason we spend our after-tax dollars on something is because it's fun, we enjoy it, and we get some, usually intangible, "thing" out of it. This is the dictionary entry for "sailing." Sailing is just a hoot, and the community is great. The trick is to make it thus from the get-go.
We, the Coopers, did not have a garage (we lived in a flat), but I did lots of things with my dad, although mostly sailing. On weekends and school holidays we would anchor somewhere and within the blink of an eye I was in my Sabot, exploring all over the nooks and crannies, creeks and bays on Pittwater. When not so engaged Dad and I would, for instance, take ferry rides just for the heck of it all around Sydney Harbor. Another one my favorite things to do with him was developing and printing the pictures he/we had taken on one of our regular outings around Sydney Town back in the day. Well, that was great fun, the flat dwellers' version of Junior and Dad building an Opti in the garage, but today I take just as many pictures with my phone.
I can well imagine a kid hunkered down in the garage, with Dad, poring over the Opti plans while mum watches Ozzie and Harriet after doing the dishes. Fiberglass was, in that age, 'just' polyester and I'll bet there were a few heated discussions about getting "that awful, stinky stuff out of the house." The Norman Rockwell painting of dad and son building an Opti in the garage is a well-faded image these days. Might it not be time to embrace a boat that is more readily reflective of the time?
Australian born, Joe 'Coop' Cooper stayed in the U.S. after the 1980 America's Cup where he was the boat captain and sailed as Grinder/Sewer-man on Australia. His whole career has focused on sailing, especially the short-handed aspects of it. He lives in Middletown, RI where he coaches, consults and writes on his blog, joecoopersailing.com, when not paying attention to his wife, college senior son, dog and several, mainly small, boats. The cats have, sadly, crossed The Bar.