By Shelia Plaisance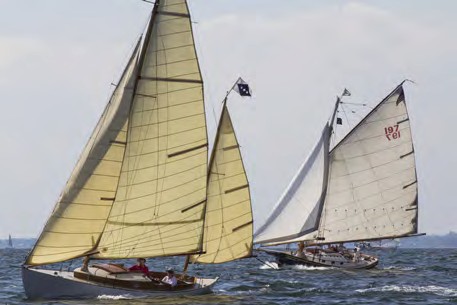 Wind, water and waves were key ingredients on September 19, 2015 as Indian Harbor Yacht Club provided a picturesque backdrop for a race of classic yachts visiting Greenwich, CT from across the East Coast. The race was their 6th Classic Yacht Regatta. The event is the second regatta in Western Long Island Sound for classics that is part of the Long Island Sound Classic Yacht Regatta series.
Jared Abrams' Friendship Sloop Natanya chases Jim Fogarty's Rozinante Cadenza.   © Emily Ferguson
This year, a record 39 boats participated ranging in size from 18-foot Marshall catboats to the 90-foot Spirit of Tradition designed yawl Bequia. They also ranged in age, with most of the fleet being built in the 1920s through 1950s.
Classic yachts have a different look and feel from today's sleek, modern boats. While every boat has its merits, the owners and sailors of classics have a romantic appreciation for design, preservation and history. Watching them plying through the waters off Captain Harbor under full canvas, one could distinguish them quickly by their bright, highly varnished woodwork. Wood, varnish and bronze provide a richer texture than boats made of fiberglass, carbon fiber and wire rigging. And while modern boats are often designed to sail flat, the long overhangs of a classic heeling in a stiff breeze evokes images of sweeping elegance. That heeling ability also delivers a practical advantage of extending the waterline to create acceleration through the water. It is no wonder that heavier air typically suits classics.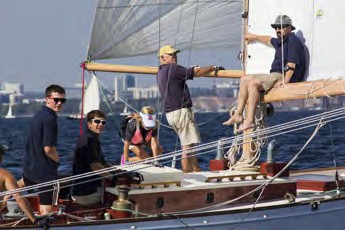 Race day weather, however, brought a bit of a challenge. After the Skippers Meeting in the clubhouse, the breeze was light and Principal Race Officer Ray Griffin announced a delayed start in hopes the wind would build enough to allow for a race.
The crew of Raymond Scanlan's Q Class Hope © Emily Ferguson
Indeed, the forecast delivered as promised and the largest fleet of 48- to 90-footers left the line in a medium, but building breeze of 10+ knots. As Ticonderoga, Black Watch, Puffin and the two Q Class yachts, Hope and Nor'easter, came to the line, the 1926-built Nor'easter decided to approach the start with no rights on port tack and quickly tacked under Bequia onto starboard, thus allowing the entire first fleet to clear the line heading toward the green bell "A" and out into the waters of Long Island Sound. Bequia and Black Watch quickly took the lead, with the legendary ketch Ticonderoga picking up steam as the breeze continued to build. Once this fleet reached the north shore of Long Island, however, the racers were halted by a lack of breeze, as recounted by John Neceszny, the mainsheet trimmer on Nor'easter:
"We got rolled early after exiting Captain Harbor as the bigger boats legged out and put some distance on us in the modest breeze after the start. As we found our groove and made our way across the Sound towards Long Island, we wondered why we were closing on Black Watch and Bequia as if they'd quit racing. It was then we realized that the wind had shut down. Next, Hope, who we thought we'd left way behind, all of a sudden charged past us, still in breeze. We decided to tack back away and chase the filling breeze in hopes of keeping up our speed, and we found ourselves sailing in and out of patches of wind coming from different directions literally yards away from each other. It was unnerving, but we took our medicine while skipper Ted Graves just powered through the patches. We rounded with speed and it was game on downwind as the breeze continued to build and we raced back towards the Connecticut shore."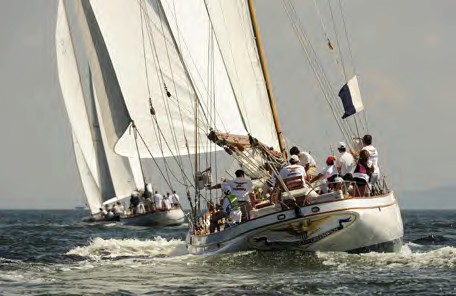 The subsequent classes of medium sized classic yachts, including the two John Alden designs Aegir and Windemere and the 1920s Herreshoff-designed S-Boats followed suit out on the 17-mile racecourse and were able to close the gap on the early, larger leaders. Meanwhile, the smaller classics and Spirit of Tradition boats raced an 11 mile shorter course closer to Greenwich Point.
Ticonderoga's owner Scott Frantz handed the helm to young crewmembers during the race.  © Allen Clark/PhotoBoat.com
A special moment in racing occurred when both fleets converged on the last turning mark at the same time to create an exciting scene of sails, shapes and sizes all charging through the much-anticipated afternoon southerly, while the nine 30-foot one-design Shields fleet held a series of short triangle races using spinnakers inside Captain Harbor.
With all racers in, the boats filled the clubhouse docks and the awards party went into full swing with Dark 'n Stormies from Gosling's. Prizes were given out in each class in additional to trophies for overall winners Dagger, Golden-Eye and Puffin. Additional awards were announced, including a Spirit of Panerai Award presented to Ticonderoga for her excellence of preservation and joyful participation that included allowing the junior sailors onboard to skipper during the race and to swing from her lovely halyards after racing. The regatta's closing event followed this theme of sharing, with Indian Harbor Yacht Club once again hosting Yale-New Haven Hospital cancer patients and their caregivers out for an afternoon on the water in collaboration with the Sailing Heals organization.