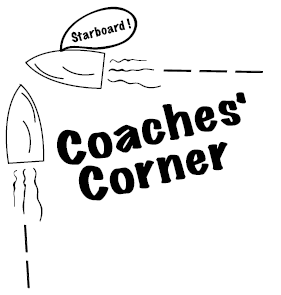 If you want to start racing windsurfers, you have an advantage being a dinghy sailor. Racing dinghies and Techno-293s are almost the same on paper. We have the same governing bodies, rules (with a few exceptions), courses, and basic tactics. As a sailor, you know what sail position does, and because of the Techno-293's mast track, the mast can be moved easily during a race. The biggest difference is probably the technique of working your hole on the starting line.
The rules for windsurfing are in The Racing Rules of Sailing, with changes for windsurfing in Appendix B –Windsurfing Competition Rules. The biggest rule change is Rule B2.1 (a) Rule 42 is changed to 'A board shall be propelled only by the action of the wind on the sail, by the action of the water on the hull and by the unassisted actions of the competitor.' This means that movements such as ooching and pumping are legal. There are many different pumping techniques, so this rule change makes it vital to be physically fit and practice your pumping techniques.
Rule B2.5 Touching a Mark states "Rule 31 is changed to 'A board may touch a mark but shall not hold on to it.'" So in the slalom sections of the race course you can be bolder when passing inside of a competitor when rounding a mark. Under Rule B2.1 (c) Rule 44.2 is changed so that two turns are replaced by one 360° turn with no requirements for tacks and gybes, penalties are changed from 720° turns to just a board 360 – you don't have to tack or gybe. In Appendix B all references to the "zone" are deleted, but the concept still exists. On a windsurfer it is hard to judge when you are a certain number of board lengths away from a mark, so ISAF [the International Sailing Federation] replaced it with mark-room without a set distance.
You also know how to position your mast on the step and rake it for optimal VMG; forward and loose for power and downwind angle, compromising speed and upwind angle. The same goes for a non-planing windsurfer. Remember, a non-planing windsurfer is sailed like a dinghy. Think about how well a keelboat with a spinnaker goes straight downwind. The sail is out in front of the boat, pulling it downwind. When the wind is super light, lower the boom to your lowest setting. The lower boom allows for the sail to get farther out in front of the board.
A huge difference between windsurfing and dinghy sailing, even in non-planing conditions, is the rhythm of the starts. As on any starting line, you find a hole and move in on it. Once on the starting line, it becomes difficult to keep a nice big hole. Because a windsurfer can be sailed backwards with accuracy, you will sail backwards upwind in order to stay in your hole. There is a rhythm to stay in your hole and to keep your competitors out.
When guarding your hole, you need to look to both sides of you on the line, and above and below the line for competitors looking to squeeze into your hole. It's easy and self-explanatory to block out competitors without holes – just move to block their move. Those that are already on the line looking to expand their hole can be intimidating. When the board in front of you on the line starts to back up, you need to make noise and move forward to block her movement. She knows she has no rights while sailing backwards, so if you are loud she'll understand that she is getting in your hole and you are not going to let her. She does not have to move forward out of your hole, so you need to sail forward to keep her from even starting to take your hole. Then quickly sail backwards because the board behind you will be making a move to steal the nice hole you have just made. This movement becomes a rhythm, with each board having her own dance in a circle to the same beat. The other competitors on the line will respect your hole, to a point, as long as you don't hog the line too much, and will work with you to keep other competitors out of the place where your holes overlap.
Now that you are ready to get on the racecourse, you'll need to know how and where to look for competitions. Unless you are planning on racing in Olympic Class regattas, I would recommend becoming a member of US Windsurfing because they run most of the events in the states and support youth windsurfing teams. Also check out the Team USA Blog at teamusa-windsurfing. blogspot.com/. As a youth windsurfer I would definitely sign up for the monthly emails for tips, news, and a list of training and competitive events. You can follow my competitions and ask me questions at cleverpig.org/SolvigS/.
A resident of Vineyard Haven, MA, Solvig Sayre is a member of the 2010 US SailingTeam Alphagraphics. She hopes to represent the USA in the Women's RS:X at the 2012 Olympic Regatta in Weymouth, England.