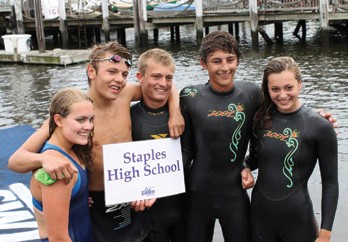 The 27th Annual St. Vincent's SWIM Across the Sound Marathon, an open water swim across Long Island Sound from Port Jefferson, NY to Bridgeport, CT is Saturday, August 2, 2014. Event organizers are seeking boat captains with boats of at least 22 feet to accompany swimmers from West Beach in Port Jeff to Captain's Cove Seaport at the head of Black Rock Harbor.
© blog.ctnews.com
The event raises over $400,000 annually for SWIM Across the Sound, Connecticut's largest cancer charity organization. At 15.5 miles, it is one of the longest challenges on the World Open Water Swim Association's Top 100 list, and one of the elite marathons deemed a qualifying swim for future English Channel Swim hopefuls, and a favorite of marathon swimmers.
Individual swimmers and relay teams (the Water Rats from Staples High School in Westport, CT are pictured) raise a specified minimum amount of money in order to participate. Boat captains donate their time and fuel for the day to escort swimmers or guide other boats in support of the fundraiser. Net proceeds are used to help individuals and families battling the multi-faceted challenges of cancer. Many swimmers and boaters participate because cancer has affected their lives, or their family and friends in some way, and they understand and want to help others with the struggles cancer brings.
St. Vincent's SWIM Across the Sound provides cancer education, screening, and prevention programs at low- or no-cost for the uninsured and under-insured. The SWIM also helps individual cancer patients on a  case-by-case basis with specific needs, such as the funding of wigs and prostheses, payment of utilities or rent, medication assistance, free transportation to treatments and appointments, day-care scholarships, support groups and more.
For more information, visit SwimAcrossTheSound.orgboatcaptain, or contact Mike Herrington at 203-895-1429.