We're on the final leg of Summer 2023, and it's time for the fall shows in Newport, Norwalk and Annapolis. WindCheck will have a booth at Newport and Norwalk, and we hope to get down to Annapolis too. We think it is important to try and help our advertisers leverage the cost and effort of being at these events to see you in person. So we are highlighting them here in hopes that you will at a minimum, stop by and say "Hi" and perhaps thank them for helping you enjoy WindCheck Magazine.
---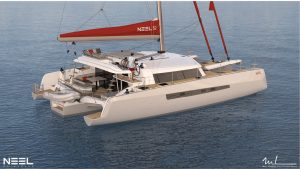 Our friend Gregor Tarjan, founder and president of Aeroyacht Ltd. in Setauket, NY, is passionate about multihulls. He is considered one of the leading multihull specialists today. Gregor sums up his knowledge in his highly praised industry reference book: "CATAMARANS, Every Sailor's Guide". McGraw Hill has republished this publication which is now in its 3rd printing. The new title is CATAMARANS: The Complete Guide for Cruising Sailors. Gregor's wide-ranging sailing experience includes numerous participation in the Olympic Star Class North American Championships, to over 60,000 thousand miles of racing large multihulls and delivering boats transatlantic. His firm offers a wide range of Nautitech, NEEL and McConaghy catamarans. The NEEL 52 was last year's hottest multihull, a brand-new concept by famed French designer Marc Lombard, who is also responsible for the NEEL 43 and NEEL 47 designs. The boat replaces the highly successful NEEL 51 cruising yacht, of which over 40 units have been crafted. If you want to learn about catamarans, come find and speak to Gregor!
Howie McMichael committed to advertising in WindCheck from Issue #1. McMichael Yacht Yards & Brokers, will be at the Newport and Norwalk shows with their impressive lineup of MJM, Hanse, Dehler, J Boats, and the new RYCK line of powerboats by Hanse. McMichael's is committed to servicing all of your yachting needs from NY to Newport at one of their three facilities or via McMichael's Mobile Service.

UK Sailmakers just celebrated their 75th year and we were proud to help them do it in style last spring. Butch Ulmer spoke to us on the history of the loft for four segments and the quality his father Buster imbued is being carried on to this day. Come and meet Conny Barris and his team from UK Northeast and Adam Loory from UK International.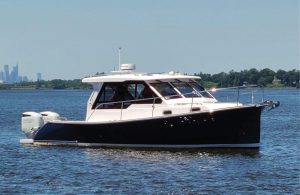 Prestige Yacht Sales will be present of course as they have offices in Norwalk, Essex and Mystic, Connecticut as well as East Greenwich, Rhode Island. They will be supporting their fantastic lineup of Hunt, Southport Boats, Beneteau and their power line of Antares boats and their latest very exciting addition, True North. Tom Pilkington and his team will be at Newport and of course their home game in Norwalk.

Black Rock Boat Works have re-created the chandleries we grew up with in Bridgeport, Connecticut, offering racing and cruising gear ON SITE as well as all of the rigging. Combine that with their decades of experience in one-design and offshore boats and anything from the deck up is done steps from their full service, full inventory, fully tooled shop. Come by the WindCheck booth in either Newport or Norwalk to discuss what they can do, whether it's an Ideal 18 fleet, a big blue water cruiser, or a Grand Prix race boat.

Gowrie Group is excited to be part of the 2023 Newport International Boat Show! Please be sure to stop by the Gowrie Group booth for answers to all your marine and yacht insurance questions, and enjoy a fresh picked apple from Bishop's Orchard of Guilford, Connecticut! Contact the Gowrie team anytime at boats@gowrie.com.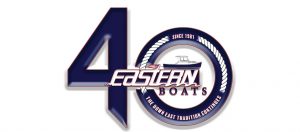 Eastern Boats is not your father's lobster boat company. What started in 1981 with a single model in a two-bay shop is now a three-boat line company in a four-warehouse facility, building boats from 18 to 30 feet. Their downeast hulls' classic design, paired with the modern build, make their boats fuel efficient and great for commercial or pleasure use. Plus they are good-looking, sea kindly, and perfect for before-work fishing or a journey like The Great Loop. Come see them at Newport. Eastern Boats has a boat for you. The Ewincher review in this magazine should pique interest for those interested in some electric assistance to their cruising sailing or rigging business.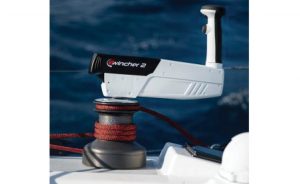 The Ewincher team from France will not be in Newport or Norwalk, but they will be in Annapolis. So, if you want to hold, touch, and discuss the Ewincher live in Newport or Norwalk, come to the WindCheck booth in Tent A to check it out, please stop by! For a fraction of the price of installing electric winches, you can have all of the benefits with a great deal more flexibility. And if you ever need to haul something heavy on board, like a crewmember, the Ewincher could be a legitimate life sa

Newport Rigging Group is a full-service rigging shop. They have over 70 years of combined experience in spar and rigging sales and service. Specializing in everything from older aluminum rigs and rod rigging, to the most modern carbon spars and composite standing rigging packages. They are able to manage your spar and rigging refits, routine maintenance or custom projects with their team of professional riggers.

America's Cup Charters, with almost 40 years of experience, is the longest running 12 Meter charter fleet in Newport. When it comes to connecting people with beautifully restored Classic Twelve Meter Class sailing yachts in Newport, RI, no other company comes close. Our almost four decades in business is proof of our ability to deliver an exceptional sailing experience. With our professional and friendly crews, beautifully restored classic yachts and onshore staff who coordinate your unique sailing event – our unmatched experience assures you a successful and memorable event. For a fantastic sailing experience for team building, friends or just family, please come see us to plan your sailing adventure in Narragansett Bay at our Boarding Location, 49 America's Cup Ave, in Newport. ■