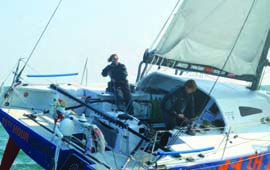 World-class sailors Rob Windsor of Centerport, NY and Hannah Jenner of Shropshire, England have teamed as Team 11th Hour Racing in the 20th Transat Jacques Vabre, considered the "Super Bowl of offshore sailing. Hannah and Rob, one of 25 doublehanded teams in the TJV, are setting eco-firsts by implementing 11 innovative eco-friendly solutions to race more efficiently and minimize environmental impact in the month-long, 5,600-mile sailing race that starts November 3 in Le Havre, France and finishes in Itajai, Brazil.
Hannah and Rob are trailblazers in more ways than one. He's the seventh American male to ever compete in the Jacques Vabre, and she's the 6th British woman to compete. It's rare for an American and a woman to contend in the prestigious race, making Team 11th Hour Racing even more unique and compelling.
Passionate about eco-friendly practices, Hannah and Rob are eager to bring unprecedented technologies to the sport of sailing. They're competing in this premier event while improving the environment through responsible sailing practices. To build the awareness and raise the profile of environmental challenges within racing, they are implementing 11 Winning Solutions aboard their Class40 11th Hour Racing that each contribute to and demonstrate one of the three tenets of their campaign: Cleaner, Faster and Better.
1. Hydrogenerator: This device uses the boat's motion to generate electricity, eliminating need for running the diesel engine and reducing weight as the team carries less biodiesel fuel.
2. Watermaker: The team will use desalination to make water while racing, eliminating the need to carry plastic water bottles.
3. Elimination of single-use plastic water bottles: By not using plastic bottles for their entire training and racing period, the team is avoiding the use of nearly 900 disposable 1-liter bottles.
4. Growing microgreens while racing: Microgreens are tiny young greens that the team is growing on the boat, providing an energy-efficient and nutrient-dense source of produce. Normally after four to five days, fresh produce is unheard of in offshore distance racing.
5. Optimized nutrition: Working with a nutritionist, the team created a plan to ensure appropriate protein and carbohydrate mix for optimal performance for the duration of the race, and they're reducing waste by eliminating food packaging.
6. Waste reduction: Hannah and Rob are not throwing anything overboard.
7. Solar panels: Using the sun's energy to generate electricity eliminates need for running the diesel engine and reduces weight because less fuel must be carried.
8. Carbon offset: The carbon footprint the team creates from driving, flights and monitor usage will be offset at the conclusion of the event.
9. Education outreach: Working with Rozalia Project For a Clean Ocean, 25,000 students across America will learn about the team and their mission.
10. Citizen Science: As volunteer citizen scientists collaborating with the Earthwatch Institute, Hannah and Rob are helping scientists answer real questions about the world around us.
11. Crossfit training: In addition to daily sail training, Hannah and Rob worked with a personal trainer and used Crossfit to prepare for the challenges of racing double-handed across the Atlantic.
Hannah Jenner, 33 is one of Britain's most talented female offshore sailors. 2013 has been a good year for Hannah as she won the Transpac race on board Dorade and won the Class40 division and set the record in the RORC Caribbean 600 She placed 3rd in the 2011 TJV and she also skippered a Clipper Around the World team and lead them to a podium finish.
"I feel strongly that anyone competing at a professional level has a responsibility to demonstrate good practice and for us that good practice means looking after the oceans that we race on. I am totally excited to be involved in a campaign whose goal is to race fast and do it without leaving behind a trail of litter and a giant carbon footprint. If we can go out and hunt down that podium position while setting an example to sailors around the world then we will be a happy team."
Rob Windsor, 41, has sailed over 250,000 miles on just about every type of sailboat. He placed 2nd in the Transatlantic Race 2011 on the Class40 Dragon. He also placed 2nd in the 2011 Atlantic Cup. Working as a preparateur for 11th Hour Racing in the 2011 TJV, Rob vowed he would be back and racing in 2013. "We all have a responsibility to future generations to do everything we can to protect the environment," said Rob. "A big part of this for me is the ocean. As a parent, I want my son to enjoy the ocean and teach his children to respect the ocean, just as my father taught me."
After the 2013 race season, Hannah and Rob are embarking on a speaking tour of yacht clubs across America, sharing their experiences and encouraging the sailing community to embrace sailing Cleaner, Faster, Better. To learn more, follow Team 11th Hour Racing online at team11thhourracing.com; Facebook at facebook.com/team11thhourracing; Twitter at twitter.com/team11thhour; and YouTube at youtube.com/the11thhourracing.