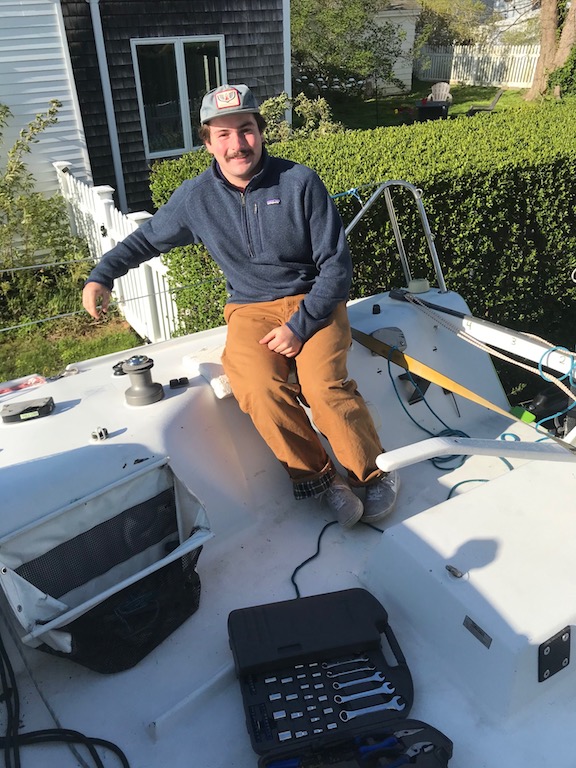 It's been said that when one door closes, another opens. For Griffin Spinney, a Newport, Rhode Island resident who's been sailing for most of his 18 years, the "prize behind door #2" turned out to be more fantastic than he could have imagined.
A senior at Proctor Academy in Andover, New Hampshire, Griff is an accomplished offshore sailor. After his plans to build a wooden paddleboard for his senior project were waylaid by COVID-19, our friends at Warrior Sailing offered him a once-in-a-lifetime invitation to a far more exciting project.
Ralf Steitz and Ben Poucher, Warrior Sailing's Executive Director and Program Director, respectively, have loaned Griff a Mini Transat 6.50, a 21-foot speedster best known as the boat sailed in the Mini Transat, a 4,000-mile singlehanded race from France to Martinique.
As Griff embarks on a journey that we hope will culminate in a gold medal in the new Olympic mixed two person offshore keelboat event making its debut at the 2024 Olympic Games, Joe "Coop" Cooper, WindCheck's Contributing Editor and a fellow Mini owner, caught up with him for the video interview presented here.
Coop: Please introduce yourself to the WindCheck Community, and tell us about your sailing background.
How did this opportunity come your way?
What are your plans for this very cool boat?
Who else is helping you with this amazing project?
Bon chance, Griff. Looking forward to seeing you and your co-skipper standing atop the podium in Paris!
Headquartered at the U.S. Merchant Marine Academy in Kings Point, New York, Warrior Sailing provides maritime education and outreach for wounded, ill and injured service members and veterans. The organization does so by facilitating opportunities for skill development and building partnerships between the military and marine communities. Using sailing as a platform, Warrior Sailing positively impacts the participant's physical and mental health while reconnecting them with the camaraderie and teamwork previously found in military service.
Warrior Sailing is affiliated with the USMMA Sailing Foundation, a 501(c)3 public foundation also based in Kings Point. Its mission is to actively solicit the donation of vessels to be used in various maritime programs for education and training. The Sailing Foundation works with numerous partner organizations to advance maritime training and education opportunities.