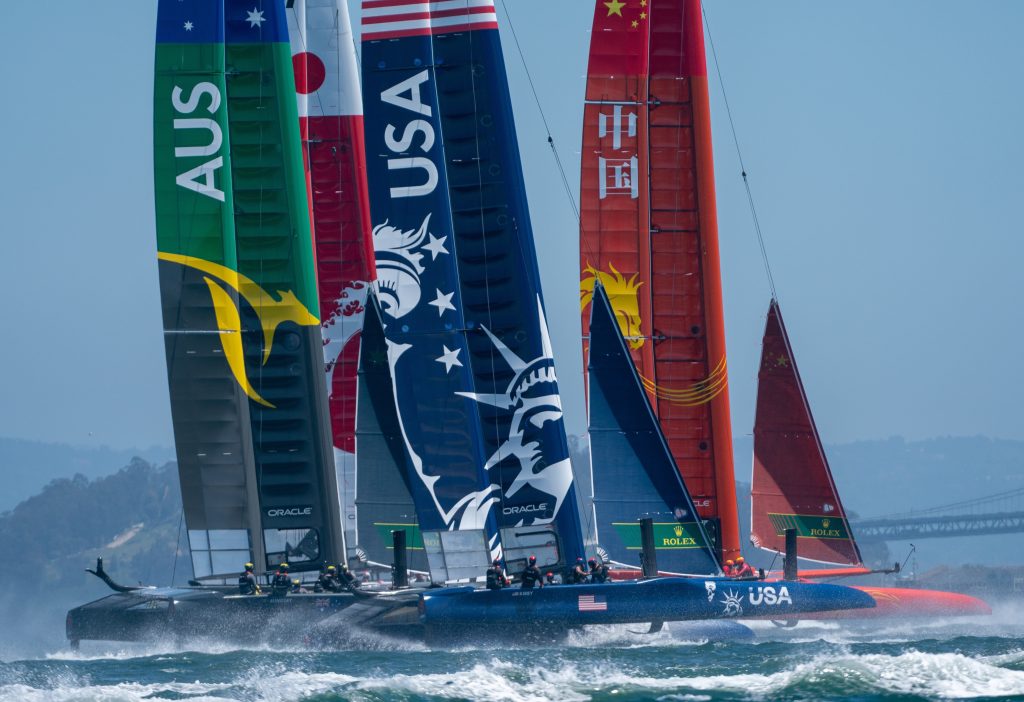 With supercharged foiling catamarans capable of 50 knots and six international teams comprising many of the world's best sailors, SailGP is our sport's version of Formula 1 auto racing.  The third event of the inaugural SailGP season is coming to New York City on Friday, June 21 and Saturday, June 22, and our friends at the Manhattan Yacht Club are offering an opportunity to watch this spectacular event from the beautiful megayacht Arabella! 
Six national teams from the United States, Australia, China, France, Great Britain and Japan will be vying for the top position on the SailGP leaderboard and fighting for the right to race in the $1 million winner-takes-all match race later this year.
Arabella's VIP Race Announcer on Friday will be Mike Buckley, co-founder of the Stars + Stripes USA America's Cup Team. Join Mike in cheering on his team co-founder Taylor Canfield, who's racing on the United States SailGP Team's Statue of Liberty-liveried F50.
Racing will take place on the Hudson River, just off the Battery and north towards Rockefeller Park. This is your opportunity to watch the SailGP races from a glamorous megayacht. This will be a significantly better experience than a normal dinner boat.
Arabella will board from 3:00 to 4:00 pm each day. Racing will take place from 5:00 pm to 6:30 pm. Guests will be able to disembark beginning at 6:30 pm. Tickets are $190 and include premium open bar and buffet food catered by Whole Foods.
Tickets are now on sale at https://arabellalifestyle.com/sail-gp-spectating/ Only 90 tickets are available for each day. Buy your tickets now before they sell out!
SailGP will bring the world's fastest on-water sail racing to the East Coast, introducing New Yorkers and visitors alike to the world of competitive sailing at never-before-seen speeds. Preview the action at https://youtu.be/7H_SzUvJQE0
To learn more about SailGP and the United States SailGP Team, skippered by Newport, Rhode Island's own Rome Kirby, please visit https://sailgp.com