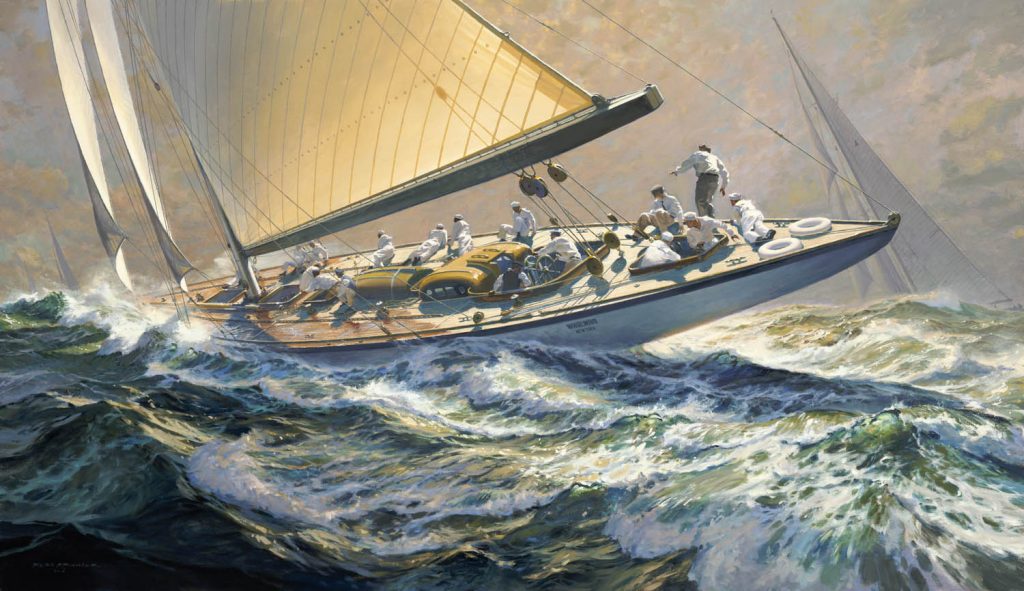 Friar Tuck's Tavern, now open at 12 Water Street in downtown Mystic, Connecticut, has a wonderful new patio that's perfect for live music, live art and enjoying the summer months in Mystic! A new series called ART (Art- Rock-Tuck's) starts on Tuesday, May 21 from 6:00 to 8:00pm, and you are cordially invited to be there to support live, local talent and try a new brew from Friar Tuck's extensive beer menu.
Kicking off this new series are The Troublemakers, comprising some of the area's most talented, in demand and seasoned veteran players: Ronnie Lewis (drums/lead vocals); Don "DC" Culp (drums); Dan Sherer (keyboards); Bill Light (lead guitar/backing vocals); Josh White (rhythm/lead guitar); and Marty Moroney (bass).
Russ Kramer, F, ASMA, is the featured artist for the new series. The subject of a recent WindCheck 'On Watch' article (https://www.windcheckmagazine.com/article/on_watch_russ_kramer/), Russ is widely regarded as one of the country's leading marine artists. His paintings create 'firsthand' experiences for the viewer, putting you right on board during some of history's greatest yacht races or turn-of-the-century luxury vessels. A sense of the dramatic moment, combined with meticulous research and attention to detail, have found considerable appeal and sell quickly into private and corporate collections. His works are unique and immediately recognizable, combining narrative, historical, figurative and maritime disciplines. Russ, who lives and works in Mystic, was the subject of a one-man show at the Museum of Yachting in Newport, Rhode Island and his work has appeared in WoodenBoat, Yachting, andSAIL. He is a Fellow and serves as the current President of the American Society of Marine Artists. He's won multiple awards at the Mystic International Marine Art Exhibition, including the prestigious Yachting Award. He is represented by the Maritime Gallery at Mystic Seaport Museum, the J. Russell Jinishian Gallery in Fairfield, Connecticut, and the ICON Gallery in Alexandria, Virginia.
ART at Friar Tuck's is designed to integrate live music and art in a family-friendly atmosphere. This series is held the third Tuesday of each month from May through October and features various musicians and artists. Admission is $10 per person and includes two beer tickets. A percentage of the proceeds will be donated to a different charity each month. To stay tuned for the full season line-up, log onto www.friartucksmystic.com.