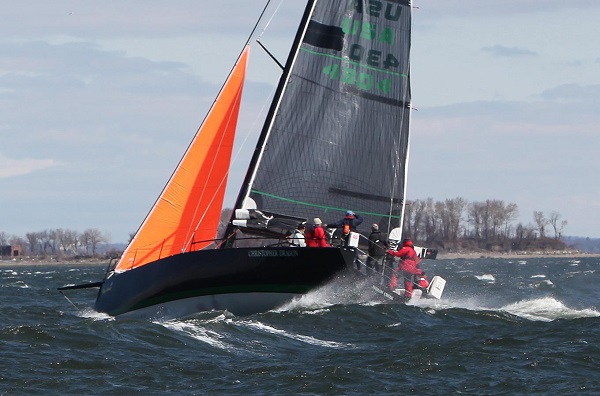 The Storm Trysail Foundation announces it will host its annual US Sailing sanctioned Hands-on Safety-at- Sea Seminar on Saturday, May 19, 2018, at SUNY Maritime in the Bronx, NY. As in past years, the 2018 SASS will be a combination of classroom instruction and practical, hands-on application of the subjects taught.
From on-the- water man overboard and storm sail drills to firing flares, extinguishing fires, and practicing damage control techniques, each attendee will end the day having actively participated in and learned how to resolve a broad spectrum of common safety-at- sea situations.
As was the case in previous Storm Trysail seminars, all attendees will earn US Sailing's Offshore Safety-at- Sea certification. Sailors seeking World Sailing's International Offshore Certification must complete US Sailing's Offshore Online course in addition to attending the seminar.
The 2017 Seminar was the first time that an advanced curriculum (Level 200) was offered to sailors who had previously attended a SAS seminar and sought further training. Since 2018 is a Bermuda Race year, the course will be available exclusively to sailors racing to Bermuda or in another major ocean race and who have previously taken a Level 100 course. On-the- water and classroom instruction will focus solely on safety-at- sea issues to assist Bermuda Race participants. For example, one Level 200 classroom session will feature a full 90 minutes with weather and Gulfstream expert Frank Bohlen.
Attendance at the 2018 Seminar will be limited to 250 Level 100 students and 50 Level 200 students. The fees for the 2018 Seminar are:
Seminar (either L100 or L200) – $295.00
Seminar including additional fee for US Sailing's Offshore Online course $380.00.
Participant fees include coffee and breakfast pastries at registration, lunch, and afternoon snacks and refreshments.
To learn more about the Storm Trysail Foundation's 2018 Hands-on Safety-at- Sea Seminar and to register, click HERE.