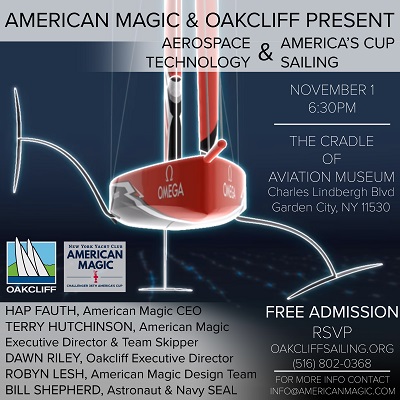 Our friends at New York Yacht Club American Magic and Oakcliff Sailing are co-hosting a special presentation, "Aerospace Technology & America's Cup Sailing," at the Cradle of Aviation Museum in Garden City, NY on Thursday, November 1, 2018.
NYYC American Magic, the U.S Challenger for the 36th America's Cup, is combining leading marine technologies with cutting-edge aerospace engineering to gain an edge over their international competitors in the regatta in Auckland, New Zealand in March, 2021. Attendees will learn about NYYC American Magic's mission to bring the Cup back to America, and how modern aircraft and racing sailboats are increasingly related.
Oakcliff Executive Director Dawn Riley, the only woman to lead an America's Cup team, will MC the event and discuss Oakcliff's partnership with NYYC American Magic. Presenters include Hap Fauth, American Magic CEO and very successful yachtsman Terry Hutchinson; American Magic Executive Director & Team Skipper; Robyn Lesh, a recent graduate of Oakcliff's Sapling program with one of the coolest jobs in sailing as a member of the NYYC American Magic Design Team; and Bill Shepherd, an Astronaut and Navy SEAL.
The Cradle of Aviation Museum is located on Charles Lindbergh Boulevard in Garden City, NY. The presentation begins at 6:30 pm and admission is free. Please RSVP at 516-802-0368. For more information, visit oakcliffsailing.org.