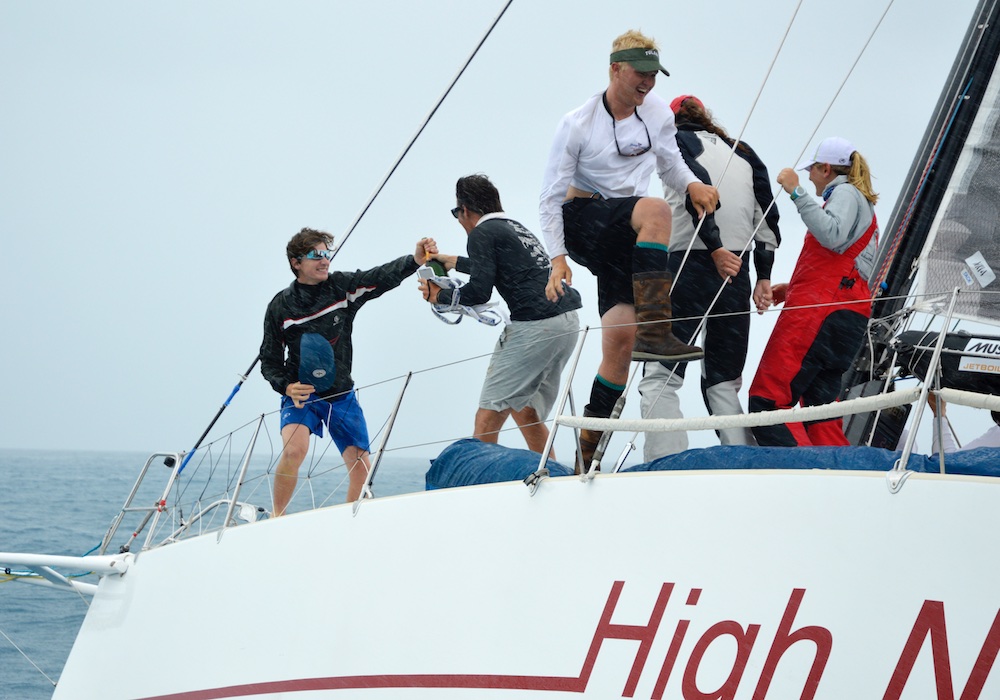 Mission
The Young American Sailing Academy (YASA) is seeking interested sailors to join the YASA sailing team and participate in a mixed double-handed offshore program.
The first step of this program is sailing the 2020 Newport Bermuda Race as mixed double-handed entries.
Do you have the passion and the skills to be part of a winning team, sailing mixed double-handed offshore for three to four demanding days? If this is your calling, please apply with YASA.
Newport Bermuda Race
YASA will have two mixed double-handed entries in the 2020 Newport Bermuda Race. At 640 nm the Newport Bermuda Race is the only race of distance and duration to be relevant to the upcoming World Championships and the 2024 Olympic event, which is planned to be a 3-4-day duration. The Newport Bermuda Race is an ideal training event for those seeking the near-term goal of qualifying for the World Sailing Championships to be sailed October 2020.
Using the boats immediately available, YASA is upgrading its two J/105s for double-handed offshore sailing. The boats are being equipped and configured with high quality instruments/auto pilots and offshore sail configurations. J/105s have successfully sailed transatlantic and transpacific races, and given their size and setup are considered appropriate equipment for mixed offshore training.
If the demand is sufficient from skilled and qualified sailors, YASA will work to provide additional boats for mixed duos. Discussions in this regard have been initiated.
Selection Process
Interested skippers are asked to submit their sailing resumés and their expression of interest. The YASA selection committee will select a short list from the submissions from which interviews will be conducted leading to the selection of the final skippers. Second tier and backup crews will be selected at the same time. Interested sailors may apply either as individuals or as a pre-formed team.
The application/information form is located at (Google Forms).
The selection committee anticipates starting to review applications February 25 with the intention of making selections by March 15.
YASA has been a youth centric program from its inception and consistent with that bias we encourage interest from youthful participants (<25), however all candidates regardless of age will be considered.
Some of the qualities and characteristics that are desirable in a skipper candidate are the following:
Ÿ "Skipper" frame of mind and team attitude 

Ÿ Having a gas-pedal – i.e. the ability to do all things to make a boat go fast in all conditions 

Ÿ Prior experience with offshore endurance sailing, preferably short-handed 

Ÿ Tireless, flexible, curious and tenacious 

Ÿ Focused and with a willingness to commit to an intense campaign 

Ÿ Knowledge in weather and weather routing 

YASA Framework & Support
Projects such as this are dependent on funding, YASA as a 501(c) (3) provides the tax-advantaged framework for charitable donations and commercial support to help meet the funding requirements. YASA will enhance its social media campaign promoting the project, its sponsors, and highlighting the sailors.
As previously mentioned, YASA is providing the boats and is working hard to deliver the associated equipment and upgrades. There is and will be plenty of work and preparation required, which YASA will support in every way possible.
Skipper Commitments
Each skipper should be committed to providing the following:
Ÿ Commitment to working and training hard to become an elite short-handed sailor 

ŸAchieving and maintaining a high level of physical conditioning
Ÿ Commitment to fundraising in support of the project budget (approx. $8,500/crewmember) 

Ÿ Providing personal safety equipment, offshore gear and associated supplies
Ÿ Having the time, energy, passion and excitement about mixed offshore sailing 

Provisional Budget 

The provisional budget for each of the two boats for the Newport Bermuda Race campaign is approximately $17,000. This budget includes the entry and operational expenses as well as the necessary safety equipment and ORR rating. It does not include capital upgrades, which include B&G H5000 Hercules instruments and pilot, and offshore sail inventory. 

Conclusion
This is the moment to find and create America's talent in the short-handed offshore discipline. In four years, there is an Olympic medal up for the taking. Let's set a course toward that goal and enjoy the journey.
To learn more about YASA, please visit https://www.yasailing.org. 

Contact
Peter Becker

375 Forest Avenue

Rye, NY 10580
917-715-1471