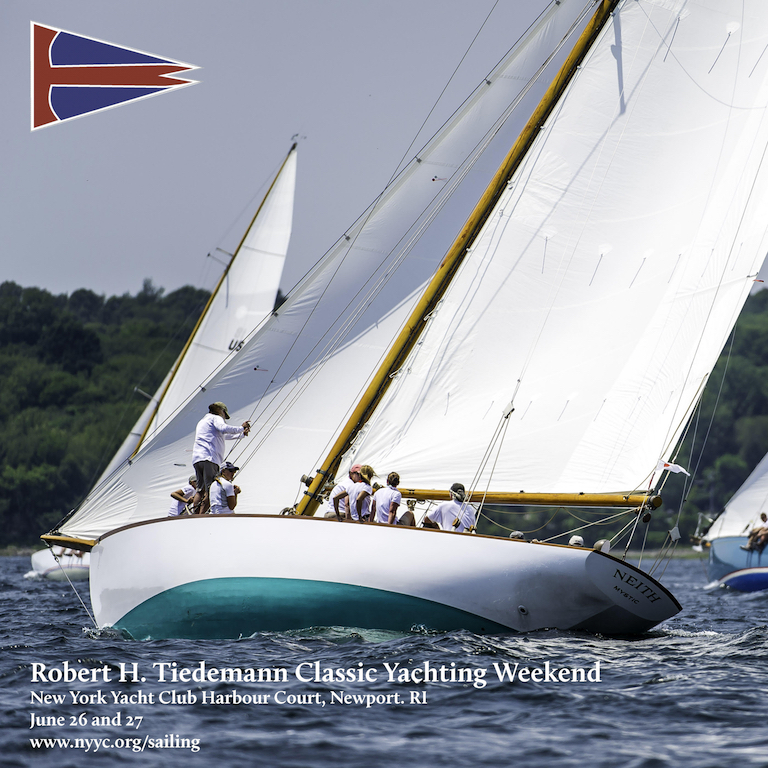 Our friends at the New York Yacht Club have announced dates for this year's Robert H. Tiedemann Classics Regatta, which will be held in Newport, RI the weekend of June 26 & 27. For the first time in its history, the regatta—traditionally held in July—will be the first event in the 2021 Classic Yacht Owners Association's Challenge Series.
"We are excited to activate the classic sailing community earlier in the summer," said NYYC event chair Jesse Terry, "and there is no better place to kick off the CYOA Challenge Series than Newport."
The CYOA Challenge Series includes a number of regattas throughout the northeast, from Rhode Island to Maine to Massachusetts to Long Island Sound. As with these other events, the Tiedemann Classics Regatta will have divisions for Vintage, Classic, Modern Classic, and Spirit of Tradition boats. One-design divisions may also be offered. "We will be welcoming a variety of yachts from different eras to race on Narragansett Bay," Terry added. "It's always just a beautiful sight to see the classics sailing together."
The Tiedemann Classics Regatta honors the legacy of Robert Tiedemann, remembered for his historic contribution to the preservation of classic yachting and promotion of the 12 Metre Class. Tiedemann, who passed away in 2006, was known for helping establish Newport as a center for the 12 Metre Class's racing activities. He also famously restored two classic 12 Metres, Gleam and Northern Light, as part of the revitalization of the fleet. A recently restored Gleam will be returning to the regatta again as part of the celebration. For more information, log onto nyyc.org/2021-tiedemann.