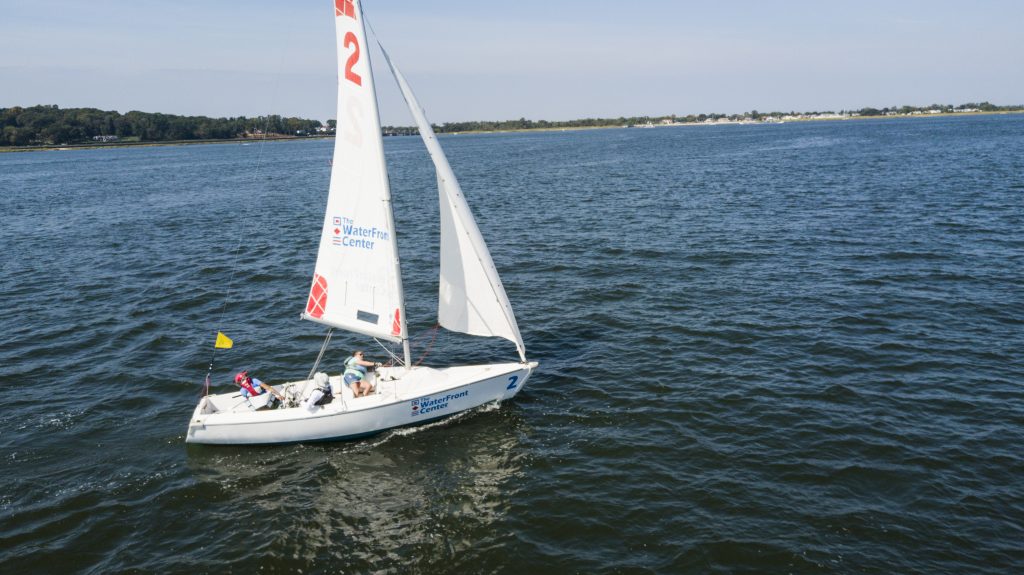 Sailors with disabilities competed in the fourth Clagett/Oakcliff Match Racing Clinic and Regatta, which was co-hosted by Sagamore Yacht Club and Oakcliff Sailing in Oyster Bay, New York September 20 – 22, and there is a new team crowned the winners, Sarah Everhart Skeels (Little Compton, RI) and her crew of Cindy Walker (Falmouth, MA) and Spencer Raggio (Malta, NY).
In the finals, Pauline Dowell got a penalty in the prestart against Sarah Everhart Skeels. Dowell put Skeels into downwind jail on the first leeward leg and a second time on the next leeward leg. She forced a dial up and peeled away to clear her penalty, but Skeels escaped and headed for the line with Dowell hot on her heels. Dowell is blind and Skeels is paralyzed from the waist down.
"The racing we saw out there this weekend was more intense than some of the races in the finals of a Grade 1 we hosted earlier this season," said Patrick Burks, Oakcliff's Race Program Director.
The regatta was raced in Sonars provided by The WaterFront Center that were fitted with adaptive equipment. Race management was provided by Oakcliff Sailing staff and The Clagett, along with an army of volunteers from the USA and Canada. America's Cup helmsman David Dellenbaugh and five-time U.S. Match Racing Champion Dave Perry coached the sailors for a full-day day clinic and for both days of racing.
"It's been a fantastic three days in Oyster Bay and to be here for the third time and win this year is even better," said Skeels. She continued, "For racing yesterday we had a really light breeze that dropped out completely and then today started with a light Northerly breeze that died and swung to the South and then built to a nine to 10 knots with gusts of 12, so we really had to adjust and change gears."
"It's been great to be back racing with Cindy, the first time since 2016, and a real advantage to sail with Spencer who has so much knowledge about the Sonar and sailing with sailors with disabilities as well as four years of sailing at this clinic and regatta," Skeels continued. "One of the big take aways is that it is a very level playing field when it comes to the skills of the sailors we raced against in this racing format. We come ready to race, but it's Dave and Dave who give us the knowledge. We can't thank them enough."
Skeels' crew Cindy Walker, who sailed with her in the SKUD18 for a Paralympic campaign, said after racing, "It's been great to have such fantastic support from the organizations who coordinated the clinic and regatta, the volunteers and the coaches who treated us just like regular sailors. It was an amazing to learn experience and we are looking forward to being back in 2020."
Pauline Dowell, from Boston, MA, who won this regatta two years ago and competed in all four, spoke after taking home second place. She sailed this year with another blind female sailor from Canada, Jodi Munden (Toronto). "It was some very tough racing and they beat us by a hair," said Dowell. "I've finished in nearly every position at this regatta – my first one I was dead last and I've also won it. I've sailed with Jodi a couple of times this year at the Robie Pierce Regatta and most recently at the Blind Worlds in Canada. t has been Jodi's first time trimming the jib, she's normally on the main when we sail and her first time was last week on Boston Harbor so she's done a great job switching position."
Charlie Rosenfield (Woodstock, CT), Tim Ripley (Randolph, NJ), Stuart Caplan (Larchmont, NY) and Matt Wierzbach (Sheboygan, WI) completed the podium taking home third place after some very close racing.
Clagett President and Co-Founder, Judy Clagett McLennan commented, "It's been wonderful to watch the sailors here at the fourth Clagett/Oakcliff Match Racing Clinic and Regatta learn so much from the two coaches here, Dave Perry and Dave Dellenbaugh. The sailors take so much away from this clinic and regatta and are able to apply these skills to their sailing in both match racing and fleet racing. We are thrilled that this regatta is one sailors with disabilities look forward to and learn from each year. The Clagett appreciates the amazing collaboration between all the different organizations in Oyster Bay whose support in the advancement of disabled sailing is so important especially for the sailors."
Final Results
1. Sarah Everhart Skeels/Cindy Walker/Spencer Raggio
2. Pauline Dowell/Jodi Munden/Kay Van Walkenburgh
3. Charlie Rosenfield/Tim Ripley/Stuart Caplan/Matt Wierzbach
4. Gerry Tiernan/Dennis Moran/Greg Murphy
Founded in 2016, The Clagett/Oakcliff Match Race event is open to both adaptive and able-bodied sailors from the US and outside the US. At least the skipper should identify as having a disability. The Clagett's motto is "Reach for Success," and its mission is "to assist sailors in realizing their potential on the water by providing them both the knowledge and tools to improve their skills and the opportunity to use these skills in competition." The Clagett joined with Oakcliff Sailing, a non-profit coaching and training center for sailors who have progressed beyond traditional coaching methods. The event is co-hosted by Oakcliff Sailing and The Sagamore Yacht Cluband supported by The WaterFront Center.
For more information about The Clagett, visit https://clagettregatta.org orfollow the Clagett on Instagram @clagett_regatta or on Facebook @ClagettRegatta.
For more information about Oakcliff Sailing, visit www.oakcliffsailling.org or follow Facebook and Twitter http://www.facebook.com/Oakcliffsail https://twitter.com/OakcliffSail