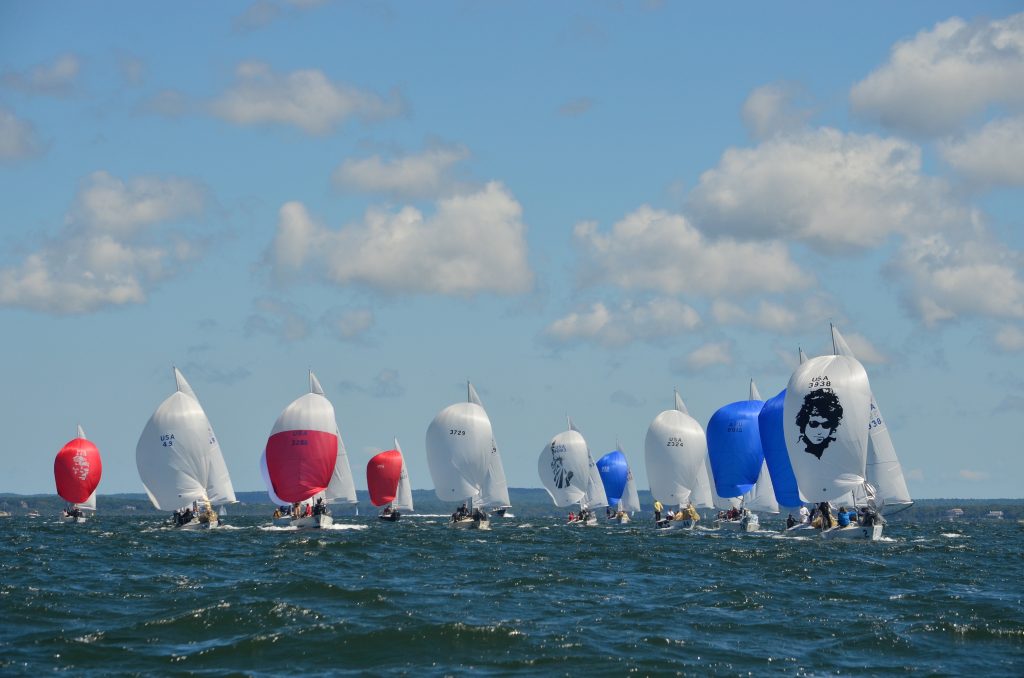 The third annual JFest New England Regatta will be hosted by Sail Newport in Newport, Rhode Island August 9 -11. This highlight of the summer racing calendar is open to all J Boat owners, crew and enthusiasts.
Racing will take place in the beautiful waters of Narragansett Bay and Rhode Island Sound. This exciting weekend of racing will kick off Friday, August 9 with skippers meeting and a local sailing and weather brief by one of JFest's partner sponsors, Quantum Sails. Saturday will be an exciting day of racing for all classes.
With expected one-design classes including J/22, J/24, J/29, J/30, J/35, J/40, J/44, J/70, J/80, J/88, J/92s, J/100, J/105, J/109, J/111, J/120, J/121, J/122, as well as additional classes for J/PHRF Spin (Symmetrical), and J/PHRF Spin (Asymmetrical). Sunday will be another fantastic day of racing and includes a Sunday only cruising class race.
Saturday there will be cocktails and followed by a dinner and dancing in the tent. Sunday will have another thrilling day of racing followed by an awards ceremony.
Registration is open NOW and Early Bird registration ends July 8. hps://www.yachtscoring.com/event_registraon_email.cfm?eID=6189
Partner Sponsors: Quantum Sails, Pantaenius Insurance, J/Boats
Sponsors: Style Newport, Newport Living and Lifestyles, Allen's Fine Wine and Spirits, The Hinckley Company, Harken, Latitude Apparel, IYAC, Rumson's Rum, Maine Beer Company, Ships Store and Rigging, MSI, East Coast Yacht Sales, Guardian Jet, Newport Dinner Boat, Newport International Boat Show
For more information including logistics, mooring availability, barbeque signup and hotel accommodation go to: hps://2019.jfestnewengland.com/
For additional details, please contact Robyn Earley, JFest New England Publicity and Marketing Chair, at robyn.earley@gmail.com.