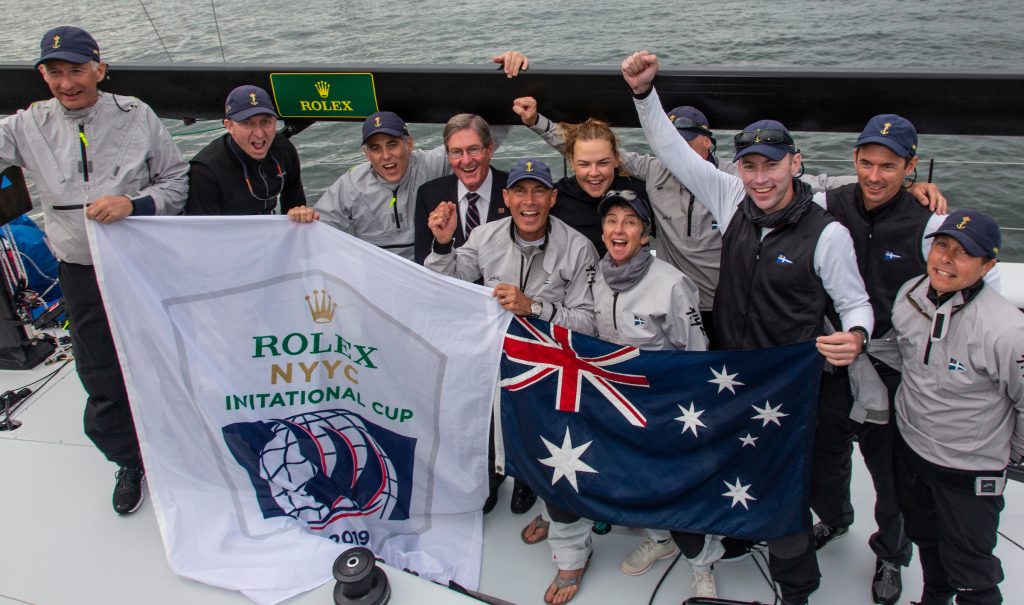 It all came down to the final race, as it should. Two teams of accomplished and motivated amateur sailors from opposite corners of the globe battling on a lumpy, windy Narragansett Bay for one of Corinthian sailing's most prized trophies, the 2019 Rolex New York Yacht Club Invitational Cup.
Royal Sydney Yacht Squadron and San Diego Yacht Club started the 12th and final race separated by six points, which was anything but a safe margin in this competitive 20-boat fleet. The Australian team had the edge in the overall standings, but skipper Guido Belgiorno-Nettis and his team put the regatta title right in play with a sub-par start while San Diego bolted to the head of the fleet and was, for a while, back in the virtual regatta lead.
Using the superior boatspeed and sterling tactical that had gotten them out of trouble all regatta, Royal Sydney ground back into the top 10 and then into the top five, leaving San Diego hoping for a miracle that wouldn't come. The RSYS team was simply too polished. After 12 races in a full range of conditions, they sailed through the final finish line in fourth place to become the first Southern Hemisphere club to win the Rolex New York Yacht Club Invitational Cup.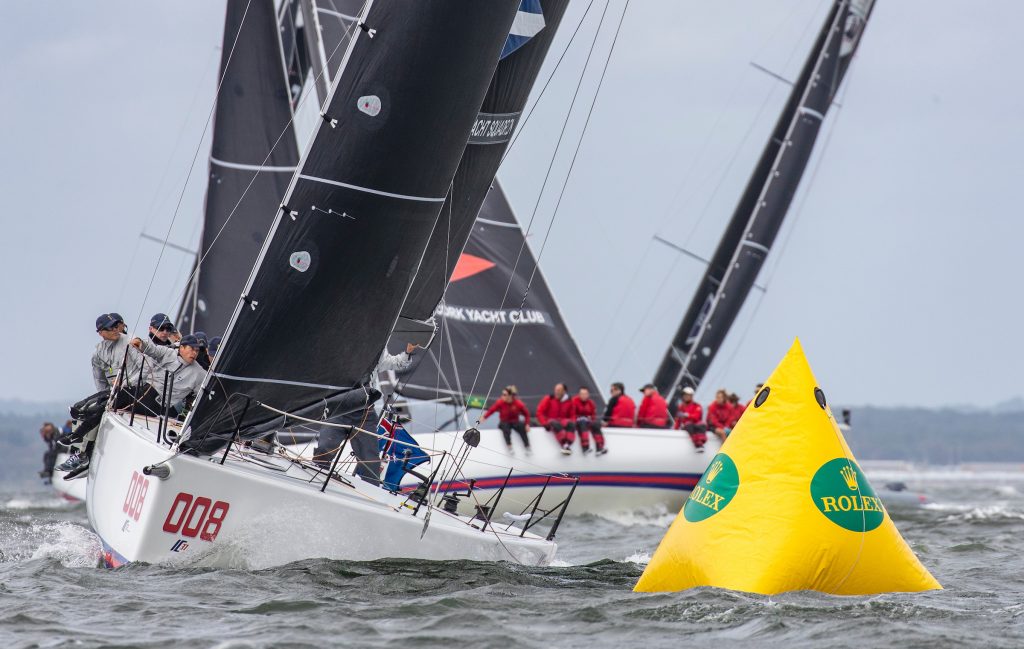 "It's unbelievable," said Belgiorno-Nettis shortly after a dockside celebration with his team. "You can't describe the feeling of coming all the way from Australia, to be able to put a team together who I love dearly, every one of them, starting with my wife, to actually win a championship like this. The New York Yacht Club Invitational is one of great regattas in the world."
The Rolex New York Yacht Club Invitational Cup is a biennial regatta hosted by the New York Yacht Club Harbour Court in Newport, R.I. Since the event was first run in 2009, it has attracted top amateur sailors from 43 of the world's most prestigious yacht clubs from 21 countries. After five editions in the Swan 42 class, the 2019 event was sailed in the IC37 by Melges, designed by Mark Mills and built by Westerly Marine in Santa Ana, Calif., and FIBRE Mechanics in the United Kingdom. The strict one-design nature of this new, purpose-built class combined with the fact that all 20 boats are owned and maintained by the New York Yacht Club, ensures a level playing field never before seen in amateur big-boat sailing. The regatta was carried live on Facebook Live and YouTube. Twenty teams from 14 countries and five continents will compete in the 2019 Rolex New York Yacht Club Invitational Cup.
Save for one bad race on the regatta's third day, the San Diego Yacht Club team had sailed a nearly flawless regatta through nine races. Even though they carried a one-point lead into the final day, it was hard to bet against the youthful West Coast team. But then came the second windward mark rounding of today's first race. With Royal Sydney rounding ahead, in third place, San Diego tried to squeeze just too much out of a thin layline and ended up pasted to the windward mark while the bulk of the fleet sailed past. A certain top-10 finish became an 18th.
Now trailing first place by 13 points, SDYC skipper Tyler Sinks and crew showed remarkable reslience with a win in the second race while Belgiorno-Nettis and crew (at left) struggled to an eighth. That brought the title back into reach for the final race. With the pressure on, the Australians rose to the occasion.
"Luckily for us, we're good in the [stronger winds] and there was quite a lot of wind in that last race, and we were able to get the boat rumbling," said Belgiorno-Nettis. "Mike Dunstan, my main trimmer, and my other trimmer on jib, David Edwards, they just set up the boat so it was easy for me to sail. I could just punch the numbers out. It's all about being consistent. So we were able to chip our way up from quite deep. We were in 12th at the start and ended up in fourth. That was pretty good. Occasionally I'd look around and see where people are…think to myself 'oh how did that happen?'"
While most of the attention was focused on the battle for first, there were a number of developments lower in the standings. Anthony O'Leary and the Royal Cork Yacht Club team once again showed they love to sail in heavy air. They went 5-2-1, won the day, and took advantage of a couple of tough races by the Royal Canadian Yacht Club to claim Royal Cork's first Invitational Cup podium.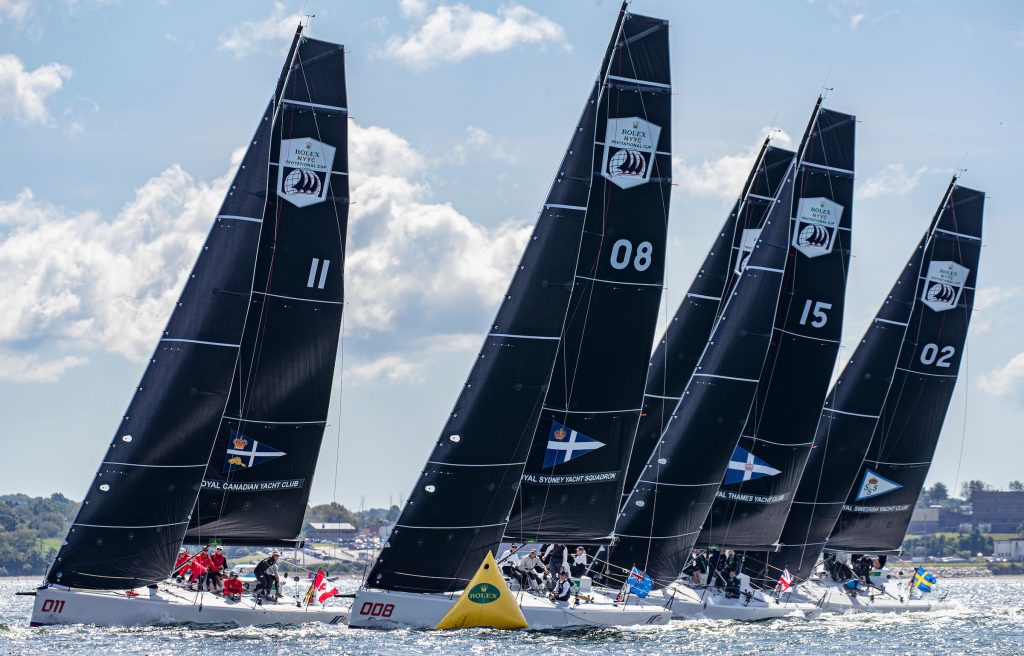 "We're absolutely thrilled. This is our sixth visit, first time to make the podium, so it makes it very special," said O'Leary. "We were eight points behind Canada [starting the day] which is a lot in one respect, but with three races anything is possible. We had one dreadful result on Thursday. You just got to wait and see how the cards fall. We had a five [in the first race today] and you're thinking, 'They're may be two more races, maybe one.' Things seemed to go better and better for us. We're delighted."
Another team that spent the day on the up escalator was the crew representing the host New York Yacht Club, led by co-skippers Andy Fisher and Ray Wulff. After a very up-and-down regatta, the team found its groove on the final day. With three solid races, including a wire-to-wire win in the day's first race, Fisher, Wulff and Co. moved from 10th to sixth in the overall standings.
"As a team we just came together, and each day we were getting stronger and stronger," said Wulff. "Today we just felt, 'You know what, we've just got to go out there and sail as strong as we can.' Representing the Club, we wanted to make sure we finished on a strong note."
The regatta closed with a spectacular Rolex Awards Banquet on Harbour Court. Regardless of finish, it was a time for to celebrate a week of great sailing against friends old and new.
The next Rolex New York Yacht Club Invitational Cup will be sailed in September of 2021. The request for invitation process will begin before the end of the year. For U.S. yacht clubs, next September's Resolute Cup is the only path to securing an invitation to the big show in 2021. More information on that event can be found here.
1. Royal Sydney Yacht Squadron (AUS), 11, 9, 1, 3, 3, 2, 7, 1, 2, 4, 8, 4; 55 points; 2. San Diego (Calif.) Yacht Club, 2, 1, 3, 1, 2, 16, 8, 4, 1, 18, 1, 2; 59 points; 3. Royal Cork Yacht Club (IRL), 6, 6, 14, 2, 5, 1, 5, 18, 5, 5, 2, 1; 70 points; 4. Royal Canadian Yacht Club, 7, 3, 12, 5, 1, 5, 2, 11, 9, 2, 15, 14; 86 points;. 5. Southern Yacht Club (New Orleans, La.), 14, 19, 2, 4, 4, 8, 10, 9, 3, 8, 3, 3; 87 points; 6. New York Yacht Club, 8, 14, 7, 7, 8, 14, 1, 8, 11, 1, 5, 8; 92 points; 7. Royal Thames Yacht Club (GBR), 5, 5, 6, 19, RDG/8, 7, 3, 13, 6, 9, 11, 7; 99 points; 8. Japan Sailing Federation, 1, 4, 9, 11, 6, 9, 13, 5, 10, 7, 6, 19; 100 points; 9. Yacht Club Italiano, 4, 12, 5, 8, 11, 13, 6, 3, 15, 13, 4, 9; 103 points; 10. Royal Swedish Yacht Club, 9, 2, 8, 18, 13, 4, 9, 7, 8, 10, 14, 10; 112 points; 11. Yacht Club Costa Smeralda (ITA), 3, 7, 13, 9, 17, 3, 17, 2, 4, 11, 13, 15; 114 points; 12. Royal New Zealand Yacht Squadron, 12, 11, 11, 17, 10, 6, 12, 6, 16, 3, 7, 13; 124 points; 13. Itchenor Sailing Club (GBR), 16, 13, 10, 10, 15, 15, 4, 10, 7, 15, 19, 6; 140 points; 14. Norddeutscher Regatta Verein (GER), 10, 18, 18, 15, 14, 10, 16, 14, 13, 6, 10, 12; 156 points; 15. Yacht Club Argentino, 13, 15, 4, 16, 8, DSQ/21, 11, 12, 19, 19, 16, 11; 165 points; 16. Royal Hong Kong Yacht Club, 19, 8, 15, 6, 9, DSQ/21, 15, 17, 18, 12, 17, 16; 173 points; 17. Royal Freshwater Bay Yacht Club (AUS), 18, 17, 16, 14, 16, 11, 19, 15, 12, 14, 18, 5; 175 points; 18. Real Club Náutico de Barcelona (ESP), 15, 10, 17, 13, 18, 12, 14, 16, 17, 17, 12, 17; 178 points; 18. 19. Royal Yacht Squadron (GBR), 17, 16, 19, 12, 19, 17, 18, 20, 14, 16, 9, 18; 195 points; 20. Yacht Club de France, 20, 20, 20, 20, RET/21, 18, 20, 19, 20, RET/21, DNC/21, DNC/21; 241 points.