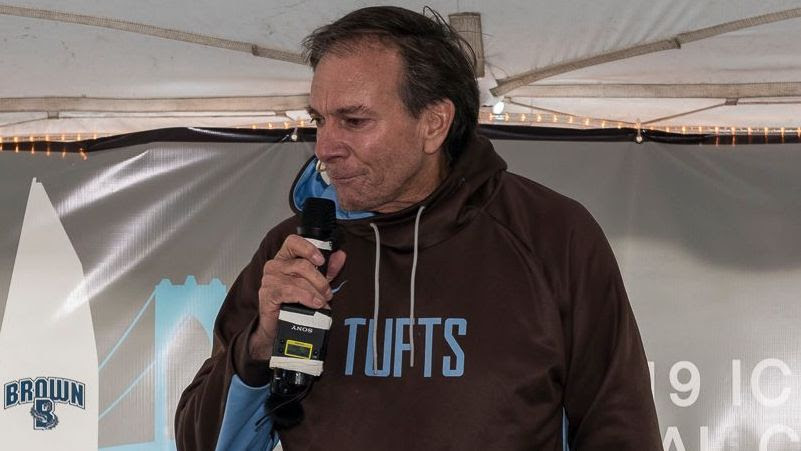 NEWPORT, R.I. (June 4, 2019) – The Intercollegiate Sailing Association (ICSA) honored three individuals for their contributions to the sport of college sailing by inducting them into the ICSA Hall of Fame over the course of the 2019 ICSA Spring National Championships hosted at Sail Newport Sailing Center at Fort Adams by Brown University with support from the New England Intercollegiate Sailing Association (NEISA), the University of Rhode Island, Harvard University and Dartmouth University.
Alyson Leigh Schwerdtfeger (Waltham, Mass.) was recognized with the James Rousmaniere Award for student leadership; Kenneth Legler (Reading, Mass.) was honored with the Campbell Family Award for Lifetime Service; Jesse Andrews (Honolulu, Hawaii) was awarded the Graham Hall Award for outstanding service by a college sailing professional.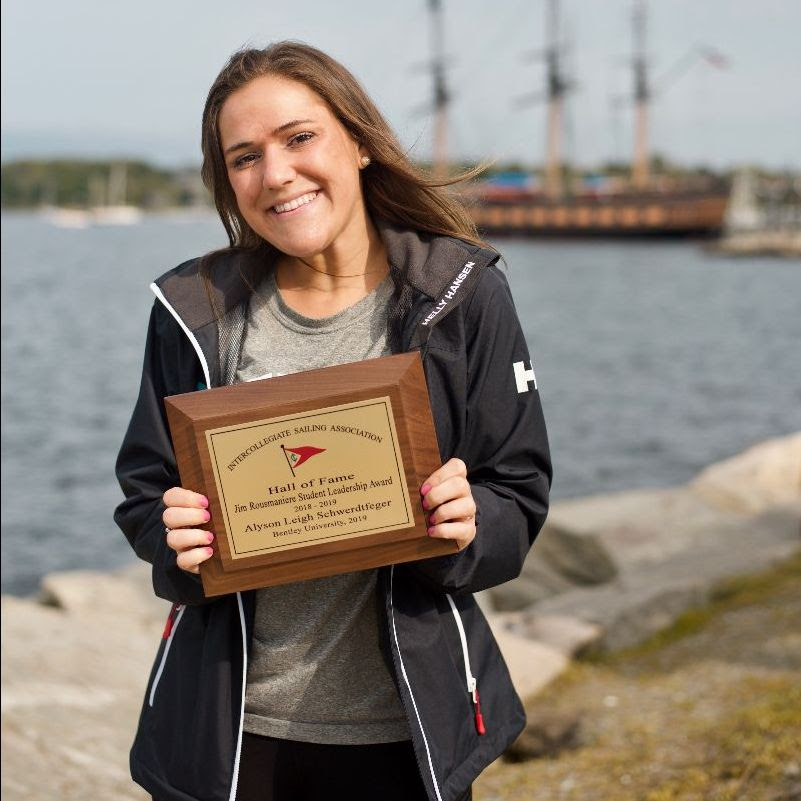 The Hall of Fame was established in 1969 to honor individuals for either undergraduate competitive achievement in sailing or outstanding leadership and service to the establishment, development and growth of the sport. The names of the inductees will be added to the ICSA College Sailing Hall of Fame, which is on permanent display in the Robert Crown Center at the U.S. Naval Academy (Annapolis, Md.).
The James Rousmaniere Award for Student Leadership recognizes an undergraduate for extraordinary achievement in leadership whose efforts have made a significant contribution to the development, progress and success of his or her club or team, conference or the ICSA.
Schwerdtfeger, a senior at Bentley University, has been a leader in the New England sailing conference as the vice president of the club sailing team at Bentley for three years as well as being on the NEISA executive board for two years.
She has been an advocate for smaller club sailing programs and helped advise other teams as well as taking on the management of the NEISA social media page to bring together sailing and modern communication. Her fellow competitors know Schwerdtfeger as a kind leader on and off the water.
"Receiving the James Rousmaniere Student Leadership award means so much to me," says Schwerdtfeger. "Coming from a school with as small of a sailing team as Bentley University, I never imagined I would have the opportunity to be so involved with my conference and the ICSA. The opportunity to be a part of the ICSA has made a lasting impact on my college sailing career, and I am extremely appreciative to be recognized for this award."
"My favorite thing about college sailing is the opportunity to get out on the water and sail throughout the week with some of my closest friends," says Schwerdtfeger. "Racing on the weekends allowed me to travel around New England and meet individuals from other universities with similar interests. I loved being a part of the ICSA and NEISAbecause it provided me with an outlet outside of my coursework, and a chance to gain leadership skills further than those gained through being on the executive board for the Bentley sailing program."
"Overall, I have had the ability to watch the ICSA and the Bentley sailing program grow exponentially throughout my time in college, and I am excited to see what the future holds for both organizations," she says of some of the success she has seen while being involved with college sailing.
The Campbell Family Award for Lifetime Service, which was recently re-named at the 2019 Annual Spring College Sailing Meeting to honor the Campbell family's contribution to the sport of college sailing. It recognizes a career of extraordinary service to college sailing, as a volunteer or professional.
Ken Legler has been head sailing coach at Tufts University for almost 40 years and has shared his love of the sport with his Tufts sailors and the broader sailing community. He has been a long-time supporter of college sailing teams large and small and focuses on the fun and sportsmanship of the sport. While he has coached many successful sailors and teams, Legler's decades of devotion transcend the performance he has been a part of.
The Tufts Jumbos have won 20 national championships (8 women's, 5 team racing, 3 dinghy, 3 singlehanded and 1 match racing). Legler has coached 92 All-Americans (46 skippers, 25 Women skippers and 21 Crews). He has also been the coach of three College Sailor of the Year recipients.
Before Tufts, Legler was the head coach at the U.S. Merchant Marine Academy for two years, where the team won two national championships and had four All-Americans.
"The support and encouragement that Ken gives to his sailors resonates throughout the entire college sailing community," says Ian Morgan, a sailor on the Tufts team. "In this intense competitive arena, Ken's spirit reminds everyone that the foundation of our beloved sport is fun and sportsmanship."
"Historically, Tufts has always had one of the largest college sailing teams," says Morgan. "Our substantial roster is Ken's legacy; he wants to provide as many students as possible the opportunity to enjoy the sport he has structured his entire life around."
"The students of course," says Legler about what has kept him enthusiastic about college sailing. "They are far smarter than I am but I know more so we enjoy a wonderful relationship. I also enjoy working outside enjoying nature all except for the temperature many days."
On winning this honor Legler states: "I guess this means people have taken some notice of what I have accomplished as a coach and not just the longevity but some of the successes along the way."
The Graham Hall Awards for outstanding service by a college sailing professional recognizes organizers, administrators, advisors, or coaches who have served the best interested of College Sailing at the club/team, conference or national level.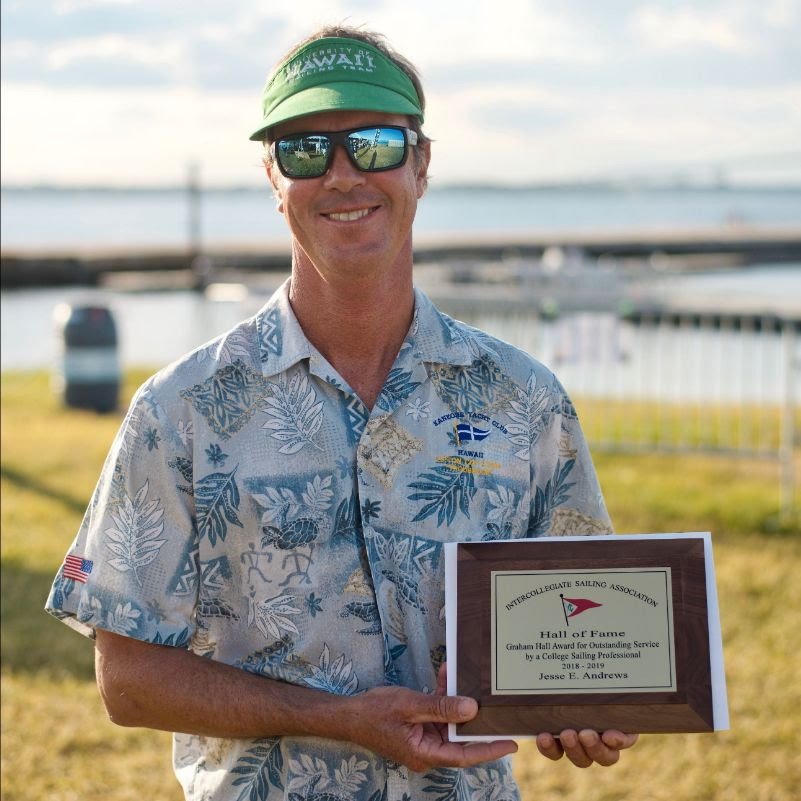 Jesse Andrews has been coaching at the University of Hawaii for 22 years. As an alumnus of the school and sailing team, he decided to join the coaching staff and give back to the program he learned from.
"Since 1997 Jesse Andrews has been giving back," says Andy Johnson head sailing coach at the University of Hawaii. "He has helped guide the University of Hawaii Sailing Team to numerous Pacific Coast Championships and two National titles: the women's team in 2001 on the Charles River in Boston and in 2004 with the University of Hawaii Coed team on the Columbia River in Oregon."
"He has served the Pacific Coast Collegiate Sailing Conference on its Board in various leadership positions over the years," says Johnson. "Jesse continues to be a positive influence on the University of Hawaii sailors and college sailing in general."
"There is no doubt Jesse will continue to 'give back' as his coaching career goes on at the University of Hawaii," says Johnson.
"I really enjoy the team atmosphere," says Andrews of what he loves about college sailing. "There are so many personalities and different backgrounds on a sailing team from year to year. To see and help a team bond and grow together every year is rewarding. Andy Johnson and I really try and keep the atmosphere fun yet at a highly competitive level."
"Sailing in college are some of the best years of these sailors lives," says Andrews. "Helping them by sharing my passion of sailing and guiding them in the right direction is a pleasure. College sailing provides so many positive experiences and opportunities for sailors to take with them into the post college sailing life. I hope that they all continue to sail and help other young sailors in their future."
"Winning this award is a great honor," he says. "To be on a list of so many mentors and legendary college coaches is a great reward for so many years of coaching at UH."
Photo credit: Rob Migliaccio and Allison Chenard.
Contact: Jennifer Mitchell |Toile à Voile for ICSA | media@collegesailing.org| 970-216-7072 m.
The ICSA sponsors and partners through the 2018-19 season are: LaserPerformance (www.laserperformance.com), title sponsor of "LaserPerformance Men's and Women's Singlehanded National Championship", title sponsor of "LaserPerformance College Sailing Team Race National Championship" and Official Boat Supplier of the ICSA Spring National Championships. Sperry (www.sperry.com), title sponsor of the "Sperry College Sailing Women's National Championship". Gill North American (gillna.com), title sponsor of "The Gill College Sailing National Championship". Quantum Sail Design Group (www.quantumsails.com), official sponsor of the "Quantum Women's College Sailor of the Year". Marlow Ropes (www.marlowropes.com), presenting sponsor of the "Marlow Ropes College Sailor of the Year Award" and "Official Rope of College Sailing". US Sailing (www.ussailing.org), "The Robert H. Hobbs Sportsman of the Year Sponsored by US Sailing" and "The 2019 College Sailing Live Coverage Presented by US Sailing". Professional Boats (www.professionalboats.com/), official sponsor of the 2019 ICSA Spring National Championships.