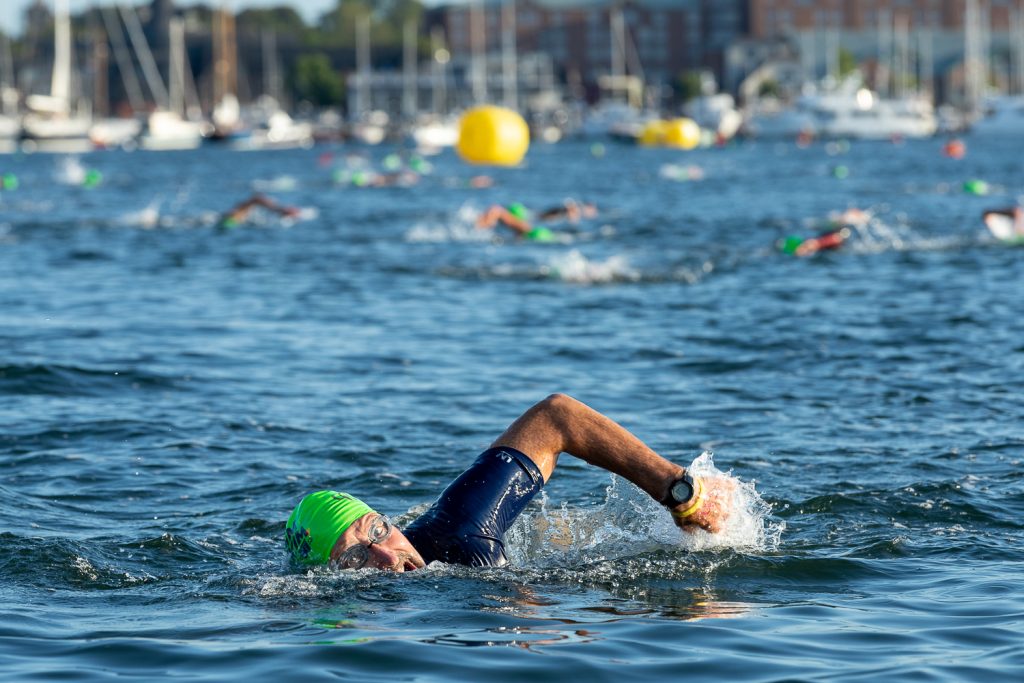 On Sunday, August 25, 53 swimmers from five states took to the waters of Newport, Rhode Island to advance the mission of Clean Ocean Access by swimming from Perrotti Park to the King Park Swim Area. The Swim to Skim has a focus to bring awareness to the importance of year-round efforts for clean water and healthy oceans. Together with entry fees and sponsorship from Peoples Credit Union and Blount fine foods, Clean Ocean Access raised over $4,000 with additional funds from the generous support of Sara Campbell, and Custom House Coffee who donated a percentage of their daily proceeds to Clean Ocean Access to support the event. Liberty Donuts and Empire Tea & Coffee provided excellent morning refreshments.
The funds will be used directly to take action to support and expand Clean Ocean Access's marina trash skimmer program to improve water quality and prevent nearshore litter from becoming marine debris.
Clean Ocean Access extends gratitude to all that helped including on-the-water safety and buoy operations were all made possible because of committed in-kind support from Sail Newport (Kim Hapgood), Old Port Marine Services (Tony Iacono), Carter Fisher (Newport Yachting Center), and Clean Ocean Access Board Treasurer Ian Estaphan Owen. Jason Evans provided on-the-water photography. Special thanks to Newport Harbormaster Tim Mills, and the three lifeguards, six kayakers and seventeen paddle boarders who worked with the entire on-the-water team to make the event safe.
"All our efforts to achieve our mission are actioned by a small team of dedicated full-time staff and a small army of interns and volunteers, and this amazing team put together the entire event!" said Dave McLaughlin, Executive Director of Clean Ocean Access. "From planning to permitting, insurance, course maps, venue setup, execution, results and breakdown – the entire team worked hard for many months, weeks, and many hours today to put together a safe, fun and impactful event. We also want to give a big shout to the Swim to Skim committee members Doug Sayles, Monica DeAngelis, and Garrett Russ."
"Whether it is swimming at your favorite beach, fishing from a rocky coastline, or launching a paddling craft from the same spot, our mission is of crucial importance to make sure future generations can enjoy these ocean activities," McLaughlin continued. "The community support and participation send a strong message that clean water and healthy oceans does matter, and Clean Ocean Access will continue the good fight to make sure future generations can enjoy the ocean just as much as we do today."
Next up for Clean Ocean Access is the installation of a marina trash skimmer in Stamford, Connecticut. To date, Clean Ocean Access has installed skimmers in Rhode Island (Newport, Portsmouth, Providence), Massachusetts (Fall River, New Bedford), and Maryland (Baltimore).
"Since 2006, the mission of Clean Ocean Access is action today so future generations can enjoy ocean activities, with a primary focus on Aquidneck Island," said McLaughlin. "Living on Aquidneck Island defines a coastally inspired life; so, our cause of working for clean beaches, healthy oceans, safe swimming water, and public access of the shoreline is what we do, all year long. We are a tax-exempt, not-for-profit organization. To learn more, please visit http://www.cleanoceanaccess.org."