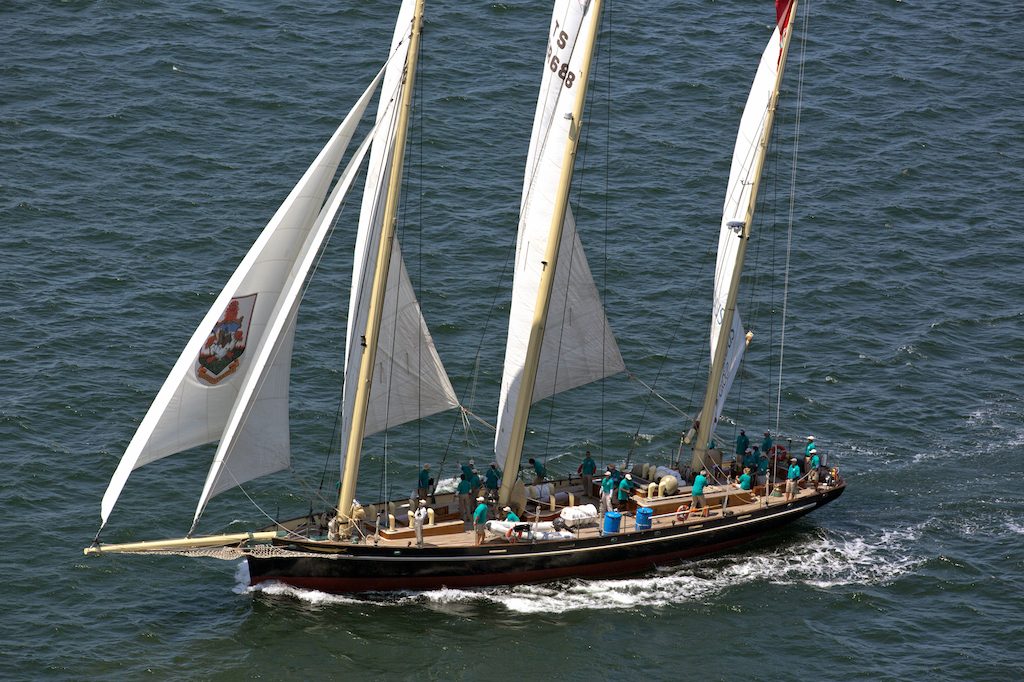 With the unfortunate cancellation of this year's Marion to Bermuda Cruising Yacht Race, the Bermuda Sloop Foundation (BSF) has a great alternative. The second annual Spirit of Bermuda Charity Rally is a fundraising event with a choice of starting lines in New England and the Chesapeake Bay, with innovative Sailing Yacht Research Foundation (SYRF) Offshore Scoring.
SYRF has synthesized many practices in offshore racing to develop the "SYRF Offshore Scoring" system, which uses the predicted speed of each yacht (polars) together with the actual wind observed by global weather models. Every six hours, the NOWcast of wind conditions worldwide is used along with all time slices from the start to compute the optimum route and sailing time of each yacht divided into the yacht's recorded sailing time. That ratio is the yacht's score. It doesn't matter what course, what start time, or what weather you race in. SYRF Offshore Scoring measures how efficiently you sailed your yacht and the weather you experienced during the race to determine your results.
For the Spirit of Bermuda Charity Rally, yachts may begin at either the North start (12 nm south of Massachusetts/Rhode Island) or the West start (at the Chesapeake Bay entrance) and race to Mills Buoy off St. George's. After completing the leg, boats have the choice of continuing for the 2nd leg to either finish OR relaxing on the island for up to ten days before starting a return leg from Mills Buoy. Boats will be scored separately for individual legs plus the combined legs.
The purpose of the rally is to offer a) one of the few offshore sailing opportunities this year to qualified sailors and b) to raise awareness and program funds for the BSF.
The BSF delivers youth development programs, taking nearly every 13-year old Bermudian on weeklong experiential voyages of self-discovery and teamwork on the Sail Training Vessel Spirit of Bermuda. Since her maiden voyage in 2006, over 7,000 students have benefited and set many young Bermudians on course to a maritime career already.
COVID-19 stopped these school trips temporarily and sponsorship is increasingly difficult now. The yacht and crew that raise the most funds for the program will be specially recognized. All entry fee and funds raised will go to Spirit of Bermuda after any minimal costs of providing the event.
To register, log onto https://spiritofbermudarally.org.
If you can't do the race but would like to make a donation, please visit
https://bermudasloop.org/make-a-donation.