Editor's note: Last fall, the Rath family (Colin & Pam, daughters Breana, Meriel and Nerina, dog Aspen and cats Wausabi and Ginger) departed from Stamford, CT for a worldwide cruise aboard their Hanse 545 Persevere.
By Colin Rath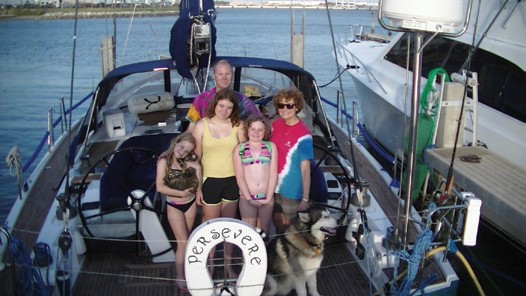 We had been planning our exodus for over seven years, delaying the actual departure several times to make sure that we covered everything and could get away clean. I closed the family business that I had been working at for over 33 years, put my condo in Manhattan on the market, my wife Pam started teaching our three girls with Calvert Home Schooling, and we had our pets (an Alaskan Malamute dog and two American Curl cats) vaccinated for
The Rath family started their worldwide cruise last October. © Persevere60545.com
international travel . We sold everything else we owned as we progressively moved into smaller rental houses over the past four years to downsize and get the kids ready for living aboard a boat.
You would not believe all the stuff you have and just store, but never actually use. The girls, age 13 and twin 9-year-olds, took junior sailing each summer to get their sea legs and lived aboard our Hanse 545 Persevere each summer in Newport, RI. We logged some miles aboard her, doing the New York Yacht Club Cruise annually, the Salty Dawg Rally from Annapolis, MD to Tortola, BVI, and a lot of local cruising. I raced Persevere in several major regattas on the East Coast to work out her quirks. We made sure the whole family was fully committed to this adventure. We didn't want any surprises. We heard too many horror stories of families jumping aboard a boat to sail the world with little or no prep and ending up getting divorced in Bermuda. Pam and I made sure we triple-checked everything before we departed, so we stayed out of that category. This included other details too numerous to mention, of least was preparing our boat Persevere for world travel.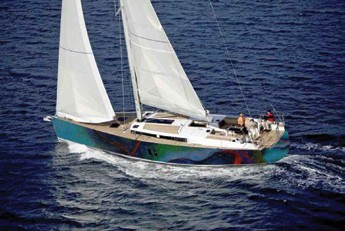 We upgraded Persevere with a folding bowsprit (to save on dock fees), an extended keel (draws 9 ½ feet, helpful for transatlantic crossings), water maker, solar panels, tow generator, wind generator, a complete B&G H3000 electronic navigation system, carbon mast, a complete inventory of racing sails, and of course complete safety equipment for Category 1 racing (including two liferafts that hold a total 14 people). We also inventoried comprehensive spares of almost everything we could think of
Persevere's spectacular vinyl topside wrap was created by Bill MacGowan of Mac Designs in Newport, RI.   © Persevere60545.com
including an alternator, hoses, impellers, filters and pumps. I checked off a 7-page checklist to make sure we covered all bases before we left. Pam took several cruising seminars over the years at boat shows, where I would be selling Sailor's Night Vision Caps to gain more knowledge and insight for our adventure.
This is our trip of a lifetime – a life-changer – and there was no going back. We want to see the world with our kids while they are still young enough to enjoy it with us…hell, while Pam and I are still young enough to enjoy it. Finally we would have true independence with an open option to move anywhere we end up. This was our light at the end of a very long dark tunnel.
Our seven-year-plus plan was hatched long before that, but it became an imperative when we found ourselves living under foreclosure with multiple lawsuits in litigation, collection agencies all over us, and many millions in debt.
This was the result of our multi-million dollar real estate development that collapsed in Manhattan when it came to light that our contractors had conspired to defraud us right as the financial market failed in 2007. It was our perfect storm to say the least. But, somehow, some way, Pam and I knew we could get through it, and if we did we'd better have a goal. The yacht Persevere became that goal, and with perseverance, some legal good fortune and a book deal (Green – A Manhattan Real Estate Horror Story with a Silver Lining, to be published 6/15) we resolved most of our problems and set about our disappearance.
We finally made our sendoff from Stamford, CT at 6:20 am October 28, 2014, bound for New York City. The girls wanted to do one last Halloween Parade on 6th Avenue, and we wanted to say good-bye to all our friends there. The initial plan was to leave November 1 for Charleston, SC. The weather was definitely not cooperating, but we had a schedule and were anxious to finally begin our adventure. This is where the first and most important rule of cruising comes into play.
The weather determines your schedule, not your timetable.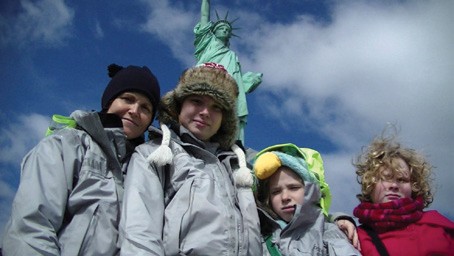 This is especially true for an extended cruise with a family, because you don't want your significant other or your children seasick on the first leg of a multi-year cruise. That is a big no-no – bad karma in any book. Reluctantly, I took Commanders' Weathers' advice and motored Persevere from North Cove Marina in Manhattan to Liberty Landing in New Jersey after breaking two docklines. We became
With their departure from New York City delayed by rough weather, the family decided to see the sights.   © Persevere60545.com
tourists, visiting the Statute of Liberty (unbelievable security; worse than the airport and about as effective) and the Empire State Building, and taking in a show.
Refreshed, we departed a cold Monday, November 3 with a narrow weather window. It was a beautiful day, blowing 20, a nice reach to Charleston. It was a little rough with six-foot seas, but OK. Tuesday, still blowing, we caught a nice tuna that we had for dinner. Then the weather began to build, with seas eight feet and blowing 30 knots. Not a happy crew. So we pulled into Beaufort, NC at 5am. Persevere tied up to a gas dock and I went to sleep. We fueled up in the morning and it was blowing 30-plus on the nose. It was a rodeo ride, up and down, crash. After six hours we pulled into Willington, NC. That was it – no more schedule. Persevere was getting beat up and everyone was nauseous. It plainly wasn't worth it to rush to Charleston, so we anchored for the night and initiated the rule to not go unless the weather worked.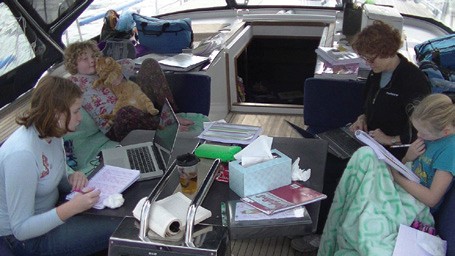 This is to be a fun, enjoyable trip, not beating ourselves up to race somewhere. I can do that with my racing crew at regattas. Plus, one of the main reasons for this cruise was to get off the treadmill and enjoy life again. This is about family sailing, enjoying time traveling together, playing a game with the kids, helping them with home schooling, drawing, and sailing back to the simple things that we lost with the cell phone generation.
The girls are keeping up with their studies with the Calvert Home Schooling program.   © Persevere60545.com
Each of our kids got a new portable VHF as her "cell phone" for the trip, and they love them. It's time to go back to basics. Please follow us on our Persevere Facebook page and our website, Persevere60545.com.
In addition to family cruising, Persevere has a very ambitious racing schedule. After a season in the Caribbean that includes the St. Maarten Heineken Regatta in March, the Raths are returning to Newport, RI in June. Their 2015 racing calendar (with additional crew) includes the NYYC RORC Transatlantic Race in July, the Rolex Fastnet Race in August, the Rolex Middle Sea Race in October, and the RORC Transatlantic Race (Lanzarote, Canary Islands to Grenada, West Indies) in November. Look for updates on Persevere's journey in future issues of WindCheck.