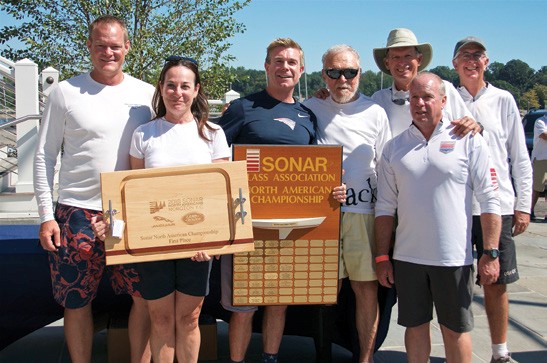 Thirty-seven boats contested the 2018 Jaguar Range Rover Sonar North American Championship, which was hosted by Noroton Yacht Club in Darien, CT September 13 – 16. Four races were sailed on Friday, but racing was cancelled Saturday and Sunday due to lack of wind.
From left to right are Greg Stevens, Libby Alexander, Karl Ziegler, Bruce Kirby (designer of the Sonar), Peter Galloway (with hat, from whom the trophy is named), Bill Crane, and Noroton YC Commodore Tom Ross. Photo courtesy of Rick Bannerot © 2018
Karl Ziegler (Providence, RI) and crew Libby Alexander, Bill Crane and Greg Stevens sailed Spitfire to first place by a 13-point margin, posting a 2-1-5-1 scoreline. This was Ziegler's third victory in the Sonar NAs, with previous wins in 1993 and '96. Complete results are posted at YachtScoring.com.