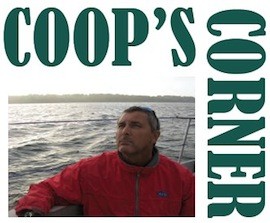 Early in October, Sail Newport hosted the 11th edition of the Sail for Hope regatta. Sail for Pride, as it was originally called, was put together in the aftermath of the attack on the twin towers in 2001. The name was changed to Sail for Hope, in part to reflect the Rhode Island State motto and has continued as an annual event, a 'last blast' around Jamestown with fundraising on behalf of different charities. This year's beneficiaries were the Wounded Warrior Project and the Rhode Island Chapter of the Red Cross.
Saturday was warm for fall, shorts and a spray top in my case, as tactician in the back of a 32-foot dinghy/keelboat called Belle. As far as sailing days, there was not much more to want. I was fortunate to sail with a great bunch of guys on a great boat, with great race administration, on a fine course, on a sunny warm day, with good breeze that gave us plenty of pace and hoots under kite on the backside of Jamestown, plus a great party afterwards. Really, it was just about as grand a day of sailboat racing as one could imagine. I drove home reflecting on the events that prompted the first race in 2001 compared to the satisfaction and fun I had just experienced. It was an odd and slightly unsettling combination of thoughts.
I arrived home to an email from a mate with a link to a Vimeo video, a 10-minute interview with Commander Bill King. If you're old enough or interested in long distance solo sailing, you will remember King was one of the earliest solo circumnavigators. He was also a Royal Navy Submarine Commander in World War II. Apart from surviving six years in that role (think about that for a minute!), he was unique in having been a sub commander at the declaration of war and still going, in his third sub, at the conclusion of the war. The video was shot a few years ago, and two things in it struck me. The memories that he must have had of six years in a sub during the war and the reason he went on a long sea voyage, to escape, forget or otherwise cleanse his person of those memories in a voyage at sea, on the surface, alone, to read, reflect and just live and maybe even recuperate a bit. He sailed in the early '70s, so he had been carrying all those experiences for nearly 30 years. One can almost see the memories ricocheting around his face as he recounts his reason for undertaking such a sailing adventure. Commander King died in September at age 102.
In a bit of stream of conscience moment, the video reminded of a Wounded Warriors moment I had earlier in the year. Interested as I am in short-handed sailing, I was monitoring the preparations for the Singlehanded Transpac – San Francisco to Hawaii. One of the entrants was a guy named Ronnie Simpson. You can read up on him if you Google "Ronnie Simpson SHTP." Ronnie was almost killed in Iraq on 30 June 2004 when an RPG (rocket-propelled grenade) hit his Humvee. Evacuated out and ultimately retired from the military, sailing gave him a new life in many ways.
These three random thoughts washing around in my mind got me thinking about the therapeutic aspects of sailing and how lucky we are, we who get to go sailing, just because it is a fun, satisfying and relaxing thing to do. Going big for a moment, the sea is one of the most potent natural forces on earth, capable of washing away anything it comes into contact with. Things like the attack on 3,000 souls, six years in command of a submarine in a war, or an RPG round in your Humvee.
Anyone who has access to any kind of sailboat, from a Laser to the latest Mega-Mega yacht and can take a bad hair day out for a sail to forget about it and relax, is an incredibly lucky person. I have always thought that an afternoon's sailing was way better than a week in a spa for blowing out the cobwebs. Think about the Wednesday afternoon race, or the Friday night sunset cruise. It's true, isn't it: the traffic snarl, the report not finished, the customer who did not place the order, the drama with the wife, girlfriend, kids, boss, worker – whatever problem you had, it all gets washed away when you go sailing.
Apart from the Singlehanded Transpac, Ronnie Simpson is using sailing – with his mates old and new, from the military, the broken ones – to share the experiences we have all had. He is basically taking wounded military out for an afternoon's sail. We all know how therapeutic that is for us. Imagine what it must be like for a broken 22 year old…
So, putting all this together with some other things I am doing with exposing kids to sailing, I have a challenge for you all. Bring someone sailing! Ideally a kid or two or three, but in any event someone who has not been sailing before: a mate, coworker, neighbor, relative or war vet (any war, really) and expose them to sailing for an afternoon. A mere two or three hours around the harbor in 10 knots of breeze will do it.
Australian born, Joe 'Coop' Cooper stayed in the US after the 1980 America's Cup where he was the boat captain and sailed as Grinder/ Sewer-man on Australia. His whole career has focused on sailing, especially the short-handed aspects of it. He lives in Middletown, RI where he coaches, consults and writes on his blog, joecoopersailing. com, when not paying attention to his wife, teenage son, dog, two cats and several, mainly small, boats.