Much has been written recently about the tragic loss of life in two offshore races in California. As with the losses in the Fastnet and Sydney-Hobart races, much will be learned and implemented from these tragedies.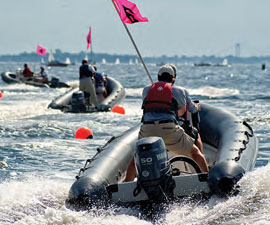 It's also time to be looking at ways for inshore race organizers to create a safer environment for their competitors. Most clubs have safety patrol boats for their regattas, particularly junior ones, and they should be lauded for their efforts. One club, American Yacht Club in Rye, NY, my home club, has established a formal Safety & Rescue Committee and is believed to be one of only a handful of yacht clubs to do so.
The birth of the S&R team came about in part because of the growing success of our Heineken High Performance Dinghy Open (HPDO). This regatta attracts over 100 boats – RS K6s, 5O5s, Foiling Moths, A Cats, Vipers, etc. With that many high-speed boats on the course in a typically heavy breeze, there is naturally a lot of carnage. Since the regatta is in October, the water is also cold.
Created by the Flag Officers in 2010 and spearheaded by members Tom Young (perhaps the country's oldest year-round windsurfer) and Jim Reilly, the Safety and Rescue Committee now has 40 members; including 32 who have been certified by US Sailing after a three-day course titled "Start Powerboating Right" and "Safety, Rescue and Support."
The Certification is part of US Sailing /US Powerboating's national education program and is focused on developing a high degree of skill proficiency in the operation of small powerboats as well as the ability to assist or rescue boats. Combining classroom instruction and on-the-water training, the Powerboat
Certificate course emphasizes boat control in confined and open waters, navigation, Rules of the Road, plus overboard and person-in-the-water rescue methods.
The Safety & Rescue curricula concentrates on boat control, intercepting a moving vessel, steering inbound and outbound ranges, high speed rescue turns, towing, managing capsized boats, search and rescue patterns, radio communications and the use of safety gear.
Now a part of the AYC Race Committee, the members of the S&R Committee (most of whom are already members of the Race Committee) have to serve a minimum of five days during the summer season, which can be a combination of RC and S&R duty. This season there are a planned 72 person days (I am so PC) scheduled.
This past winter, the committee added a program for frostbiting, and committed to another 18 days (36 person days) of work, separate and apart from the summer duty. Said Frostbiting Chair Rob Fear, "Having the AYC Safety and Rescue Team on the frostbiting course to quickly provide assistance to sailors in distress has dramatically improved the overall safety of our frostbiting program."
At this year's AYC Spring Series, an IRC boat lost two crew overboard when the lifelines parted. Admirably, several other competitors came to the aid of the sailors, but it was the Safety & Rescue team that helped get the competitors to safety. These are not the first sailors aided by the committee. At a recent Heineken HPDO, a singlehanded sailor flipped in heavy air. This is what he had to say:
"I was the one Moth sailor who needed a tow in after blowing out my rudder and aft foil on Saturday. I want to express my sincere thanks to the safety boat crew in the rigid hull inflatable with the hard top, for their competent and much-appreciated assistance. Towing a Moth with a towline is impossible, and unrigging at sea is almost impossible. Your crew had no problem with pinning my hiking rack on the inflatable side hull and slowly chugging the two miles back to the club in over 15 knot winds. Those guys were great and I want to acknowledge their help and competence in action. The job of safety boat crew is often thankless and these guys saved my boat, and possibly me from hypothermia if I had to drift over to Glen Cove."
Satisfied customers are what running successful regattas is all about. If you want to learn more about how to set up your own Safety & Rescue Committee, contact Janine Connelly at JanineConnelly@ussailing.org.