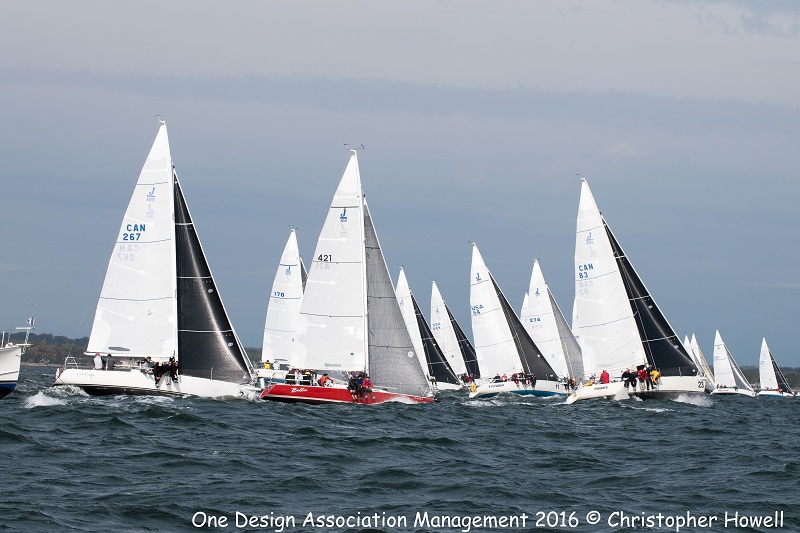 Thirty-seven teams representing the USA, Canada, Bermuda and Great Britain faced a variety of conditions during the 2016 Stella Artois J/105 North American Championship, which was hosted by Larchmont Yacht Club in Larchmont, NY October 20 – 23, 2016.
Terry McLaughlin and Rod Wilmer's Mandate (Toronto, ON) notched bullets in the first five races before 'stumbling' with a 2-3 to win the series with 10 points. The Canadian crew earned their second J/105 North American Championship title in three years. Bruce Stone and Nicole Breault's Good Trade (San Francisco, CA) finished second, winning a tiebreaker on points at 27 over Damian Emery's Eclipse (Shoreham, NY). Paul Beaudin's loulou (New York, NY) and Adrian Owles' Mad Blue (Old Greenwich, CT) rounded out the top five.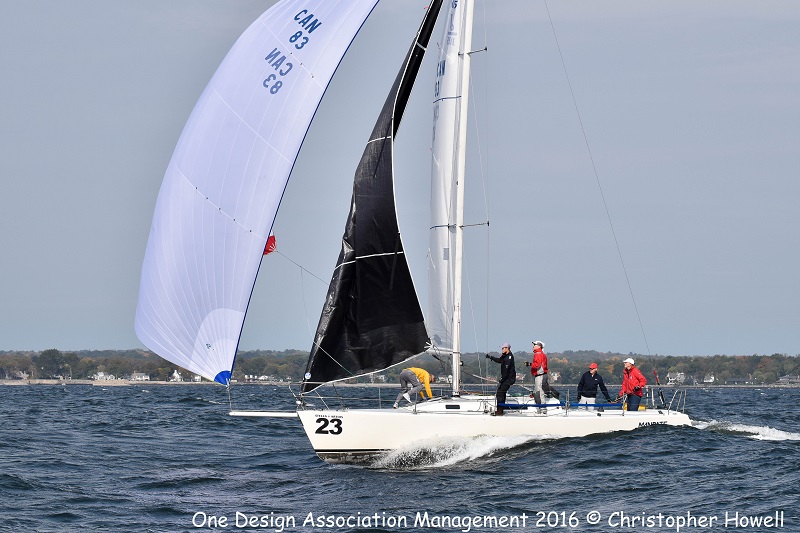 Terry McLaughlin and Rod Wilmer's Mandate posted a 1-1-1-1-1-2-3 to clinch their second J/105 North American Championship in three years.
Competitors will long remember the event's final day, in which a WNW breeze that started around 25 knots increased to 35. "If we had another race, we might have worn hockey helmets," joked McLaughlin. "This was good Canadian weather, and a real test of crew work."
"This was a great regatta for several reasons," said Thom Hering, whose Trifecta (Huntington, NY) finished 11th. "The RC was spot-on with their calls, setting square lines and courses. They put us out there in extreme conditions and let us duke it out, but they didn't push us over the limit and sent us in when it was too much (although the boats with broken booms and shredded chutes might beg to differ). The conditions were wide ranging and challenging, and the competition was outstanding. The fleet was fairly compressed, with tons of overlaps at marks and finishes – seemed like the only one not overlapped was that damn Canadian boat."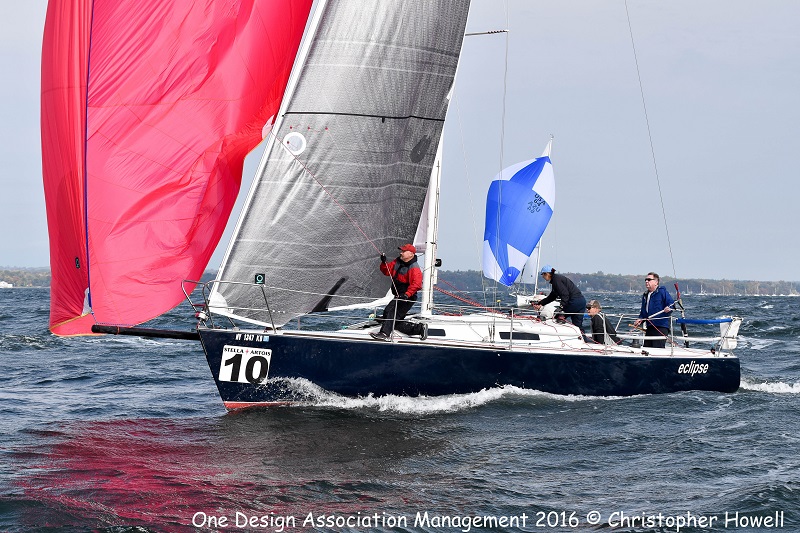 Damian Emery's Eclipse took third place in a tiebreaker.
Hering's crew included Lisa Hemmert, Dave Price, Joseph Scarpulla, Brian Simkins and Mark Swanson. "Our goal was to be in top 10, which we missed by one point," said Hering. "This was our first big 105 regatta with an all-new crew that worked together incredibly well. Everyone came away feeling great about having moved up our learning curve. Plus, popping up onto a plane at 15 knots on the speedo on Saturday…that alone was worth the entry fee!"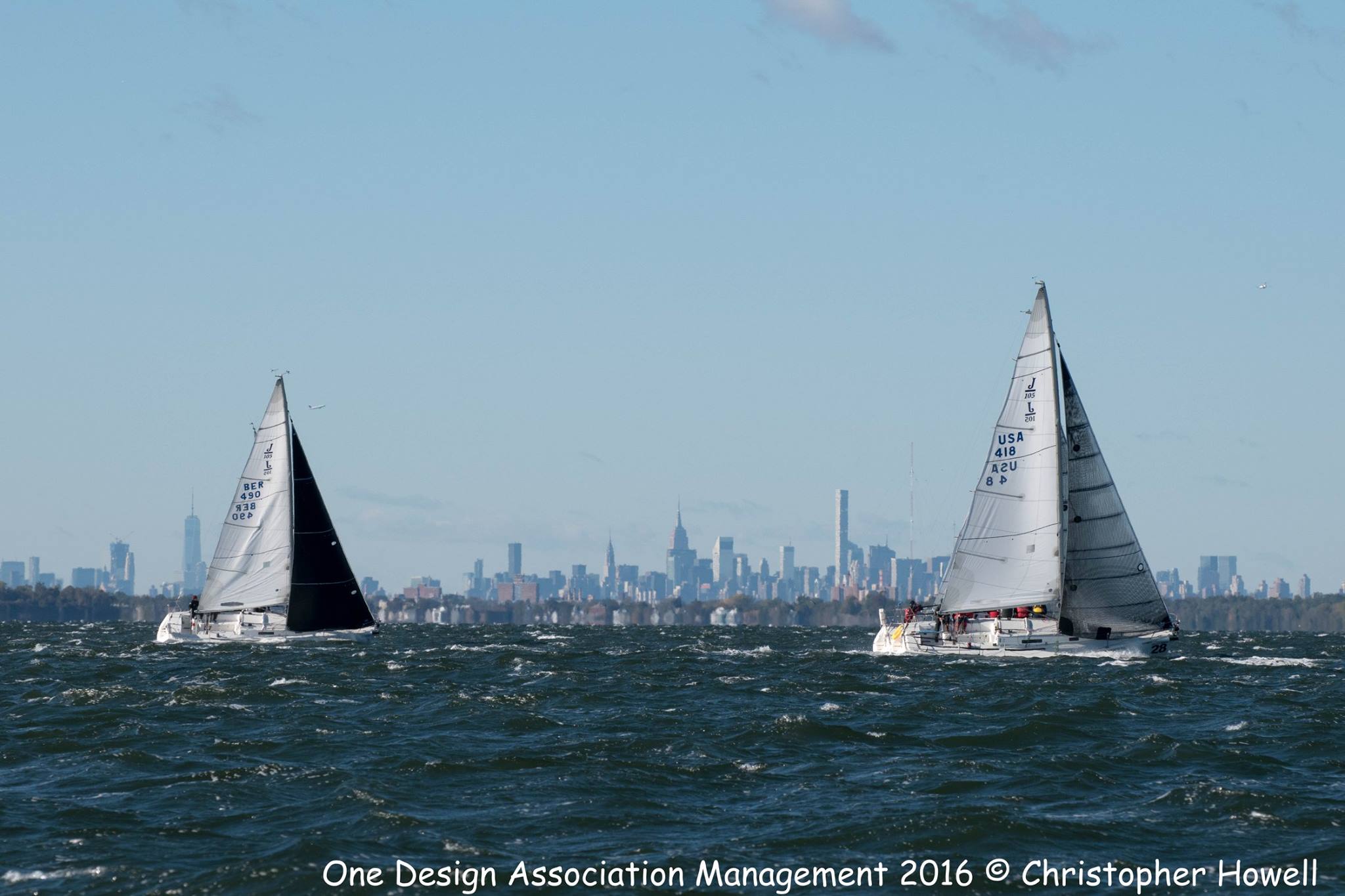 Also enjoying an unforgettable series was the crew of David Willis' Solution (Huntington, NY; Tim Ebert, Colin Kell, Jim Meystrik, Suzanne O'Sullivan and Jeff Willis), who finished 16th. Our performance was sporadic, but we had not raced in a 105 fleet this large," the skipper explained. "It was definitely a learning experience, and we look forward to the next big event. Many thanks to the organizers, Larchmont YC and especially the PRO and Race Committee volunteers for running an outstanding regatta in challenging conditions. Sunday's racing was epic! If you could keep it under control, the rides were unbelievable. We experienced our highest speeds ever with this boat!"
"I have been sailing these boats off and on for 25 years, and we can still get 40 boats on the line," enthused loulou skipper Paul Beaudin. "The 105 is the perfect club racing boat for Long Island Sound – I can easily race the boat in 25 knots with my friends." The crew of loulou included Lionel Crear, Mark Foster, Miguel Sanchez Maymi, John Sweeney and Vadim Vorobyov. "It's really nice to get to sail with all our friends from around the country," said Beaudin, "and I was very happy Stella sponsored our event – it is the perfect sailing beer!"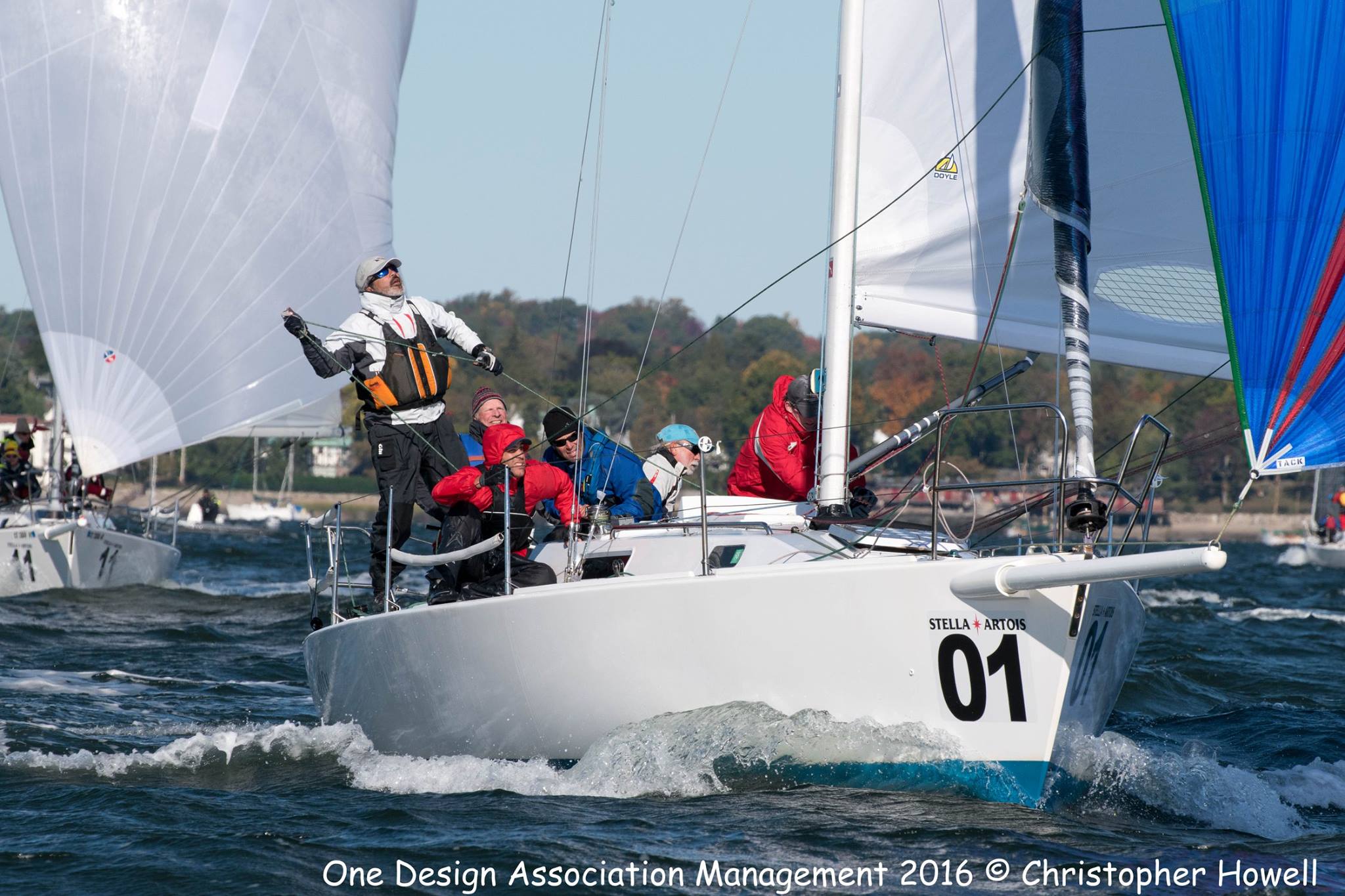 loulou, skippered by Paul Beaudin, finished fourth.
For more information go to the J/105 Facebook page and www.j105nas.com.
Results (top 10)
1. Mandate, J 105, Terry McLaughlin / Rod Wilmer , Toronto, Ont, CAN, 1 -1 -1 -1 -1 -2 -3 ; 10
2. Good Trade, J 105, Bruce Stone / Nicole Breault , San Francisco, CA, USA, 2 -4 -3 -8 -3 -1 -6 ; 27
3. Eclipse, J 105, Damian Emery , Shoreham, NY, USA, 4 -2 -2 -3 -2 -3 -11 ; 27
4. loulou, J 105, Paul Beaudin , New York, NY, USA, 7 -7 -6 -6 -4 -8 -12 ; 50
5. Mad Blue, J 105, Adrian Owles , Old Greenwich, CT, USA, 3 -5 -7 -12 -18 -4 -2 ; 51
6. Skipperdee, J 105, David Greenhouse , Rye, NY, USA, 11 -3 -5 -11 -8 -15 -4 ; 57
7. Revelation, J 105, George and Alex Wilbanks , Westport, CT, USA, 8 -9 -8 -10 -7 -13 -5 ; 60
8. Hey Jude, J 105, James Rathbun , Toronto, Ont, CAN, 6 -6 -4 -4 -11 -5 -40 ; 76
9. Radiance, J 105, Bill Lakenmacher , Houston, Texas, USA, 12 -14 -40 -2 -10 -6 -1 ; 85
10. Distant Passion, J 105, James Macdonald , Smiths, BER, 15 -18 -12 -9 -14 -9 -14 ; 91
Click here for complete results.