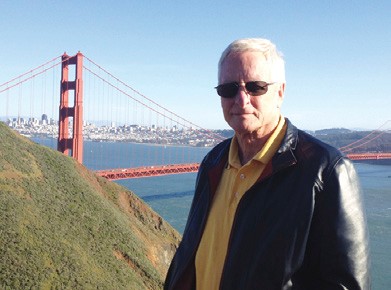 Although he's only been painting professionally for about six years, Thomas N. Graves' work has become well received in the area. A resident of Stamford, CT, Tom is a longtime sailor who specializes in yacht portraits, seascapes and marine subjects of all kinds.
"I've been interested in art as far back as I can remember," says Tom, who was born and raised in Santa Barbara, CA. "My dad was transferred to St. Louis when I was in high school." After a stint in the Marine Corps, Tom went to college to become a commercial artist. He has a BFA from Missouri State University.
"I started sailing in 1972 on Lake Saint Louis, a private 600-acre lake in a suburb of St. Louis," Tom recalls. "I had just graduated from college, and I got a job as an art director. I joined The Lake Saint Louis Sailing Club, which had a fleet of 25 Y-Flyers (a popular 18-foot Midwest scow), a very active fleet of Sunfish, and various PHRF boats of 24 feet or less."
"My first boat was a Sunfish. As with most ardent racers a fellow racer, John Beard, was the energy behind the fleet. We raced two races every Sunday from late April to early October. And in the winter we'd frostbite Sunfish. Pending ice on the lake – we were out there. When my son Tylar was 9, we bought a Y-Flyer. We raced it together every Sunday and a lot of regattas around the Midwest until he went off to college."
"In 1998, I moved to Connecticut and joined Cedar Point Yacht Club. There were a lot of J/30s there back in the day. I thought they looked great, they were affordable, they had fair accommodations as cruisers, and they were fun to race. I bought one about 15 years ago and renamed her Bad Dog. I designed the calligraphy and stole a Picasso-esque dog graphic. I had a great crew and we raced the heck out of her in the Cedar Point series and with the Norwalk Island Sailing Fleet. Every summer we'd cruise the Bad Dog for a week or so to places like Cuttyhunk, Block Island, Newport and most everything in between."
Since retiring from a successful career in the marketing and creative world, Tom has brought his passion for sailing to canvas. "I decided to start painting again a few years ago and became interested in marine art," he explains. "I started out doing commissions for fellow racers here on Long Island Sound. I later got my work into several galleries including the J. Russell Jinishian Gallery in Fairfield. Russell's gallery is one of the finest in the country in terms of the quality and range of work, and he's a good guy. I've also had work in Questor in Greenwich and Cavalier Gallery in Nantucket and I'm currently in Southport Gallery, a great galley in Southport."
In addition to the galleries Tom has also partnered with Hiden Galleries in the antique area in Stamford. "I set up my own little gallery with about 20 paintings," he explains. "Decorators from Boston, New York and Chicago come there to buy stuff for their clients, as well as people from towns like Greenwich and New Canaan decorating their own homes. It's been really nice."
Tom's work is notable for its realism and his meticulous attention to the accurate portrayal of a boat under sail. "I know rigging, sail cuts, battens, reef points, cleats, lines…all the details," he says. "The owner or anyone that's a sailor can look at it and say, 'That is done correctly.' I think I also do a very good job with the water around the boat and the clouds in the background. I've done about a dozen paintings for owners of J Boats – J/120s, J/122s,  J/40s and others.
One of Tom's most spectacular paintings is a dramatic depiction of a J/120 powering upwind on a blustery day, with muted sunlight sparkling on waves and flying spray. "That's my favorite," he enthuses. "That boat, Soulmate, belonged to a guy named Joe Healey, a racer's racer who won about everything there is to win here on Long Island Sound. This one painting was during the Edlu Race, and that year it blew like hell."
"Most of what I paint is from photographs," says Tom about his work, which includes many seascapes of scenic spots along the New England coastline. "I look for images that I like. It might have some commercial value, but it's more important that it be something that I'd like to have hanging in my home. I've done three or four paintings of Nantucket's Beetle Cat 'rainbow fleet' at Brant Point with the lighthouse in the background. The boats all have very colorful sails, and it's an image people like…they don't collect any dust in galleries!"
Tom is a signature member of the American Society of Marine Artists and belongs to the Westport Arts Center. In addition to the aforementioned galleries, his work can be viewed at graves-marine-art.com.
When Tom's not in his studio, he and his partner Linda enjoy sailing the new Bad Dog, a Beneteau First 35s5. "We race on Wednesday night at Cedar Point and on occasional Saturdays with the Norwalk Island Sailing Fleet. We like to cruise to Port Jeff on weekends, and we just got back from an eight-day cruise up the Sound to Shelter Island and points in between." Tom relishes close reaching in nine or ten knots of breeze. "Your crew's on the windward rail and you're sitting on the leeward side watching the water go by," he says. "It's the best feeling in the world!"